SIDBI PR
SIDBI launches 3rd phase of setting up 750 Swavalamban Silai Schools to promote women entrepreneurship in villages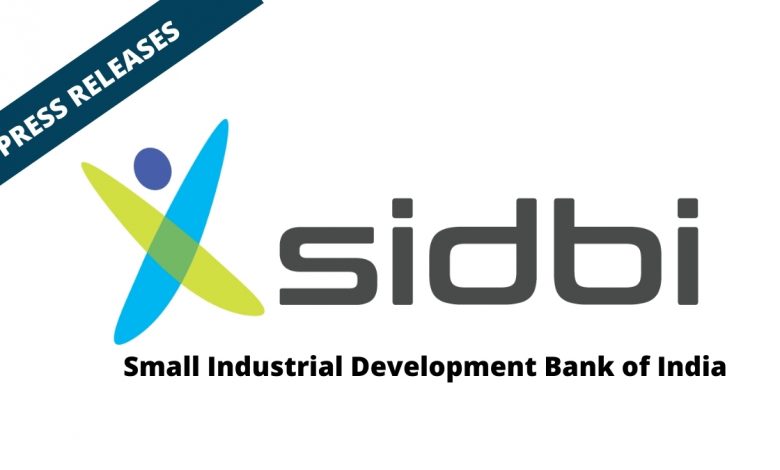 Gives 10X power to entrepreneurial pursuit on the 75th year of India's independence
Small Industries Development Bank of India (SIDBI), the principal financial institution engaged in the promotion, financing, and development of Micro, Small, and Medium Enterprises (MSMEs) under its flagship initiative Mission Swavalamban, in partnership with Usha International Limited (UIL), has launched the third phase of setting up of 750 Swavalamban Silai Schools across 20 districts of 10 states viz. North East (Arunachal Pradesh, Assam, Manipur, Meghalaya, Mizoram, Sikkim, and Tripura), Odisha, West Bengal, and Madhya Pradesh with an objective to empower women making them independent while pursuing entrepreneurship culture and evolve as Homepreneurs. The third phase of the program has been flagged off from the Kendrapara district in Odisha.
The 3rd phase of the program was inaugurated by Shri Amar Patnaik, Member of Parliament, Rajyasabha. Shri Sivasubramanian Ramann, Chairman and Managing Director, SIDBI, Shri Sudatta Mandal, Deputy Managing Director, SIDBI, Shri Dinesh Chhabra, Chief Executive Officer, and Managing Director, UIL, Shri Krishna Shriram, Executive Chairman, UIL, Ms. Mary Rupa Tete, Vice President, Usha Social Services of Usha International along with other dignitaries and speakers from Non-Governmental Organization (NGO) partners were present during the virtual launch. Dr. Ravindra Kumar Singh, Chief General Manager of SIDBI coordinated the conduct of the event.
On this occasion Shri Sivasubramanian Ramann, Chairman and Managing Director, SIDBI said, "As we celebrated 75th year of independence with the theme of 'AtmaNirbhar Villages for Atmanirbhar Bharat' by promoting women entrepreneurship, artisans, and large-scale livelihood promotion, SIDBI is glad to announce that through this joint initiative so far 1,700 Swavalamban Silai Schools have been set up in 24 districts across 7 states namely, Uttar Pradesh, Bihar, Jharkhand, Rajasthan, Telangana, Himachal Pradesh, and Uttarakhand. Taking the momentum ahead, SIDBI aims towards reaching 15,000 such schools across India. The initiative shall give a fillip to the agenda of taking the current 20% of enterprises being owned by women to at least 50% in the years to come. We are poised to enhance digital delights for the entire value chain, bottom-up. We intend to be at all such places and with all such partners who are passionate about the theme of entrepreneurship and enterprise promotion. We dream for an enterprising cultural revolution through the most important ambassadors of the ecosystem- the women entrepreneurs."
Under this program, training is provided to aspiring women entrepreneurs on various aspects of stitching along with maintenance and repairing of the sewing machines by the expert trainers of UIL. The women entrepreneurs successfully completing the training program are provided a sewing machine, training kit, and a Swavalamban Silai School signage board. This initiative is not only making them independent and role models for their family but in turn, they become master trainers and then teach an average of three more women which would create a ripple effect.
Besides life skills, tenets of entrepreneurship, and bankability, the third phase shall have thrust on evolving these homepreneurs as a virtual cluster where they benefit from aggregation and digital platforms.
Shri Krishna Shriram, Executive Chairman, UIL said, "The SIDBI-UIL partnership to open Swavalamban Silai Schools fulfills the mutual objective of skill development, financial independence, and promotion of micro-entrepreneurship in rural India. We constantly strive to innovate and add value to the lives of Silai School women. With this endeavor, we have launched Usha Silai, a mobile app that is available in 12 regional languages and has content on various aspects of sewing. We will also be creating the next rung of leadership by developing cluster-level leaders from among the existing Silai Schools women who will become the nodal points for facilitation and coordination for village-level information and opportunities. SIDBI as a partner has been very supportive, participative, and excellence-driven. We are proud of this association and hope that together we will be able to touch the lives of many more women in rural India in times to come."
While inaugurating the 3rd phase, Shri Amar Patnaik, Member of Parliament, Rajyasabha congratulated SIDBI and UIL for starting this initiative of setting up Swavalamban Silai Schools across the country and appreciated the efforts of both the organizations in coming together to create a social standing and recognition of women as role models within their community by economic enablement.
In the first two phases, 1,700 Silai Schools have been set up covering 1,638 villages, 108 blocks, and 24 districts across 7 states. These 1,700 direct beneficiaries under the program are functional and have enrolled over 19,500 learners under them leading to the deepening of the theme of entrepreneurship. Each homepreneur acts as a trainer for aspirants, designs &sells stitched garments as also provides repair services. The initiative has touched the bottom of the pyramid of budding women entrepreneurs and has covered the deprived section of society. Out of these 1,700 Homepreneurs, 40% of women fall under the Other Backward Class category while 39% of women belong to the Scheduled Cast/Scheduled Tribe category. Overall, 64% of these women who have set up Silai Schools hail from the Below the Poverty Line category. It may be mentioned that all the earlier setup of 1,700 schools were operational even during the COVID-19 pandemic and since the start in 2019, cumulative earnings have been at Rs. 6 crores with the top average earning recorded at Rs. 27,000 per month.
About Silai School Program: The Silai Schools Program is a pan India community-based rural initiative of Usha Social Services a unit of Usha International Ltd. This social initiative is aimed at empowering women from marginalized sections of the communities residing in the remote hamlets, habitations, and villages of India. Initiated in 2011, the Usha Silai Schools program at present has 21,219 Silai Schools across all the states of India, 100 in Nepal and 20 in Sri Lanka, and 3 production centers in Bhutan. The primary objective of the Silai Schools Program is to create a livelihood option for women by financially empowering them through imparting sewing and stitching and entrepreneurship skills. The secondary objective is to create a social standing and recognition within her family and community through economic enablement. For more details on Silai Schools, please visit https://www.ushasilaischool.com
About SIDBI: Since its formation in 1990, SIDBI has been impacting the lives of citizens across various strata of the society through its integrated, innovative and inclusive approach. Be it traditional, domestic small entrepreneurs, bottom-of-the-pyramid entrepreneurs, to high-end knowledge-based entrepreneurs, SIDBI has directly or indirectly touched the lives of Micro and Small Enterprises (MSEs) through various credit and developmental engagements. SIDBI 2.0 carries the vision of inclusive, innovative, and impact-oriented engagements. To know more, check out: https://www.sidbi.in
Dislciamer : This is an official press release by SIDBI.