SIDBI PR
SIDBI and the Finance Department UT of J and K entered into an Agreement for availing of the SIDBI ClusterDevelopment Fund to accelerate MSME Cluster infrastructure development in UT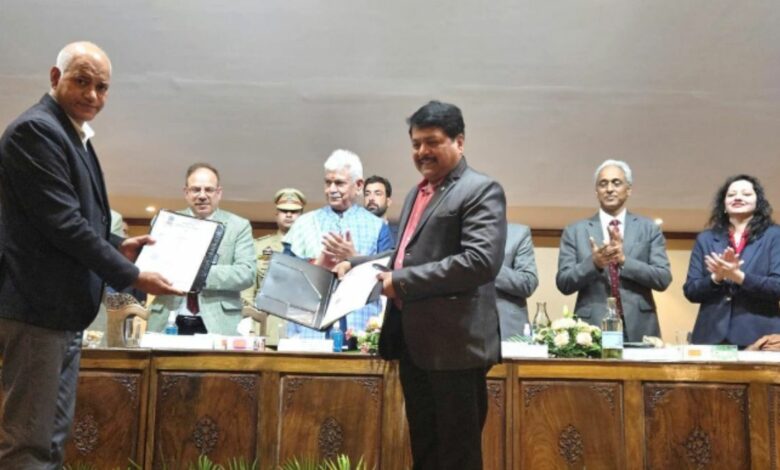 Small Industries Development Bank of India (SIDBI)signed an Agreement for the SIDBI Cluster Development Fund (SCDF) with UT of Jammu & Kashmir to accelerate MSME Cluster infrastructure development in UT of Jammu & Kashmir. SIDBI and UT of J&K partnered to support modernization/ upgradation or establishment of infrastructure/development of MSME Cluster-related infrastructure in the Jammu & Kashmir region.
SCDF would facilitate augmenting the low-cost, longer repayment funds for holistic coverage of cluster development projects falling under three broad categories viz (1) Industrial and Agriallied sectors in the MSME eco-space, (2) Social Sector projects in and around MSME clusters and (3) Connectivity to MSME Clusters. The Agreement was signed at the office Honorable Lieutenant Governor of Jammu & Kashmir in the august presence of Shri Manoj Sinha, LG UT of J&K and Shri S Ramann, CMD SIDBI. While SIDBI shall facilitate the availability of SCDF to enhance the infrastructure development of both greenfield (induced clusters) and brownfield clusters, the Finance Department, Jammu & Kashmir would act as the nodal agency to coordinate and submit the proposals to be considered under SCDF.
On this occasion, Shri Sivasubramanian Ramann, Chairman and Managing Director of SIDBI said, "We are
poised to be an ever-strong and vibrant MSME ecosystem in the country and more so in Jammu and
Kashmir. To further strengthen the infrastructure gap, SIDBI joined hands with the State government and Union Territories and transforming both hard and soft infrastructure shall be the mainstay of such collaborations. This structured support will lend impetus to the culture of enterprise development in the Union Territory of Jammu and Kashmir
Dr S.S. Acharya, CGM SIDBI while signing the Master Agreement reiterated SIDBI's commitment for
MSMEs and vision to take forward the industrial growth in the country. We envision that by creating such
a focused MSME infrastructure development fund, States and Union Territories may improve the ease of
doing business and inspire youth to become entrepreneurs and job creators rather than job seekers.
Shri Santosh D Vaidya, IAS Principal Secretary to Govt., Finance Department expressed happiness at the
signing of the Agreement with SIDBI and said that "this partnership with SIDBI shall lead to many innovative infrastructure improvement and development in the UT and in the overall growth of the entrepreneurship ecosystem in Jammu & Kashmir. It will be an endeavour to build processes and systems with the support of SIDBI to utilize SCDF by key departments supporting MSMEs like Industries and Commerce, Tourism, Power and Skill Development etc."
About SIDBI:
SIDBI is India's principal financial institution in India for the promotion, development and financing of Micro, Small, and Medium Enterprises (MSMEs). SIDBI plays a critical role in supporting entrepreneurship,
economic growth, and financial inclusion across the nation through various programs like credit guarantees, direct credit, venture capital, digital platforms, government program management, etc.
For more information, please visit: https://www.sidbi.in/
Disclaimer: This is an official press release by SIDBI.