PIB Press Releases
Union Minister Shri Sarbananda Sonowal flags off Maritime Awareness Walkathon on the occasion of National Maritime Day
Shri Sonowal paid respect by saluting seafarers, port workers & everyone associated with the maritime sector
On the occasion of the 60th National Maritime Day, Union Minister of Ports, Shipping and Waterways (MoPSW) & Ayush, Shri Sarbananda Sonowal flagged off the 'Maritime Awareness Walkathon' here today. The walkathon was flagged off in the presence of Shri Shripad Y. Naik, Minister of State, MoPSW; Shri Sudhansh Pant, IAS, Secretary, MoPSW; Shri Sanjeev Ranjan, IAS, Chairman, National Shipping Board; Shri Rajesh Kumar Sinha, IAS, Additional Secretary, MoPSW; Capt. Rajendra Poswal, Nautical Surveyor, Chairman of National Maritime Day and various other dignitaries.
During the event, Shri Sarbananda Sonowal greeted people and paid respect, saluting seafarers, port workers and all those associated with the maritime sector for their determination and hard work.
Shipping will open new vistas to build Atmanirbhar Bharat during the Amrit Kaal: Shri Sarbananda Sonowal
Highlighting the importance of the maritime sector for India's economic growth, Shri Sarbananda Sonowal said, "Shipping is the lifeline and the route of the prosperity of the nation. This is the first National Maritime Day which we are celebrating during Amrit Kaal. In India's Amrit Kaal, shipping will open new boundaries to lead the building of Aatmanirbhar Bharat."
"The vision of Amrit Kaal under the dynamic leadership of Prime Minister Shri Narendra Modi is for the creation of excellent employment opportunities for the youth. We have to work hard to make shipping a fast-growing sector so that India can become a world leader in maritime infrastructure as well as a lead player in the maritime economy," said Shri Sonowal.
Minister MoPSW appreciated the tremendous contribution made by Women Seafarers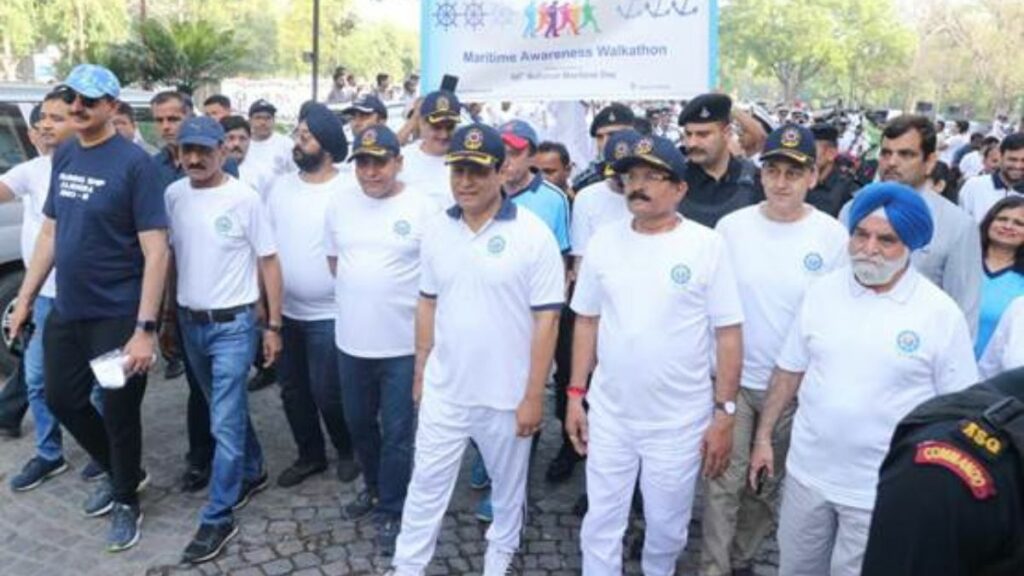 "Women seafarers are also playing a vital role in the maritime sector. I am thankful for their tremendous contribution," he added.
On April 5, 1919, for the first time, the Indian company Scindia Steam Navigation Company Limited's ship namely S.S. Loyalty went from India to London to trade. In his memory, the Ministry of Ports, Shipping and Waterways celebrates the 5th of April every year as National Maritime Day.
National Maritime Day is dedicated to the pivotal role of maritime trade in the development of the Indian economy and its strategic location in global trade.
Disclaimer: This is an official press release by pib.