PIB Press Releases
Four new facilities at Central Arid Zone Research Institute (CAZRI), Jodhpur inaugurated by Union Minister Shri Narendra Singh Tomar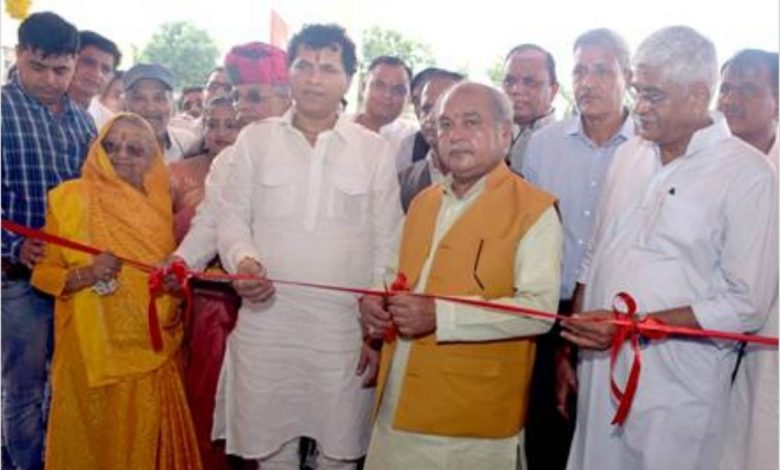 India will be number one in agricultural products in the world, under the leadership of Prime Minister – Shri Tomar
Union Agriculture and Farmers Welfare Minister Shri Narendra Singh Tomar today inaugurated four new facilities at the Central Arid Zone Research Institute (CAZRI), which has been rendering excellent services for more than 60 years under the Indian Council of Agricultural Research (ICAR). Union Minister of Jal Shakti, Shri Gajendra Singh Shekhawat and Union Minister of State for Agriculture and Farmers Welfare, Shri Kailash Chaudhary were special guests on this occasion.
The Chief Guest of the programme, Shri Narendra Singh Tomar, in his address, said that CAZRI, an institute of excellence of the ICAR, has been doing innovations and research in agriculture for the farmers of the arid region for more than 60 years, which is an example for our desert areas as well as for the whole world. Due to the research work done by CAZRI such as dune stabilization, sprinkler and drip irrigation system and new varieties of crops, grasses and fruits, farmers' income is increasing.
Work like solar energy, reduction in the cost of farming and livestock management by CAZRI will also be beneficial for the farmers of dry areas. Due to the new technologies and research achievements being developed by CAZRI from time to time, CAZRI bagged 8 out of 10 National Awards of ICAR in the last six years.
Shri Tomar also inaugurated the newly constructed auditorium, Agri-business Nurturing Centre, environment-friendly wastewater treatment plant and Indoor Sports Hall at CAZRI.
Farmers should take advantage of advanced technologies and agricultural welfare schemes – Shri Tomar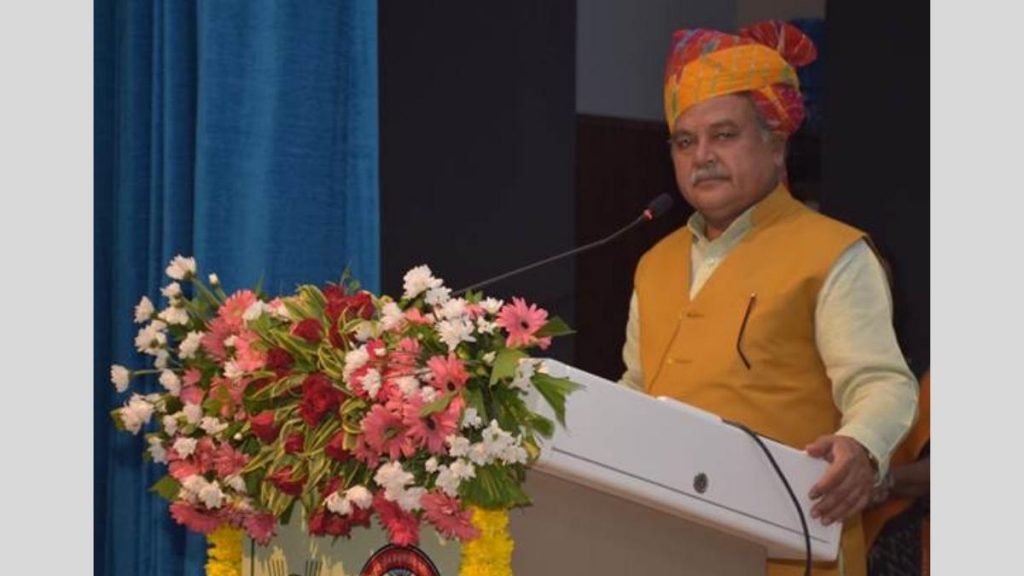 Shri Tomar further added that under the able leadership of Prime Minister Shri Narendra Modi, India will be Number One in producing every crop and agricultural product. Currently, India ranks first or second in the world in terms of most agricultural produce.
Shri Tomar said that the Indian agricultural economy is very strong, which will be sustained, making India fully capable of dealing with any big crisis. Shri Tomar said that as the Chief Minister of Gujarat before 2014 and as the Prime Minister, Shri Modi constantly thinks about keeping the village-poor and farmers on priority. In last 8 years, many schemes have been launched under the leadership of PM Modi for improving agriculture, providing income support and technology support to the farmers.
86 per cent of the small farmers of the country organized themselves through FPOs, and now processing their produce as well as getting reasonable prices, he said. PM Modi has set up a fund of one lakh crore rupees for the development of infrastructure in the agriculture sector, out of which projects worth 14,000 crore rupees have already been approved, informed Shri Tomar.
Describing the contribution of scientists as important in the progress of the agriculture sector, Shri Tomar said that they should focus on increasing productivity with a bigger goal. Emphasizing increasing the availability of planting material, he said that if CAZRI goes ahead in this field, the Central Government will extend full support. Shri Tomar lauded CAZRI for its many achievements. CAZRI has done countless research and developed technologies for agricultural development in the arid region, which are examples for our desert areas as well as for the whole world, Shri Tomar said. CAZRI has adopted a holistic approach to the development of dry agriculture.
Today no platform in the world can ignore India – Shri Shekhawat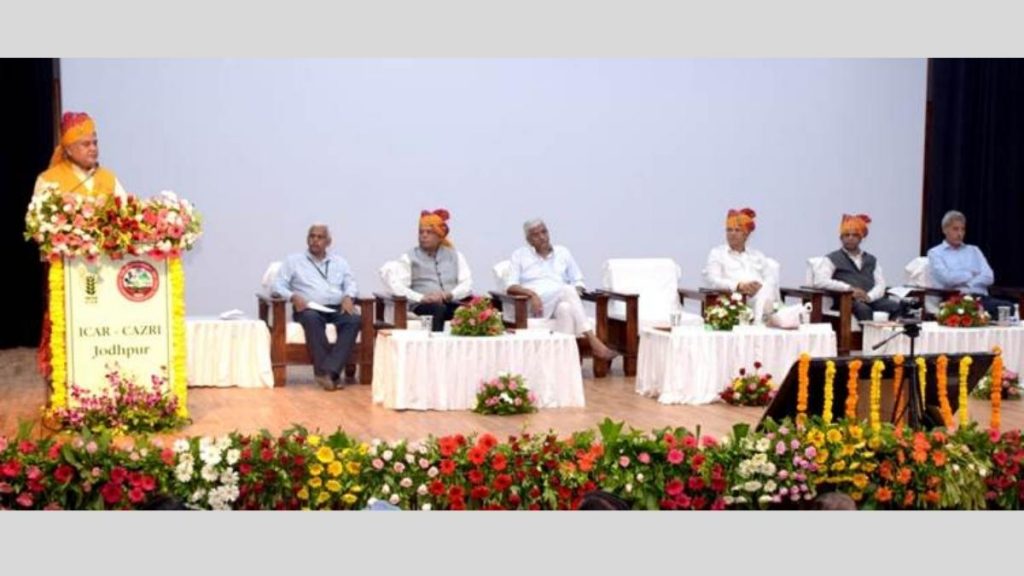 In his address, Union Minister of Jal Shakti, Shri Gajendra Singh Shekhawat said that India's prestige has increased all over the world under the leadership of Prime Minister Shri Modi, today no platform can ignore India on any issue. Shri Shekhawat said that due to the hard work of farmers, the contribution of agricultural scientists and the policies of the government, today we have become recognised as an exporting country along with an abundance of food grains.
Prime Minister Shri Modi has taken steps to change the way we look at the agriculture sector and make it profitable. In the agriculture sector, many efforts have been made for the welfare of the farmers, whose results are visible. He said that the time has come to work from the perspective of how our farmers should work for the need of the world, and how we should enable the farmers for this. Today food items are being judged on the basis of nutrition rather than weight, we are standing at the door of limitless possibilities. He talked about working on planting material in Jodhpur.
In his address, Shri Kailash Chaudhary said that CAZRI has contributed a lot to the cause of farmers. At one time this entire area was a desert. There was a problem of water scarcity, farmers were suffering, in such a situation, CAZRI brought new technology to the farmers. Today dates, pomegranates, and figs are being cultivated here and dragon fruit cultivation is about to start. In the coming days, the millet grown here will find its due place in the world. There was a demand for a long time that research on millet should be done in Rajasthan, now millet research centre is going to be opened by the centre in Barmer.
Dr Himanshu Pathak, Secretary, DARE and Director General of ICAR and Director of CAZRI, Dr O.P. Yadav also addressed the function. Progressive farmers were honoured by Shri Tomar during the program.
Disclaimer : This is an official press release by PIB.