PIB Press Releases
Prime Minister Shri Modi has given a new identity to India – Shri Narendra Singh Tomar
Startup Conclave organized by Laghu Udyog Bharti and inaugurated by Union Minister Shri Tomar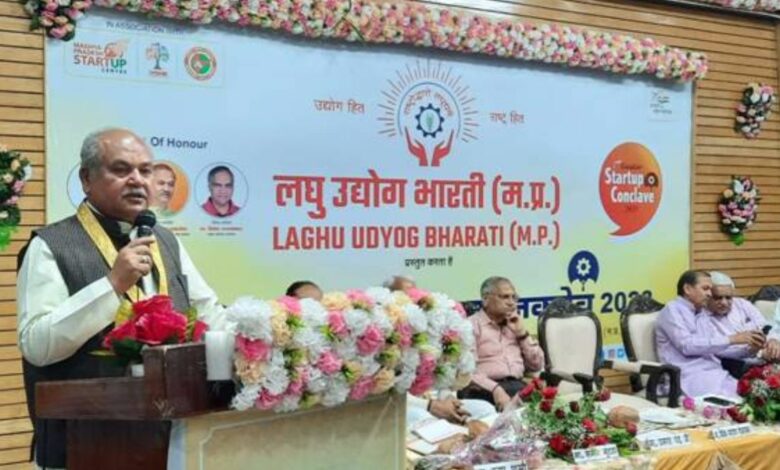 Union Agriculture and Farmers Welfare Minister Shri Narendra Singh Tomar inaugurated the Startup Conclave-2023 organized by the Laghu Udyog Bharati in Gwalior yesterday. On this occasion, Shri Tomar said that yesterday we have come out of the slavery mentality of the British era, yesterday the whole scenario changed and this has become possible because of Prime Minister Shri Narendra Modi.
Union Minister Shri Narendra Singh Tomar said that there was a time when there was talent in our country and we were not able to recognize it. There was no environment for these talents to showcase their talent. This is the reason why the talented were getting frustrated with the country and were forced to go abroad, but yesterday it is not so. Prime Minister Shri Modi grasped this situation and created a positive environment in the country, due to which not only India but the whole world has changed.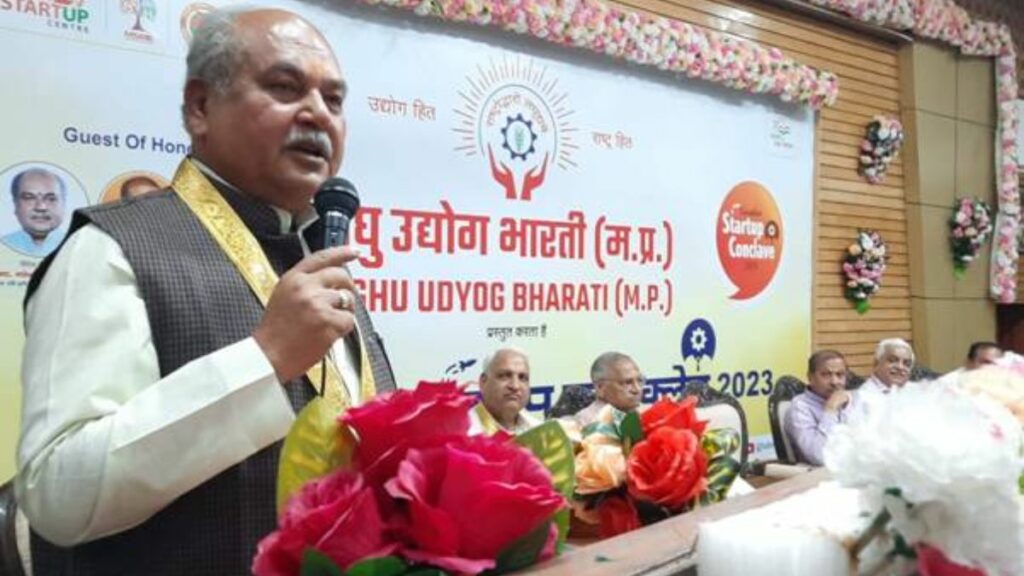 Shri Narendra Singh Tomar said that before 2014, there used to be only 31-32 Startups in the country, but yesterday their number has increased to more than 6,500. In the Agriculture sector alone, their number is above 2,000. He said that yesterday the whole world is recognizing the power of India and also accepting its stature.
Union Minister Shri Tomar said that under the leadership of Prime Minister Shri Modi, India's identity has been established in the whole world and India's position has also improved in the world. This is the reason why the Prime Minister of India could pause the war between Ukraine and Russia by saying that first let our citizens be evacuated, proving India's growing clout in world affairs. Similarly, while introducing our Prime Minister, the US President Mr Biden said that there is one sun, one world and one Modi, which reinstates India's pride of place in the world community.
The Startup Conclave was also attended by MSME Minister in the Government of Madhya Pradesh, Shri Omprakash Sakhlecha, Member of Parliament Shri Vivek Shejwalkar and office bearers of the Laghu Udyog Bharati, – National Organising Secretary Shri Prakash Chandra, National President Shri Baldevbhai Prajapati, All India General Secretary Shri Ghanshyam Ojha and All India Secretary Shri Sameer Mundra.
Disclaimer: This is an official press release by pib.