PIB Press Releases
Union Minister Shri Sarbananda Sonowal launches 'Harit Sagar' the Green Port Guidelines 2023
'Harit Sagar Guidelines 2023' envisages Ecosystem Dynamics in port development, operation and maintenance
To meet the larger vision of achieving the Zero Carbon Emission Goal, the Ministry of Ports, Shipping & Waterways has launched 'Harit Sagar' the Green Port Guidelines. The guidelines were launched by Shri Sarbananda Sonowal, Union Minister for Ports, Shipping & Waterways and AYUSH in the August presence of Shri Shripad Y. Naik, Union Minister of State for Ports, Shipping & Waterways and Tourism and other senior officials of the Ministry today in New Delhi.
Harit Sagar Guidelines – 2023 envisages ecosystem dynamics in port development, operation and maintenance while aligning with the working with Nature concept and minimizing the impact on biotic components of the harbour ecosystem. It lays emphasis on the use of Clean / Green energy in Port operation, developing Port capabilities for storage, handling and bunkering Greener Fuels viz. Green Hydrogen, Green Ammonia, Green Methanol / Ethanol etc.
These Guidelines provide a framework for the Major Ports for drawing out a comprehensive action plan for achieving targeted outcomes in terms of quantified reduction in carbon emission over defined timelines, through focused implementation and close monitoring of Green Initiatives and to achieve Sustainable Developmental Goals (SDG).
During the event, Union Minister Shri Sarbananda Sonowal said, 'Ports are undertaking green initiatives and actively contributing to the fulfilment of the "Panchamrit" commitments announced by our Prime Minister Shri Narendra Modi. The "Harit Sagar" Guidelines -2023 provide a comprehensive framework for our Major Ports, empowering them to create a comprehensive action plan aimed at achieving quantifiable reductions in carbon emissions over defined timelines'
Ports are undertaking green initiatives and actively contributing to the fulfilment of the 'Panchamrit' commitments announced by our Prime Minister Modi ji: Shri Sarbananda Sonowal, Union Minister, MoPSW
The objective of the guidelines is to minimize waste through reducing, Reuse, Repurpose and Recycle to attain zero waste discharge from port operations and promote monitoring, based on Environmental Performance Indicators. This also covers aspects of the National Green Hydrogen Mission pertaining to ports, development of green hydrogen facilities, LNG bunkering, Offshore Wind Energy etc and provides provision for adopting global Green Reporting Initiative (GRI) standards.
'The launch of the Harit Sagar Green Port Guidelines is a significant step towards achieving our sustainability goals. These guidelines have been formulated with the aim of promoting environmentally friendly practices across all our Ports, said Shri Shripad Naik, MoS, MoPSW during the event.
Shri Sudhansh Pant, Secretary, MoPSW said, 'Our four major ports Deendayal Port, Visakhapatnam Port, New Mangalore Port and VOC Port are already generating renewable energy more than their demand. From now onwards our ports will be able to evaluate themselves on the environmental indicators to know their capability in the environmental aspects.'
The major ports were conferred awards for their all-time best performance on select operational and financial parameters during FY – 2022-23. Ports having registered the highest incremental improvements were also honoured and they were ranked on the basis of their overall performance during 2022-23. The idea is to generate fair and healthy competition amongst the Major ports & motivate them to perform better & better in the coming year.
The 'Sagar Shreshtha Samman' awards were also conferred to major ports for their exceptional achievements in various operational parameters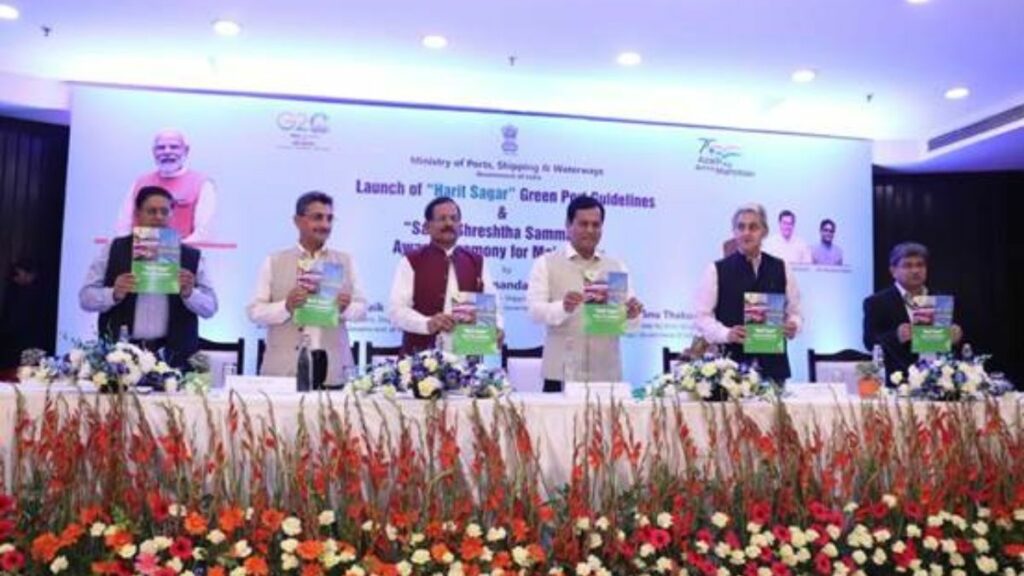 The award for the best Absolute Performance for the year 2022-23 was conferred to the Deendayal Port, Kandla for handling the highest cargo of 137.56 MMT. The Jawaharlal Nehru Port received the award for achieving a major milestone in Turn Around Time while Paradip Port got a performance shield on Ship Berth Day Output. The Kamarajar Port got recognized in pre-berthing detention time while Cochin Port received a performance shield in turn-around time (non-container port).
The award for best incremental performance was bagged by Paradip Port for attaining the highest cargo growth rate of 16.56% last year. In the incremental category, another award was conferred to Mormugao Port for best Ship Berth Day Output while the award was conferred to Kamarajar Port for best Pre-Berthing Detention time.
The award for the best port was conferred to Paradip Port on overall annual performance based on cargo handling, average turnaround time, ship birthday output, idle time at berth, operating ratio, and pre-berthing detention.
Disclaimer: This is an official press release by pib.