PIB Press Releases
The 100th G20 Meeting under India's G20 Presidency, the Meeting of Agricultural Chief Scientists (MACS) concludes successfully at Varanasi
The Meeting of Agricultural Chief Scientists (MACS) of G20 nations on "Sustainable Agriculture and Food System for Healthy People and Planet" concluded successfully at Varanasi today.
General (Dr.) V K Singh (Retd.), Union Minister of State for Civil Aviation and Road Transport and Highways inaugurated the meeting on 17th April 2023.
About 80 delegates from the G20 Member States; Invited Guest Countries, and International Organizations participated in the meeting.
Dr Himanshu Pathak, Secretary (DARE) & Director General (ICAR) chaired the meeting for three days (17-19 April 2023).
The discussions were focused on Innovations and Technological Interventions for Agri-Food Systems Transformation, Frontiers in Science and Technology for Achieving Food Security & Nutrition, Biofortification in Food Crops for Enhancing Nutritional Value, Tropical Seaweed Farming for nutrition and blue growth, Millets And otHer Ancient Grains International Research Initiative (MAHARISHI), One Health as an Integrated and Unifying Approach: Partnerships and strategies for coordinated action, Transboundary Pests and Diseases: R&D Priorities for resilient agri-food systems, Climate Resilient Technologies and Innovations for sustainable agri-food systems, Nature-Positive Agriculture: Science and Innovations for building resilient agri-food system, Biological Nitrification Inhibition (BNI): Reducing GHS emissions and increasing crop yields.
Digital Agriculture and Traceability, Digital Technological Solutions for Reducing Food Loss and Waste, Agri-tech Startup Ecosystem, Pluralistic Agricultural Extension and Advisory Services (EAS): partnerships for improving lab to land and outreach, Smallholder and Family Farming: G20- Global South Cooperation forAgri-R&D, Public-private Agri-R&D for Public Goods: Experience in Generating and Accelerating Innovations.
The meeting adopted chair summary cum outcome document focussing on major area of cooperation in agricultural research and development for food security and nutrition, digital agriculture, resilient agri-food systems and public-private partnership in agricultural R&D.  MACS 2023 also supported the launching of MAHARISHI which inter-alia will include.
Establish mechanisms to connect researchers and institutions working on identified grain crops to enhance the dissemination of research findings, and identify research gaps and needs.
Establish web platforms to connect researchers, exchange data, and share communication products and thematic briefs to encourage research and information sharing.
Organize capacity-building activities and international workshops and conferences.
Performance identification and recognition of scientists
MAHARISHI secretariat shall be housed at the Indian Institute of Millets Research (IIMR), Hyderabad with technical support from ICRISAT, One CGIAR Centres and other International organisations.
On the sidelines of G20 MACS, bilateral meetings were held with France, the United Kingdom, Argentina and Germany for future collaboration in agriculture research.
The bilateral meeting was also held with Food and Agriculture Organization, in Rome, Italy. In the meeting, Dr Himanshu Pathak emphasized that the FAO and ICAR may develop collaborations for strengthening extension service through KVKs.Dr. Ishmahane Elouafi, Chief Scientist, FAO also expressed keen interest in extending cooperation in extension service. Dr Selvaraju Ramasamy, Senior Agriculture Officer, FAO also joined the meeting.
The Indo-German bilateral meeting discussed addressing the challenges of Food Loss and Waste Prevention targeting the SAARC Region.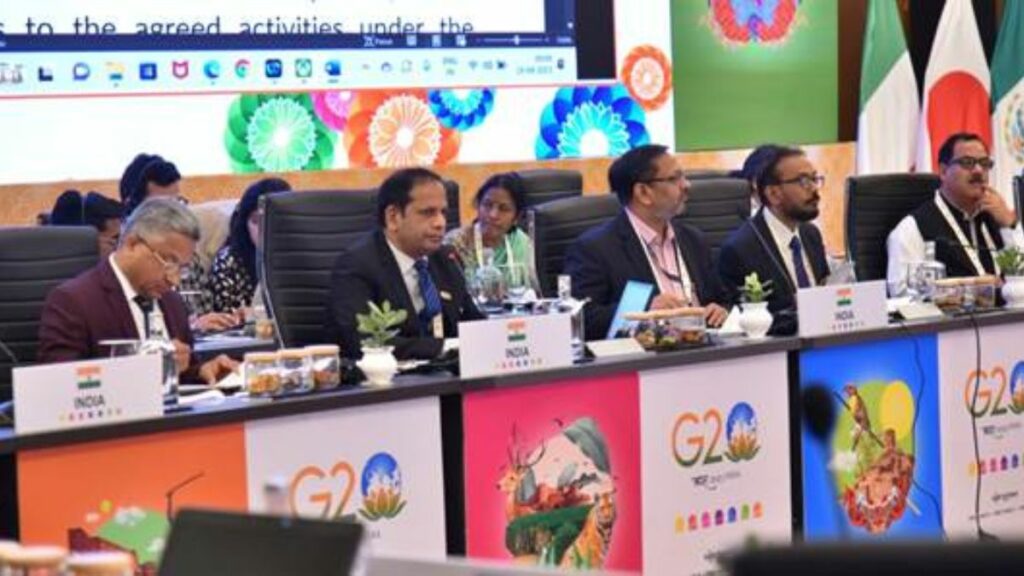 The Government made arrangements to give a taste of the unique experience of India's rich cultural and spiritual heritage to the foreign delegates arriving at Varanasi. The state government and district administration made very exhaustive and grand arrangements for providing the basic amenities for the movement of delegates as well as showcasing the cultural heritage and local folks to the delegates who arrived at Varanasi from developed and developing countries across the world.
During the course of the meeting, the delegates were taken on a cruise ride to witness the scintillating view of Ganga Aarti followed by a Welcome dinner and cultural program organized at Taj Ganges. The delegates were also taken to Sarnath. They were given a guided tour of the ASI Museum and Buddha Stupa and also witnessed the Light and Sound show. Subsequently, the Cultural Performance for delegates were arranged in the serene surroundings of the Buddha Theme Park.
The Delegates visited Trade Facilitation Centre on 19th April 2023 and had a glimpse of the textile history of the city along with live demonstrations of the local artisans making their products. A small exhibition of leading institutions of the Indian Council of Agricultural Research (ICAR) and State Agriculture Department, IRRI-SARC including other organisations such as NDDB, and APEDA was also organized at TFC. The delegates were shown live preparations of millet dishes at the venue. Thereafter, Farewell Dinner and cultural performances were organized.
The MACS Chair Dr Himanshu Pathak thanked all the delegates for their participation & contribution and handed over the MACS Presidency to Brazil.
Disclaimer: This is an official press release by pib.