PIB Press Releases
Union Minister Dr Jitendra Singh says, "Youth at 2023 to define India at 2047"
Dr Jitendra Singh was speaking as the Chief Guest at the Youth 20 Consultation on Peace-building and Reconciliation: Ushering in an Era of No War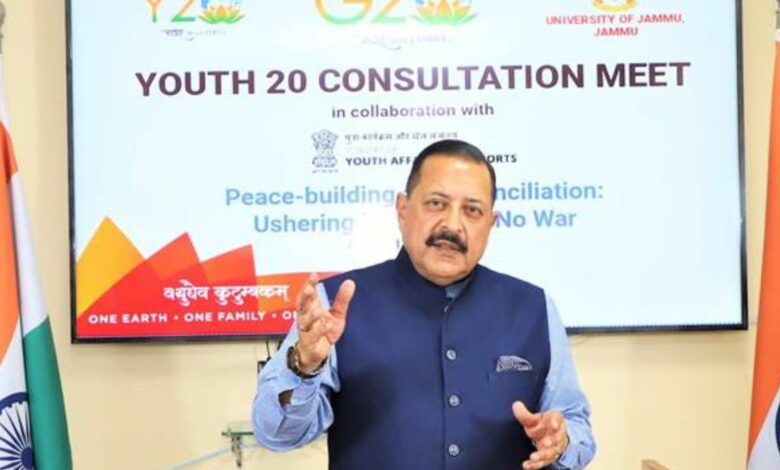 Union Minister of State (Independent Charge) Science & Technology; Minister of State (Independent Charge) Earth Sciences; MoS PMO, Personnel, Public Grievances, Pensions, Atomic Energy and Space, Dr Jitendra Singh today said that Youth at 2023 will define India at 2047.
Speaking as chief guest at the Youth 20 Consultation on Peace-building and Reconciliation: Ushering in an Era of No War at the University of Jammu, Dr Jitendra Singh said three generations have passed since Independence and there was no dearth of talent or capabilities but the favourable milieu was lacking which has now been made available by Prime Minister Narendra Modi. So this is a great opportunity but at the same time also a challenge and privilege because the same youth will be deciding the face of India@2047. Those who are thirty today will be the prime citizens, he said.
Dr Jitendra Singh said that 2023 is a very important year for the country as India is holding the G20 presidency. In this auspicious year, one can reasonably say that Prime Minister Modi has given a model of governance which is sustainable, defies the principle of diminishing returns and grows stronger with each new challenge. Therefore the point to ponder in the context of today's meeting is what is the inter-relationship between the Modi governance of 2023 and the youth of 2023.
The Minister said that just after forming the Government in May 2014, Prime Minister Shri Narendra Modi had said that this Government will be dedicated towards the upliftment of the poor, empowerment of women and the betterment of the youth. Before 2014, the environment in the country was one of desperation and hopelessness.
He added that on the evening of 26th May 2014 when Narendra Modi was sworn in as Prime Minister, I said this is the beginning of the journey from pessimism to optimism. So when the Prime Minister said that his government would give high priority to youth, many people treated it with cynicism. But today when you look back, as the government is completing 9 years under Prime Minister Narendra Modi, you can reasonably say with evidence that Modi has walked the talk and also led his team to walk the talk.
The Minister recalled that soon after the Government came to power in May 2014, within two to three months, the practice of getting certificates attested by gazetted officers was done away with. Thereafter within a year, Prime Minister spoke from the ramparts of Red Fort about the abolition of interviews in job recruitment so that a level playing field could be provided. In pension, face recognition technology was introduced so that elderly citizens did not have to go through the tedious process of getting a life certificate. Most of the functioning was converted online and in order to bring in transparency, accountability and citizen participation, the human interface was reduced to the bare minimum. This highlights the fact that now there is a government that is ready to trust the youth of this country.
Talking about grievance redressal, Dr Jitendra Singh said that the grievance redressal mechanism was shifted to CPGRAMS as a result of which about 20 lakh grievances are received every year in comparison to just 2 lakhs every year before this government came in because this government followed a policy of time-bound redressal and gained the confidence of the people.
It was Prime Minister Modi, said Dr Jitendra Singh, who had, a few months ago, promised the nation that he would soon provide 10 lakh government jobs for the youth. Once again, the Minister said, it is evident that Prime Minister Modi does what he says and he has the capacity to make everything "Mumkin" (possible).
Dr Jitendra Singh said, right from the beginning, Prime Minister Modi has given the highest priority to the issues and concerns related to youth. He said Prime Minister has constantly sought to create new avenues and opportunities for livelihood, government jobs and income for the youth.
Dr Jitendra Singh referred to India's Prevention of Corruption Act, 1988, which the Modi government amended after 30 years in 2018 to introduce a number of new provisions including criminalising the act of giving bribes also in addition to taking bribes and at the same time putting in place an effective deterrence for such actions by individuals as well as corporate entities.
Dr Jitendra Singh recalled that it was Prime Minister Modi who, in his Independence Day address of 2015, gave a call for "StartUp India StandUp India", which soon turned into a countrywide movement. The result of this is that now the number of StartUps in India has gone up from 300 to 400 in 2014 to more than 75,000 today and India ranks third in the world in the StartUp ecosystem, he added. Moreover, the number of Biotech Startups in the country has increased from 50 to over 5,000 in the last 8 years, because of the support and enabling milieu provided by Prime Minister Narendra Modi ever since he took over in 2014. It is expected to cross the figure of 10,000 by 2025. Bio-economy before 2014 was just $10 billion, today it is $80 billion and the target is $100 billion by 2025, he added.
The Minister said that Himalayan states including Uttarakhand have become the fountainhead for aromatic start-ups. Moreover, he said that "Purple Revolution" or Aroma Mission is Jammu & Kashmir's contribution to "StartUps India. Pertinent to mention that Aroma Mission is attracting StartUps and agriculturists from across the country. More than 44,000 persons have been trained and several crores of farmers' revenue generated.
Similarly, Dr Jitendra Singh said, Prime Minister Narendra Modi has given the highest priority to the growth and development of the North Eastern region and it was a path-breaking decision under his leadership to exempt home-grown bamboo from the purview of the 100-year-old Indian Forest Act. This helped in bringing ease of doing business in the bamboo sector for the young entrepreneurs, he said. Earlier governments never cared to explore India's vast ocean resources and it is for the first time after Shri Narendra Modi took over as Prime Minister that there is a serious effort to explore and harness the ocean resources and give priority to the Blue Economy of India
In the field of conventional education, at the start of 2014, there were 725 universities and now 300 more have been added in the past 9 years at the rate of 1 new university every week. The Minister said that 145 medical colleges were opened in the country between 2004 and 2014. More than 260 medical colleges have been opened from 2014 to 2022 at the rate of 1 college of medicine per day and at the rate of 2 degrees colleges per day so that every youth gets accessibility to education. He/she should not be deprived of receiving education simply because it's not available, he added.
The Minister recalled that recently the Central University of Jammu has opened North India's first teaching department of space. Saying that one of the objectives of NEP-2020 is a de-linking degree from education, Dr
Dr Jitendra Singh said that linking degrees with education has taken a heavy toll on our education system and society as well. One of the fall-outs has been an increasing number of educated unemployed.
Dr Jitendra Singh mentioned that we are already a part of the global world whether we like it or not. And therefore if we have to live up to global benchmarks, we have to prepare ourselves for global challenges and we have to also address global concerns be it climate change, clean energy etc. Prime Minister Modi, in his Independence Day speech, introduced us to the potential of green hydrogen as a fuel. India in the near future will be one of the major exporters of green hydrogen.
The Minister said that Youth20 is one of the eight official engagement groups under the G20 umbrella. It is an attempt to create a connecting point between G20 governments and their local youth. The Y20 India Summit in 2023 will exemplify India's youth-centric efforts and provide an opportunity to showcase its values and policy measures to the youth across the globe.
The Minister concluded by saying that because of all this, the onus lies on the youth of today, those who are in their thirties and who are going to be prime citizens in 2047. How best they can use this opportunity depends on them. He said he hoped that the youth at that time will be able to say that "I'm the architect of India@100" and therefore we of the earlier generation have the responsibility to induce that capacity building of the youth of today, he concluded.
Disclaimer: This is an official press release by pib.