PIB Press Releases
National Mission For Clean Ganga (NMCG) Organizes River-Cities Alliance Global Seminar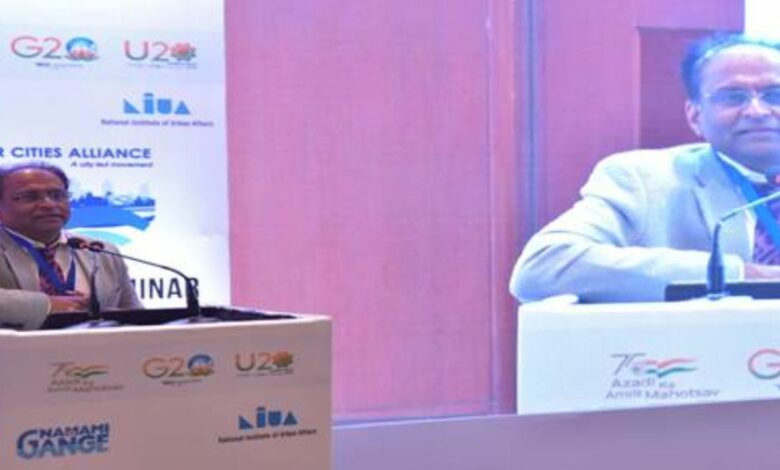 National Mission for Clean Ganga (NMCG) in association with the National Institute of Urban Affairs (NIUA) organized the 'River-Cities Alliance (RCA) Global Seminar: Partnership for Building International River-Sensitive Cities' yesterday in New Delhi. The purpose of the RCA Global Seminar was to provide a platform for officials of member cities and international stakeholders to discuss and learn good practices for managing urban rivers.
The RCA Global Seminar witnessed participation from Embassies/High Commissions of select countries and their respective river cities in order to highlight objectives, achievements, and potential collaborative outcomes of RCA. State Missions for Clean Ganga (SMCGs) and funding agencies like World Bank, ADB, JICA & KfW also were part of the discussions.
The RCA Global Seminar was presided over by Mr G. Asok Kumar, Director General (NMCG).
Addressing the gathering, Mr G. Asok Kumar expressed happiness about the increase in the number of cities joining the RCA and the immense interest NMCG has been able to generate on this issue. He noted that the trickle started with the Urban River Management Plan and has been flowing ever since. He emphasized the importance of issues related to climate change and urban water management, and how urban planners have a serious challenge at hand. "Climate change is a reality. We can see it now in Delhi where in the month of May we are needing blankets," he said.
He informed that RCA started with 30 cities on the banks of the river and eventually, it was decided to expand it to all cities not restricting to the Ganga Basin. "During the DHARA 2023 event in Pune, we were enthused to see the response from the city planners, who viewed water as something not important," he said, adding, "People and administrators are now waking up to the reality as they have realized that issues related to water such as floods, droughts, inadequate waste management etc. can shut down cities." DG, NMCG hoped that urban planners incorporate water management at the planning stage and start giving the priority it deserves.
Mr Kumar said that under the leadership of the PM, Swacch Bharat Mission and Jal Jeevan Mission are progressing well and creating a positive impact on the ground setting world-class examples in the water and sanitation sectors. The stopping of Open Defecation ensured that the drinking water sources don't get contaminated whereas household water supply under JJM is easing the pain of women in rural areas who had to walk several kilometres to fetch water. "With urbanization, if we don't take care of the disposal of sewage then it is a major threat. The urban planners solely focussed on the infrastructure must take this into account to keep the rivers and other drinking water sources clean," he said.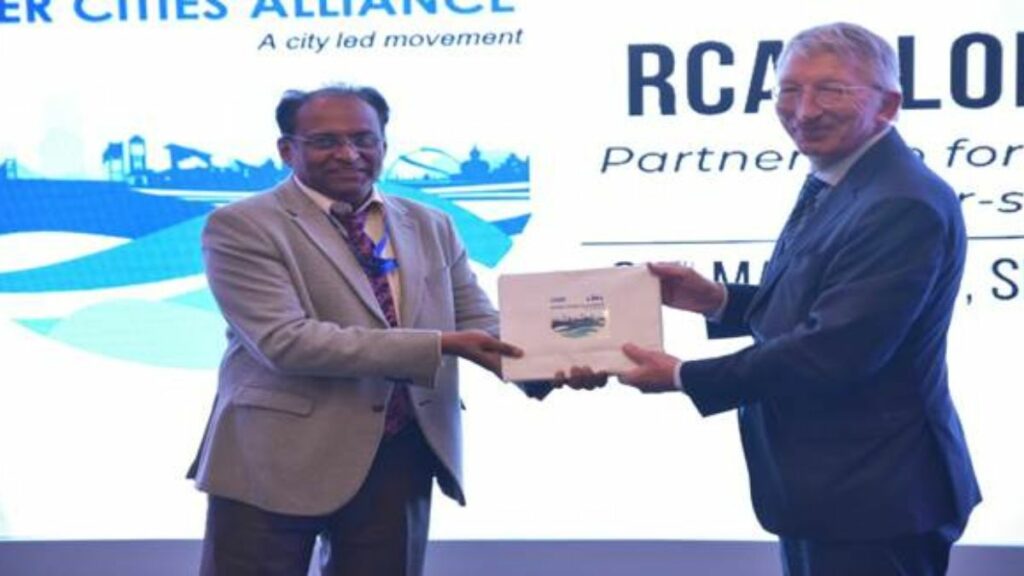 He noted that the theme of RCA resonated in the UN Water Conference 2023 held in New York in March 2023. "The timely success in the water sector in India is primarily because of people's participation (Jan Bhagidari) and whole-of-government approach," he said, adding, "The time has now come, as envisaged by the Union Minister for Jal Shakti, is to move towards a whole-of-world approach to break the silos in which water has been divided."
He called for the world players to cooperate, work together, pick from each other's best practices, share knowledge (Gyan Bhagidari), come up with transformational solutions and share in the success.
On RCA Global, he said that cleaning rivers like the Rhine and the Thames in foreign lands is a lesson and inspiration for us and we should partner with international cities to create beautiful cities in India which can take pride in their rivers and people enjoy and have a pleasant experience at the riverfronts. "The experience of international cities in making their rivers clean, improving river properties, managing river flooding and increasing aesthetic value can be seen as fruitful lessons for us. RCA Global platform should leverage the experience of foreign countries," he added. He also said that it is not about aping anyone but taking the adaptable best practices as per requirements and using them to make our cities more beautiful.
DG, NMCG informed that Namami Ganga was recognized as the 'Top 10 World Restoration Flagships to Revive the Natural World' in Montreal, Canada and Clean Ganga, which seemed impossible, is now happening. He said that NMCG has committed to the SDG goals of equity in water distribution, access to safe drinking water, democratization of water etc.
Session 1 of the event saw a presentation from the Asian Development Bank Institute (ADBI) on 'Decentralized Urban Wastewater Management System in Japan', and an Embassy Round Table discussion.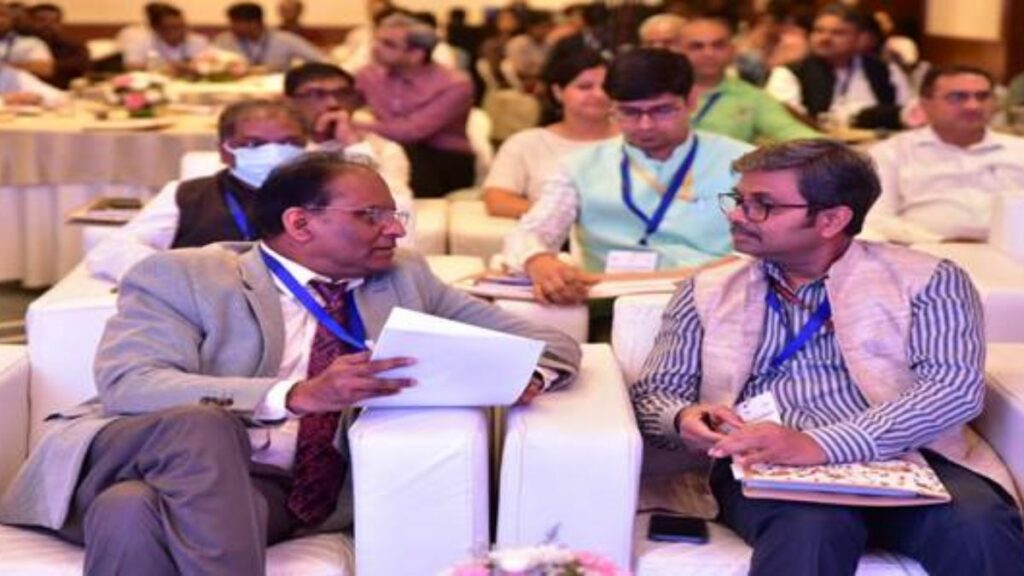 Session 2 began with the context setting of RCA that incorporated an introduction to NMCG's Urban Agenda, Urban River Management Plan (URMP) Framework with comments on RCA and future goals/actions pertaining to river management. Furthermore, there was a presentation from representatives of the India-Denmark Partnership, with a focus on the case study of Udaipur-Aarhus. Another presentation was made on RCA Cities – Ayodhya and Chhatrapati Sambhaji Nagar in this session.
NMCG c-Ganga facilitated presentations from International Cities – Greater Manchester by Mr Mark Turner (National Course GM Team Leader, Greater Manchester Combined Authority), City of Hamburg by Mr Christian Ebel (Desk Officer for Implementation of EU Water Framework Directive in Hamburg for the Elbe River Free and the Hanseatic City of Hamburg), City of Copenhagen by Mr Jan Burgdorf Nesilsen, Municipality of Copenhagen and the City of Aarhus, Mr Gitte Nordmand Andersen (Aarhus Municipality). Session 2 also witnessed an open house discussion and ended with a vote of thanks from Mr Dheeraj Joshi, Deputy Secretary, NMCG.
Mr D.P Mathuria, Executive Director (Technical), NMCG delivered the special address and spoke about how India is hugely investing in the water sector, but staring at twin challenges of water security and climate change. Both of these factors are interlinked in making water equitable. He noted the facets of water security being water management and water quality. NMCG has developed a large number of STPs that are able to address the issues of faecal contamination. He noted that nature-based solutions and decentralised systems shall be very important assets in terms of a solution to organic waste falling into rivers.
Other participants included Mr Mukul Verma (Senior Adviser – Infrastructure & Financial Services, Embassy of UK), Mr Shayan Yousefi (Embassy of Austria), Mr Beate Langset (Counsellor for Climate & Environment, Royal Norwegian Embassy), Ms Anitha Sharma (Counsellor in Urban Development with focus on Water, Embassy of Denmark), Mr R.K. Srinivasan (USAID's Senior Water and Sanitation Advisor, US Embassy), Mr Dirk Steffes-enn (Deputy Head of Economic Cooperation and Development, Embassy of the Federal Republic of Germany), Ms Martina Burkard (Head of Programme, GIZ), Ms Nishi Pant (Senior Policy Advisor, Netherlands Embassy), Mr Jun Tsumori (Counsellor, Economic Cooperation, Embassy of Japan), Mr Kazushi Hashimoto (Consultant, ADBI), Prof Manabendra Saharia (Assistant Professor, IIT Delhi), and Prof. Ashish Pandey (HOD, Department of Water Resources Development & Management, IIT Roorkee).
NMCG-NIUA Collaboration
The NMCG-NIUA collaboration has witnessed the historic establishment of the 'River Cities Alliance (RCA)' of 110 river cities across India with one international member city – the city of Aarhus from Denmark. RCA was a significant initiative at MMCG's Side Event during the 'UN 2023 Water Conference – Water Action Agenda' on March 23, 2023, which highlighted the importance of Germany as a key partner for the commitment related to 'River Cities Alliance: Partnership for Building International River Sensitive Cities'.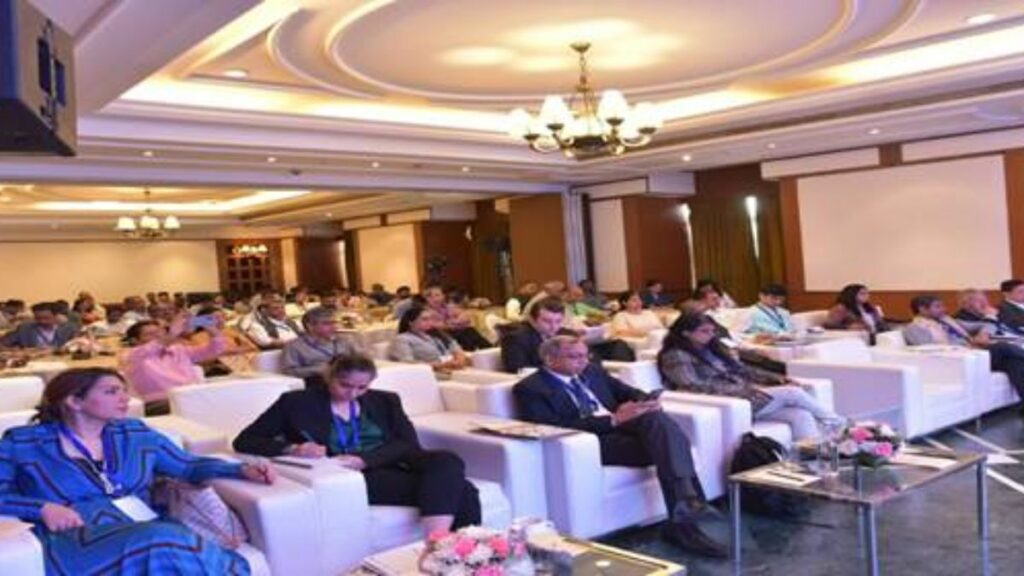 NMCG has been tirelessly working on a joint initiative to propagate river-sensitive development in our cities with NIUA. This is in response to the Prime Minister's call for new thinking in river cities at the 1st Meeting of the National Ganga Council (NGC) in December 2019. Hence, NMCG seeks to deepen the commitment through the inclusion of international cities as members of the RCA during the RCA Global Seminar. The intent is to facilitate knowledge exchange (online) for Indian cities to learn new practices and approaches for urban river management. Likewise, it will also be an opportunity for international cities to learn about experiences in Indian cities, which may be relevant to their contexts.
River Cities Alliance
The River Cities Alliance (RCA) is a joint initiative of the Department of Water Resources, River Development & Ganga Rejuvenation under the Ministry of Jal Shakti (MoJS) & the Ministry of Housing and Urban Affairs (MoHUA), with a vision to connect river cities and focus on sustainable river centric development. Beginning with 30 member cities in November 2021, the Alliance has expanded to 109 river cities across India and one international member city from Denmark.
DHARA 2023
The first annual meeting of the RCA – DHARA 2023 (Driving Holistic Action for Urban Rivers) was held on February 13–14, 2023, in Pune. DHARA 2023 featured key sessions on international best practices and examples for urban river management. DHARA 2023 was aimed to inspire members of the RCA to engage in progressive actions for urban river management in their cities. The event shone a light on the unaddressed issues and challenges for river management in cities, which helped NIUA and its partners formulate an effective work plan. The event also helped in developing a compendium of technological solutions that cities may adopt for enhancing the management of their local rivers.
Disclaimer: This is an official press release by pib.