PIB Press Releases
National Mission for Clean Ganga (NMCG) Approves 7 Projects Worth Rs. 692 Crore
3 Sewage Management Projects Worth Over Rs. 661 Crore Approved For Uttar Pradesh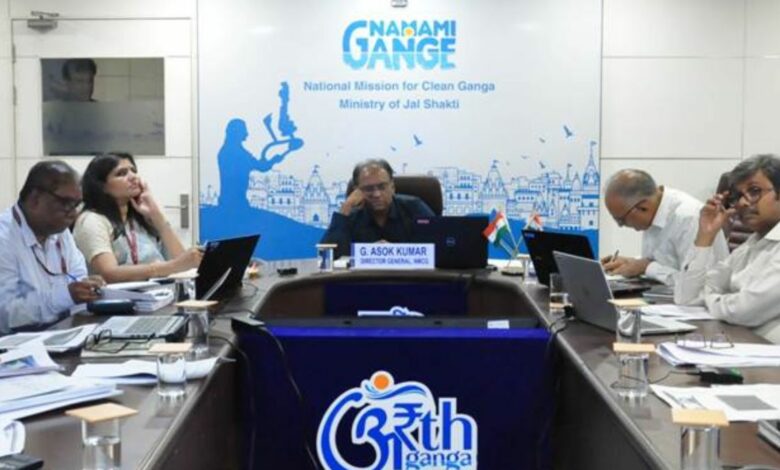 The 50th meeting of the Executive Committee of the National Mission for Clean Ganga (NMCG) was held under the chairmanship of DG, NMCG, Shri G. Asok Kumar where Seven projects worth around Rs. 692 crore were approved. Out of the seven projects, four pertain to sewage management in Uttar Pradesh and Bihar. NMCG has so far sanctioned a total of 452 projects worth around Rs. 38,126 crore out of which 254 have been completed.
For sewage management in Uttar Pradesh, 3 projects worth Rs. 661.74 crore were approved in the meeting. These include the creation of a 100 Million Litres per Day (MLD) STP in Lucknow along with Interception and Diversion (I&D) works under Hybrid Annuity Mode (HAM). Another project for I&D of balance discharge of Dariyabad Pipalghat and Dariyabad Kakahraghat drains and construction of a 50 MLD STP in Prayagraj was approved. This project costing around Rs. 186.47 crore will augment the existing treatment capacity of Naini STP in sewerage district-A in Prayagraj to 80 MLD. In a smaller project, a 6 MLD STP, I&D and other works in Hapur were also approved to stop the flow of the Hapur city drain into River Kali, which is a tributary of River Ganga.
Two STPs (5 and 7 MLDs) at an estimated cost of Rs. 74.64 crores for tapping of Pipra ghat drain and Chhatiya ghat drain respectively along with I&D works were also approved in the 50th EC meeting for Raxaul town in Bihar. This project will abate pollution in the Sirsiya River that originates in Nepal and enters Bihar at Raxaul in East Champaran district.
In an important step for the effective management of water in urban areas, a project envisaging the preparation of 60-70 Urban River Management Plans (URMPs) in two phases has also been approved costing around Rs 20 crore. During the first year, 25 URMPs shall be prepared and 35 URMPs shall be prepared during the second year. The first phase would cover 25 cities from 5 main stem Ganga basin states: Dehradun, Haridwar, Rishikesh, Haldwani & Nainital in Uttarakhand; Lucknow, Varanasi, Agra, Saharanpur & Gorakhpur in Uttar Pradesh; Patna, Darbhanga, Gaya, Purnea and Katihar in Bihar; Ranchi, Adityapur, Medininagar, Giridih and Dhanbad in Jharkhand and Asansol, Durgapur, Siliguri, Nabadwip and Howrah in West Bengal.
Committee Also Approves the Project For the Preparation of Urban River Management Plans For 60 cities
This project is part of the River-Cities Alliance (RCA) under Namami Gange, which provides cities opportunities to cooperate, work together, learn from each other's best practices, and share knowledge, thus paving the way for Gyan Bhagidari, which will lead to transformational solutions. This project will be World Bank funded. RCA which started with 30 members in 2021 now has more than 140 members, including international cities.
In a first-of-its-kind project, one project was approved for initiation of M.Sc. Course in Freshwater Ecology and Conservation at Ganga Aqualife Conservation Monitoring Centre, Wildlife Institute of India, Dehradun at an estimated cost of Rs. 6.86 crore for 10 years. The proposal aims to develop a cadre of ecologists and field biologists, with expertise in freshwater ecology for effectively managing the freshwater resources and its biodiversity in India.
The project addresses the need for scientific knowledge and skilled professionals in the field of freshwater ecology and conservation. It aims to train a new generation of field researchers and ecologists to effectively manage and conserve freshwater ecosystems in India. The project will offer a two-year M.Sc. Course in Freshwater Ecology and Conservation spanning four semesters. The curriculum will cover various aspects of freshwater ecosystems, their biodiversity, and the impact of drivers on these ecosystems. One project for the construction of an electric crematorium at Barkola, Kharagpur in West Bengal was also approved in the 50th EC.
Shri S.P. Vashishtha, Executive Director (Admin.), NMCG, Shri Bhaskar Dasgupta, Executive Director (Finance), NMCG, Shri D.P. Mathuria, Executive Director (Technical), NMCG, Ms. Richa Misra, Joint Secretary and Financial Advisor, Department of Water Resources, River Development and Ganga Rejuvenation, Ministry of Jal Shakti, senior officials from the states concerned also attended the meeting.
Disclaimer: This is an official press release by Pib.