PIB Press Releases
MBBS seats increased by 79%, MD by 93% in the last over 9 years, says Dr Jitendra Singh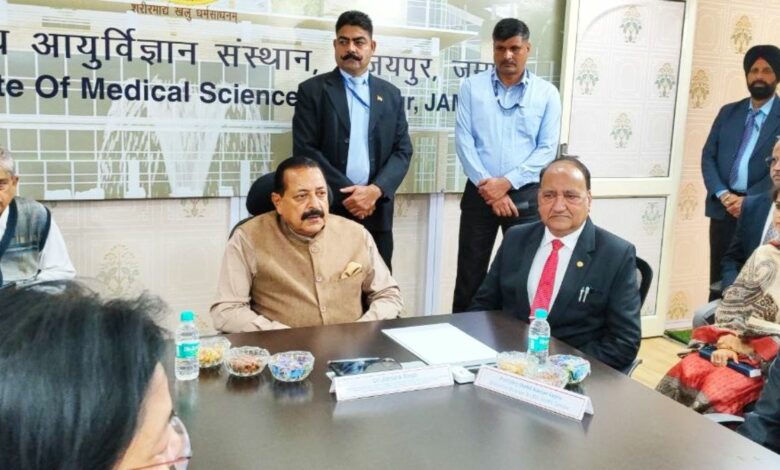 Union Minister of State (Independent Charge) Science & Technology; MoS PMO, Personnel, Public Grievances, Pensions, Department of Atomic Energy & Department of Space, Dr Jitendra Singh yesterday said, the government under Prime Minister Shri Narendra Modi has sought several measures to make medical education affordable and accessible so that no deserving candidate finds himself at disadvantage. The number of MBBS seats increased by 79% from 51,348 to 91,927 while MD seats by 93% from 31,185 to 60,202 in just over 9 years, he said.
In a quantum jump, Dr Jitendra Singh said, from 145 government medical colleges in 2014, India now has 260 such GMCs, while the number of AIIMS in the country went up to 23 in over 9 years, he informed.
The Minister was speaking after flagging off a 32-seater bus donated to AIIMS, Jammu by the SBI. The function was held at Bakshi Nagar Camp Office of AIIMS, Jammu.
Director AIIMS, Dr Shakti Gupta expressed his gratitude to Dr Jitendra Singh and commended his commitment in coming straight from Telangana to grace the occasion despite his hard-pressing schedule.
Talking about India's vaccination programme, Dr Jitendra Singh stated that India has emerged as a world leader in protective healthcare. Earlier, the country wasn't taken seriously as a healthcare provider, he noted.
The Minister commended Prime Minister Shri Narendra Modi for freeing the healthcare sector of shackles and doing away with obsolete regulations, adding that a more enabling milieu has been created.
The Minister suggested incorporating telemedicine provision in SBI-donated buses to hospitals on the pattern of the 'Doctors on Wheels' facility. He called for an integrated health management protocol to add value to delivering medical services in far-flung areas.
Later, the Minister interacted with the students and faculty of AIIMS, Jammu. He shared his experiences and offered tips to the students as to how to excel in their field.
Dr Jitendra Singh exchanged views on the latest tools of medical practice like Artificial Intelligence, Quantum therapies etc and shared his experiences on the same. He also suggested Theme-based CMEs involving multiple streams and disciplines under one roof. He also spoke about integrating clinical medicine with Deep Technology to draw maximum outcomes.
On the occasion, Dr Jitendra Singh released a book titled "Handbook of Policies, Guidelines and Procedures". The book highlights the importance of collaboration between institutions and conducting trials across multiple centres.
Dr Jitendra Singh also advised the students to work towards realising the Prime Minister's vision of a Developed nation by 2047.
Disclaimer: This is an official press release by Pib.