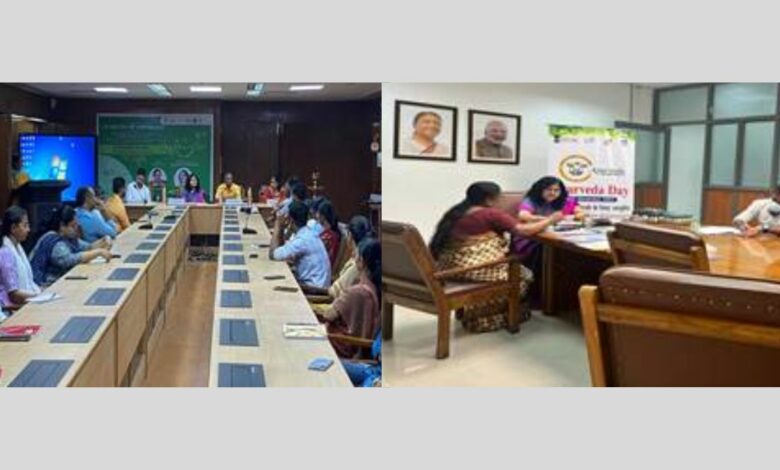 To celebrate the 8th Ayurveda Day (9 Nov. 2023), as part of its SVASTIK initiative CSIR-NIScPR hosted a special lecture on "Role of Ayurveda in lifestyle disorders" in collaboration with the Central Council for Research in Ayurvedic Sciences (CCRAS). Shri R. S. Jayasomu, Chief Scientist of CSIR-NIScPR, welcomed the participants warmly and delivered his introductory remarks.
Shri Jayasomu highlighted the importance of integrating Ayurveda into our daily lives, particularly in light of the current unfavourable environmental circumstances. Dr Paramananda Barman, Scientist at CSIR-NIScPR introduced the speaker, Dr Sakshi Sharma, Research Officer (Ay.), Central Ayurveda Research Institute, New Delhi.
In her keynote address, Dr Sharma emphasized the need to prioritize good health over the process of recuperating from illnesses. In addition, she expressed the importance of traditional knowledge and also her apprehension regarding the prevailing practice of resorting to medication without first evaluating one's lifestyle. The captivating lecture encompassed various facets of Ayurveda, such as Prakriti, the Ayurveda clock, dietary practices, and strategies for mitigating stress-related health issues.
The lecture was followed by a question and answer session. Dr Charu Lata, Principal Scientist and PI/Coordinator-SVASTIK at CSIR-NIScPR proposed the Vote of Thanks and expressed gratitude to the speaker and audience. The event concluded with a free Health Checkup Camp coordinated by Dr Suman Ray, Principal Scientist, CSIR-NIScPR.
Disclaimer: This is an official press release by Pib.