PIB Press Releases
Digital India Week flagged off with Digital Mela and a Bouquet of launches in the august presence of Prime Minister Shri Narendra Modi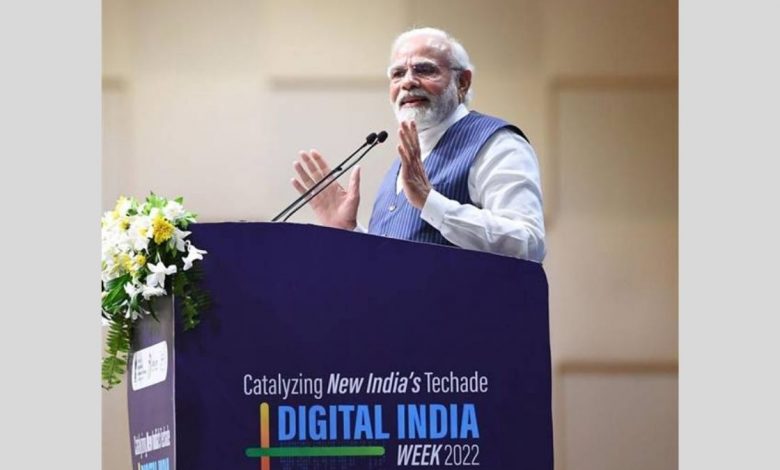 Celebrations of Digital India Week kick-started on 4th July 2022 by the Hon'ble Prime Minister Shri Narendra Modi Ji in the presence of Chief Minister of Gujarat Shri Bhupendra Patel Ji, Hon'ble Minister of Electronics & IT, Shri Ashwini Vaishnaw Ji and Hon'ble Minister of State for Electronics & IT, Shri Rajeev Chandrasekhar Ji and several other dignitaries.
The Digital Mela that showcased over 200 stalls on digital solutions and emerging technologies were visited by the Hon'ble PM. Around 1500 beneficiaries of Digital India initiatives from across the country participated in the event. Some of the beneficiaries got the opportunity to interact and share their experiences with the Prime Minister.
Shri Rajeev Chandrasekhar, MoS, Electronics & IT, Skill Development and Entrepreneurship welcomed the Hon'ble Prime Minister on the dais and addressed the august audience. He talked about the growth of Digital India since its inception & shared how Digital India enabled Bharat to shift from a 'Tech consumer to a Tech producer'.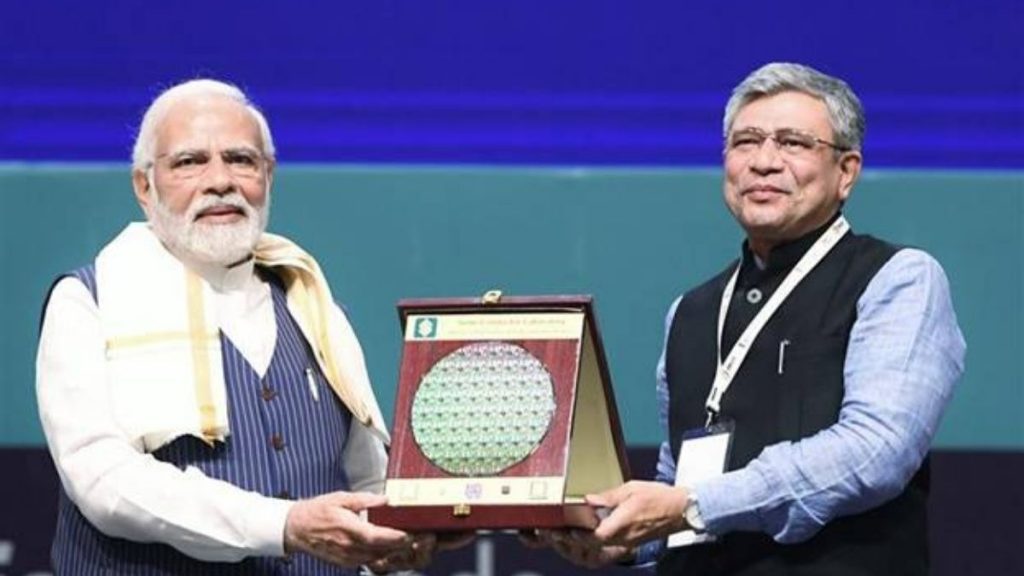 Shri Ashwini Vaishnaw, Minister of Electronics & IT, Communications and Railways addressed the audience and elucidated how three pillars of Digital India namely Startup India, eGovernance & Electronics Manufacturing, created lakhs of jobs & empowered the nation.
While addressing the gathering, Shri Bhupendra Patel, Chief Minister of Gujarat remarked that by generating an automated cycle of planning, implementation, & feedback, Digital India has given a direction to the government with changing times. He also talked about various governance initiatives that the government of Gujarat has successfully implemented in the last 2.5 decades.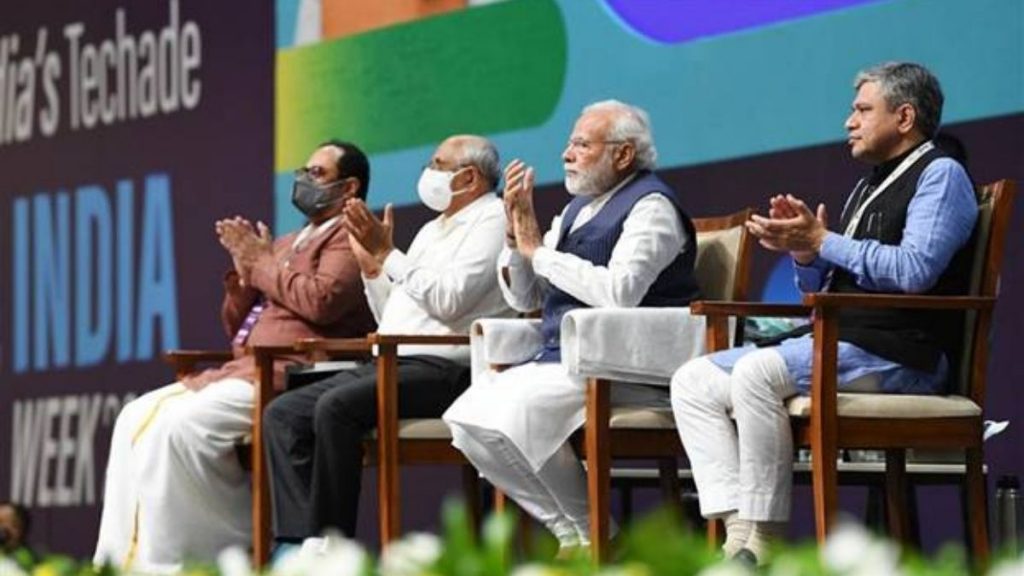 A video highlighting the achievements of Digital India and the road ahead for digital transformation was shown at the august gathering. The Prime Minister launched several Digital India initiatives, namely, India Stack: India stack. global, MyScheme: Service Discovery Platform, MeriPehchaan: National Single Sign On (NSSO), Digital India Bhashini: Bhasha Daan, Digital India GENESIS and unveiled an eBook 'Catalyzing New India's Techade'. The first cohort of 30 institutions supported under the Chips to Startup (C2S) Programme was also announced.
The first day of the Digital India Week celebration concluded with the closing remarks from Prime Minister Shri Narendra Modi who said that in Industry 4.0, India is leading the way for the world. The Hon'ble Prime Minister highlighted that UPI has transgressed the economic barriers & has empowered every citizen equally, demonstrating that the digital solutions produced by Digital India are scalable, secure and democratic.
The Prime minister also urged the people to visit the Digital Mela and experience New India full of determination, resilience & hope.
Disclaimer : This is an official press release by PIB.