PIB Press Releases
The 'Meri Mati Mera Desh' campaign will be launched to honour our martyred braveheart men and women: PM
'Amrit Vatika' to be made under 'Meri Maati Mera Desh' in New Delhi to become a grand symbol of 'Ek Bharat Shreshtha Bharat'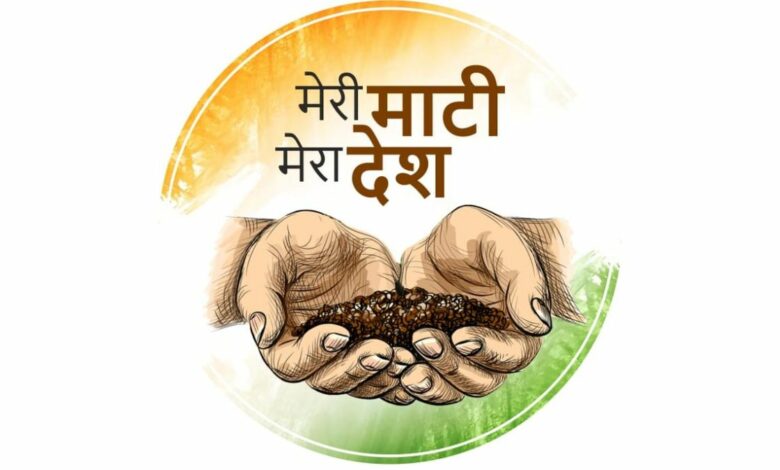 Prime Minister Shri Narendra Modi, in his address to the people of the country during the popular programme 'Mann ki Baat' has always accorded prominence to the beautiful cultural fabric of the country and how diversity also acts as a unifying force. In his latest address of Mann ki Baat, the Prime Minister said that in the midst of the ongoing reverberations of Amrit Mahotsav and the 15th of August round the corner, another great campaign is on the verge of being launched in the country. The 'Meri Mati Mera Desh' campaign will be launched to honour our martyred braveheart men and women.
He also informed, "Under this, many programs will be organized across the country in memory of our immortal martyrs. In memory of these luminaries, special inscriptions will also be installed in lakhs of village panchayats of the country. Under this campaign, 'Amrit Kalash Yatra' will also be organised across the country."
He further said that this 'Amrit Kalash Yatra' carrying soil in 7500 urns from every corner of the country will reach Delhi, the capital of the country. This journey will also carry with it saplings from different parts of the country. 'Amrit Vatika' will be built near the National War Memorial by fusing the soil and saplings that would arrive in 7500 urns. This 'Amrit Vatika' will also become a grand symbol of 'Ek Bharat Shrestha Bharat'.
Ek Bharat Shreshtha Bharat programme aims to enhance interaction & promote mutual understanding between people of different states/UTs through the concept of state/UT pairing.
Speaking about Amrit Sarovar, Shri Narendra Modi said that this phase of rain is equally important for 'tree plantation' and 'water conservation'. More than 60 thousand Amrit Sarovars built during the 'Azaadi ka Amrit Mahotsav' are increasingly radiating their glow. Presently, the work of building more than 50 thousand Amrit Sarovars is going on. Our countrymen are making novel efforts for 'water conservation' with full awareness and responsibility.
Mission Amrit Sarovar has been launched on 24th April 2022 with the objective to harvest and conserve water for future generations. The salient features of the Mission Amrit Sarovar are as follows-
Mission Amrit Sarovar is based on the "Whole of Government" approach with the participation of the Ministry of Rural Development, Ministry of Jal Shakti, Ministry of Culture, Ministry of Panchayati Raj, Ministry of Environment, Forest & Climate Change and technical organizations.
Under the Mission, every district of the country will construct or rejuvenate at least 75 Amrit Sarovar.
Every Amrit Sarovar will have a pondage area of at least 1 acre with a water holding capacity of about 10,000 cubic metres.
Every Amrit Sarovar will be surrounded by trees like Neem, Peepal and Banyan etc.
Every Amrit Sarovar will be a source of generation of livelihoods by using the water for different purposes like irrigation, fisheries, duckery, cultivation of water chestnut, water tourism and other activities. The Amrit Sarovar will also act as a social gathering point in that locality.
Mission Amrit Sarovar is a visible manifestation of the action during Azadi ka Amrit Mahotsav.
Art and Culture forms an important part of India's rich and diverse heritage. Speaking about the rich heritage of India in the 103rd episode of Mann ki Baat, the Prime Minister said, "Let us not only embrace our heritage, but also present it responsibly to the world. And I am happy that one such effort is going on in Ujjain these days. Here 18 painters from all over the country are making attractive picture story books based on the Puranas. These paintings will be made in many distinctive styles such as the Bundi style, Nathdwara style, Pahari style and Apabhramsh style. These will be displayed in Ujjain's Triveni Museum."
The Prime Minister also highlighted that since ancient times, our scriptures and books have been preserved on Bhojpatras. Mahabharata was also written on the Bhojpatra. Today, the women of Devbhoomi (Uttarakhand) are making very beautiful artefacts and souvenirs from the Bhojpatra. Today, the products of Bhojpatra are very much liked by the pilgrims coming here and are also buying it at good prices. This ancient heritage of Bhojpatra is filling new hues of happiness in the lives of the women of Uttarakhand.
PM also mentioned that last year on the occasion of Independence Day, the whole country came together for 'Har Ghar Tiranga Abhiyan', and said similarly this time too we have to hoist the Tricolor at every house, and continue this tradition.
Disclaimer: This is an official press release by Pib.