PIB Press Releases
CSIR-NIScPR and IWSA organised Half Day Camp on "Mental Health and wellbeing"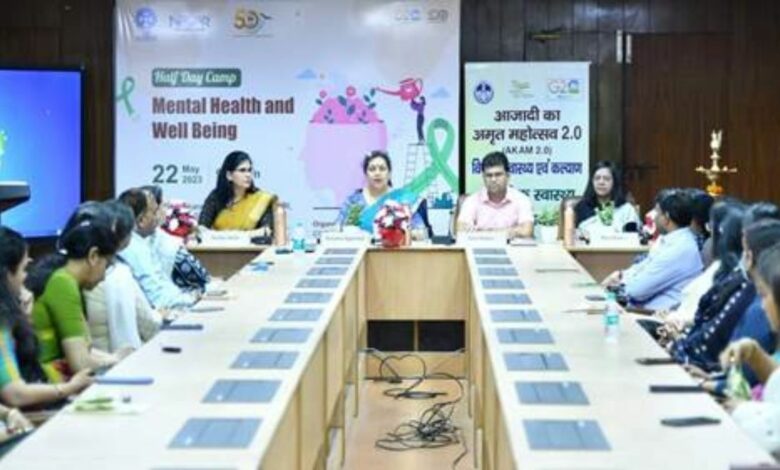 Prof. Ranjana Aggarwal, Director, CSIR-NIScPR said that the increase in the concentration of carbon dioxide has impacted our hormones, metabolism, and overall emotional balance and therefore mental health conditions like stress, depression, and anxiety are very common in today's time. She added that it is the need of the hour to address the mental health of ourselves, family, and friends.
Prof. Aggarwal was sharing her thoughts during the inaugural session of the half-day camp focused on mental health and wellbeing, organised by CSIR-National Institute of Science Communication and Policy Research (NIScPR) in collaboration with the Indian Women Scientists Association (IWSA).
Prof. Aggarwal said, "We usually discuss our physical health, but social stigma stops us talking about mental health. But ignoring mental health, can impact our physical health adversely". Talking about human evolution, emotions and its relationship with environmental changes, she added that during almost the last two centuries, we have witnessed the gradual increase of carbon dioxide concentration on Mother Earth.
Dr Rina Sharma, Chief Scientist at CSIR-National Physical Laboratory and President of IWSA also graced the occasion. In her address, she discussed the objectives of IWSA and how this organisation takes science to society. She stressed the need of spreading awareness towards mental health.
Dr Amit Madan, Research Officer, Central Ayurveda Research Institute delivered a special talk on "A balanced lifestyle and mental health". He explained the natural connection between physical and mental well-being.
Dr Kanika Malik, Sr. Principal Scientist, CSIR-NIScPR and Coordinator of the mental health camp proposed a vote of thanks. A health check-up session was also conducted after the mental health programme where staff members of CSIR-NIScPR visited the doctors, shared the health issues, and took consultations.
Disclaimer: This is an official press release by pib.