PIB Press Releases
Archaeological Survey of India, Ministry of Culture, Celebrates International Yoga Day with Great Enthusiasm
Minister of State for Culture and Law, Shri Arjun Ram Meghwal, led an invigorating Yoga session at Nur Mahal Sarai in Jalandhar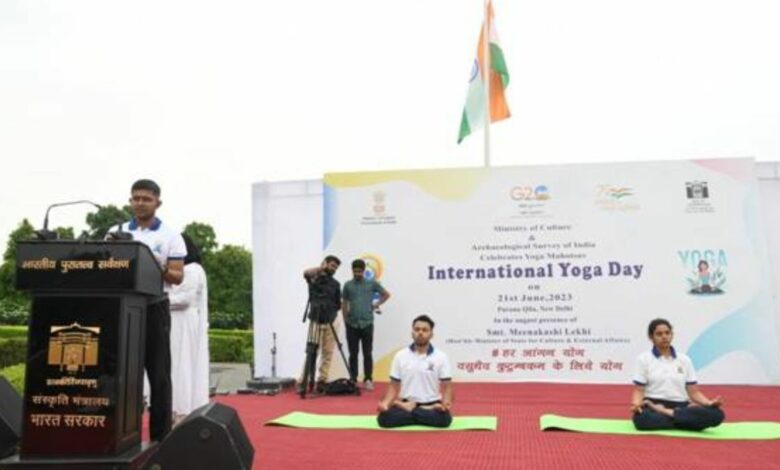 Today, the Archaeological Survey of India (ASI) marked International Yoga Day with utmost zeal and fervour across all 37 circles in the country. The event witnessed notable highlights, including a captivating program by the Ministry of Culture at Purana Qila, New Delhi, where the Minister of State for External Affairs and Culture, Smt. Meenakshi Lekhi led a mesmerizing yoga session. The event attracted a crowd of approximately 500 individuals, including Ministry of Culture staff, ASI members, delegates from various embassies, and enthusiasts from all walks of life.
In parallel, at Nur Mahal Sarai in Jalandhar, the Minister of State for Culture and Law, Shri Arjun Ram Meghwal, led an invigorating yoga session, inspiring the participants to embrace holistic practice.
Addressing the gathering at Purana Qila, Smt. Meenakshi Lekhi highlighted the significance of International Yoga Day, citing Prime Minister Modi's visionary initiative in proposing it. She emphasized that yoga, although widely practised worldwide, lacked a dedicated day to raise awareness and promote its profound wisdom derived from ancient systems. Smt. Lekhi further emphasized that yoga fosters a sense of unity, enabling individuals to harmonize their body and mind, ultimately leading to remarkable personal and societal transformations.
Minister of State for External Affairs and Culture, Smt. Meenakshi Lekhi led a captivating Yoga session at Purana Qila
This year's theme for International Yoga Day is "Vasudev Kutumbkam – The World is One Big Family," emphasizing the shared values and similarities among humanity. By promoting these universal principles, including goodness, wellness, and sustainable health, individuals can contribute to a better world. Smt. Lekhi underscored the significance of preventative healthcare, citing the tremendous support yoga and breathing techniques provided during the pandemic. The integration of yoga into healthcare systems can help achieve sustainable well-being.
The ASI's celebration of International Yoga Day aimed to encourage a unified global approach and foster collaboration among individuals. Smt. Meenakshi Lekhi concluded her speech by urging everyone to communicate, walk together, and hold hands in the pursuit of a harmonious world where hearts beat in unison.
Secretary Culture Shri Govind Mohan, Joint Secretary Sanjukta Mudgal, DG ASI KK Basa along with other officials from Ministry of Culture and Archaeological Survey of India were present during the program. Archaeological Survey of India, Ministry of Culture of India remains committed to promoting the rich heritage of India and fostering physical and mental well-being through events such as International Yoga Day. By recognizing the transformative power of yoga, the ASI endeavours to contribute to the overall growth and harmony of societies worldwide. Pictures from the Yoga session at Purana Qila.
Disclaimer: This is an official press release by Pib.