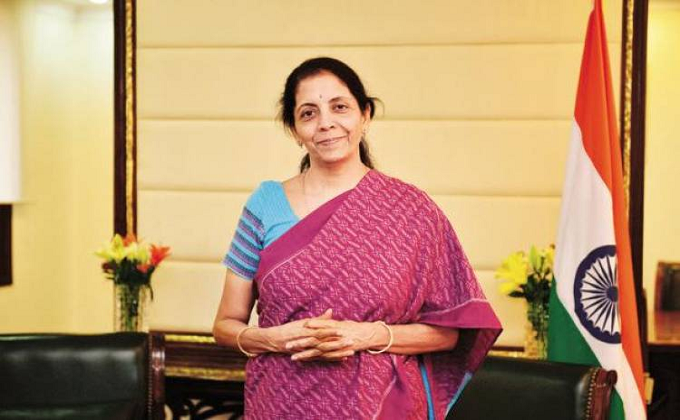 Hon'ble Prime Minister Shri Narendra Modi on May 12th, 2020, announced the Special economic and comprehensive package of Rs. 20 lakh crores – equivalent to 10% of India's GDP – to fight COVID-19 pandemic in India. He gave a clarion call for Aatma Nirbhar Bharat or Self-Reliant India Movement. He also outlined five pillars of Aatma Nirbhar Bharat – Economy, Infrastructure, System, Vibrant Demography and Demand.
Following the call of the Hon'ble Prime Minister, Minister for Finance & Corporate Affairs Smt. Nirmala Sitharaman laid down the details of the Aatma Nirbhar Bharat Package in a string of press conferences from 13th May to 17th May 2020.
The Ministries of Finance & Corporate Affairs have immediately started implementation of the announcements related to the Economic Package under Aatma Nirbhar Bharat Abhiyaan. Regular reviews and monitoring of the implementation of economic package is being overseen by the Finance Minister personally.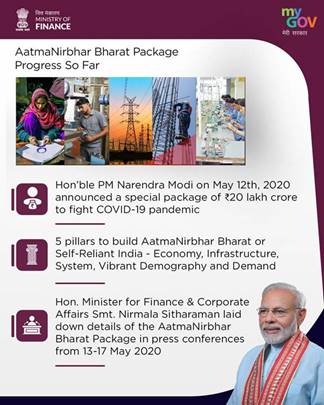 In the latest review taken by Smt Nirmala Sitharaman the following progress has been reported so far:
Global tenders will be disallowed in Government procurement tenders up to Rs 200 crore
Giving a major relief to the local MSMEs, Department of Expenditure has amended present Rule 161 (iv) of General Financial Rules, 2017 and GFR Rules relating to Global Tenders.Now, no Global Tender Enquiry (GTE) shall be invited for tenders upto Rs. 200 crore, unless prior approval is obtained from Cabinet Secretariat.
Relief to Contractors
It was announced by the Finance Minister that all central agencies like Railways, Ministry of Road Transport and Highways and CPWD will give extension of up to 6 months for completion of contractual obligations, including in respect of EPC and concession agreements.
In this regard, Department of Expenditure has issued instructions that (due to COVID-19 pandemic) on the invocation of Force Majeure Clause (FMC), contract period may be extended for a period not less than three months and not more than six months without imposition of any cost or penalty on the contractor/concessionaire. Instructions were also issued to return the value of performance security to the contractor/ suppliers proportional to the supplies made/ contract work completed to the total contract value. The same is being implemented by various Departments/Ministries.
Supporting State Governments
The Finance Minister announced that the Centre has decided to accede to the request and increase borrowing limits of States from 3% to 5%, for 2020-21 only in view of the unprecedented situation. This will give States extra resources of Rs. 4.28 lakh crore.