Indian Railway
Weekly Superfast Special train facility between Nanded-Santragachhi-Nanded from 05 April 2021
By railway administration keeping in mind the convenience of passengers, the weekly superfast special train is being operated between Nanded-Santragachhi-Nanded.
Train No. 02767 Nanded-Santragaci run every Monday from the date of April 5, 2021 and Train No. 02768 Santragaci-Nanded date each Wednesday, April 07 2021 until further notice |
Train number 02767 Nanded – Santragachhi weekly special train will leave Nanded every Monday at 15.25 hrs and arrive Gondia station at South East Central Railway stop at 03.26 hrs on 03.28 hrs, arrival at Durg station at 05.30 hrs, Raipur station at 05.30 hrs. Arrival 6:10 pm Departure 6:15 pm, the Bilaspur Arrival 7:55 pm Departure 8:10 pm will arrive Santragaci 19:20 pm |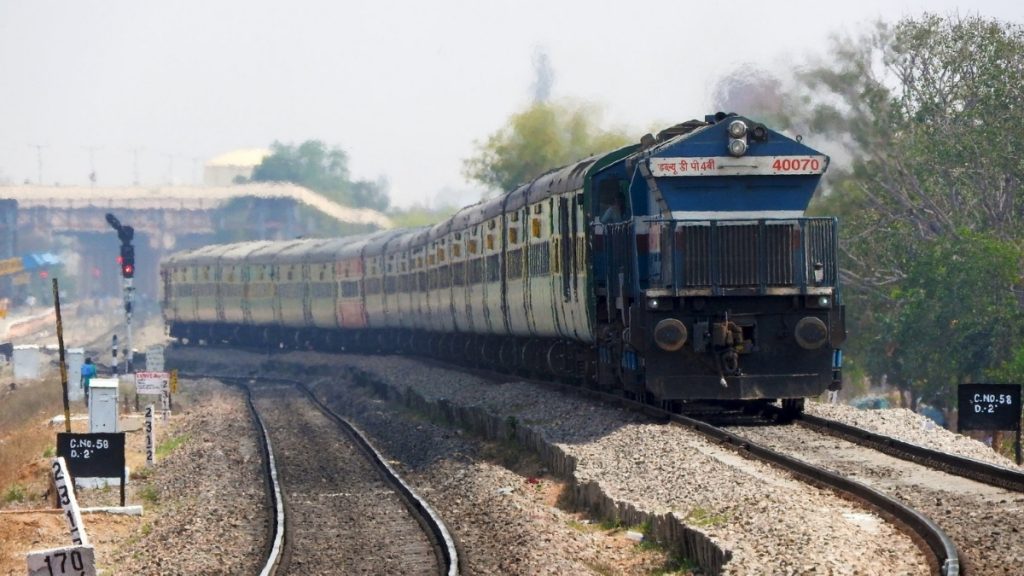 Similarly, train no. 02768 Santragachhi-Nanded weekly special will leave Santragachhi every Wednesday at 14.45 am and arrive at Bilaspur station with stoppage of South East Central Railway at 01.15 am on the second day, 01.30 pm, arrival at Raipur station at 03.00, departure at 03.05 pm, Durg. station Arrival 4:00 pm Departure 4:05 pm, the Gondia station Arrival 5:56 pm Departure 5:58 pm will arrive at Nanded 19:10 pm |
A total of 18 coaches including 02 SLR, 04 General 09 Sleeper, 02 AC- III and 01 Pantrycar will be available on this special train. The train is fully booked and will only Kovid follow necessarily-19 rules during the trip will be allowed to visit the confirmed ticket passengers.
The detailed timetable of this train is as follows: –
02767 Nanded – Santragachhi Weekly Superfast Special train
station
02768 Santragachhi-Nanded Weekly Superfast Special train
Arrival
Departure
Arrival
Departure
… ..
15.25
Nanded
19.10
… ..
16.00
16.01
Mudkhed
17.30
17.31
17.09
17.10
Himayatnagar
15.15
16.16
18.19
18.20
Kin
14.50
14.51
19.25
19.30
Adilabad
14.05
14.15
20.28
20.30
Pimplekhuti
13.33
13.35
22.17
22.19
Vani
10.48
10.50
22.40
22.50
Majri b.
10.15
10.20
01.25
01.40
Nagpur
08.10
08.20
03.26
03.28
Gondia b.
05.56
05.58
05.30
05.35
Durg
04.00
04.05
06.10
06.15
Raipur
03.00
03.05
07.55
08.10
Bilaspur
01.15
01.30
11.03
11.05
Jharsuguda b.
22.13
22.15
12.22
12.30
Rourkela
20.30
20.38
13.58
14.05
Chakradharpur
19.00
19.07
15.15
15.20
Tatanagar
18.05
18.10
17.25
17.30
Kharagpur
16.15
16.20
19.20
…..
Santragachi
14.45
—————————


(Santosh Kumar)
Sr. Public Relations Officer