Digpu News
Mumbai Youths Pledge Organs at Harmony Foundation's Conclave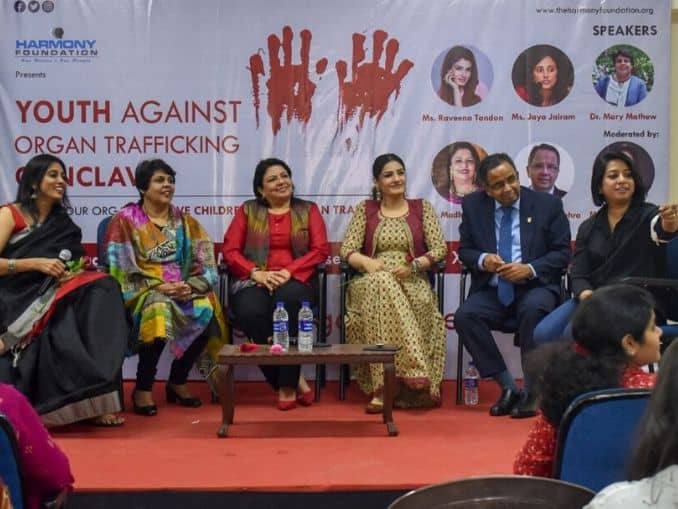 Harmony Foundation held an informative forum on the 31st of January 2020 on the topic of Organ Trafficking and Donation to truly reach the hearts and minds of the youth of Mumbai. Organ trafficking is a brutal reality today and still happens in India and our country has earned the nickname of 'kidney bazaar' because it has become a haven for illegal harvesting. The demand and supply gap for donor organs has paved the way for illegal transplants and trade of human organs. To complicate matters further, the lack of sound policy and infrastructure to support willing donors and recipients has made this illegal trade thrive. Acute shortage of organs against an increase in demand for the same in this 1.3 billion strong nation has led to organ trafficking becoming a very serious problem.
Due to a serious lack of awareness, there are myths, fears, and superstitions in the minds of people about organ donation. The aim of the conclave was to create awareness in order to enlighten and motivate the youth to pledge now for donating their organs after death and to spread awareness about the necessity of organ donation.
Our eminent speakers addressed the various factors that affect organ trafficking. One such factor that was constantly recognised was poverty, which plays a substantial role in the illegal supply of organ trafficking. Dr. Madhu Chopra, mother of Priyanka Chopra, spoke for legalizing organ trade and stated "we must encourage government hospitals to have quality centres thereby making organ trade accessible, cheaper and humane."
On the otherhand, Dr. Narinder Mehra, the former Dean of AIIMS and who
currently is on the advisory board of DAFOH (Doctors against Forced Organ
Harvesting), opined that, "money for organs is a process that won't go too
far." He believed that true awareness of organ donation and more importantly, deceased organ donation is what will effectively change the nature of the issue, and eventually reducing the massive gap in the demand and supply of organs.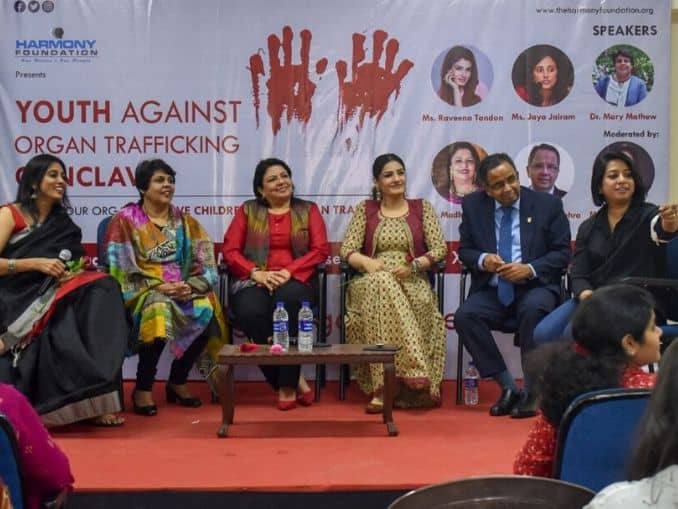 Being an organ recipient herself, Jaya Jairam, a Project Manager in MOHAN
Foundation (Multi Organ Harvesting Aid Network), gave a pragmatic view on what live organ donation means and the psychological trauma attached to it. She promoted deceased organ donation and proclaimed "a deceased body can save up to 55 lives". She further explained the true legalities entailed in the process of organ donation upon death. As a topic that is often enshrouded in mystery, she helped make a tangible difference by helping the youth understand what it means to be a donor. Dr. Mary Mathew, the chair of UNESCO BioEthics – Indian Mission, provided an alternative and a more innovative solution to this plaguing problem. She reckons that 3D – printing is the future of organ donation Despite of
different opinions presented on the dias, one thing all speakers agreed upon was the importance of awareness and sensitization on the topic of organ pledging and donation, especially among the youth. As aptly mentioned by Ms. Jairam, "The youth come without the baggage of misunderstanding, myths, and superstitions. This is why we should focus on the youth."
"The need of the hour in our nation today, besides the several protests happening around the country to protect the Constitution, is also to address the tragedy of thousands of children who go missing and possibly kidnapped and killed for organ harvesting" expressed Dr. Abraham Mathai, the Founder Chairman of Harmony Foundation. He further stated, "The only viable solution to this issue is through a revolution by the youth to promote pledging of organs for a better tomorrow."
Harmony Foundation is an international NGO that works in the Social sphere, it was founded in 2005, with raison d'être being the establishment and strengthening of social cohesion among various communities and to work towards the benefit of all without any discrimination.
The post Mumbai Youths Pledge Organs at Harmony Foundation's Conclave appeared first on Digpu News.