Digpu News
Kashmir pushed to economic and democratic disconnect, alleges NC leader Ali Mohammad Sagar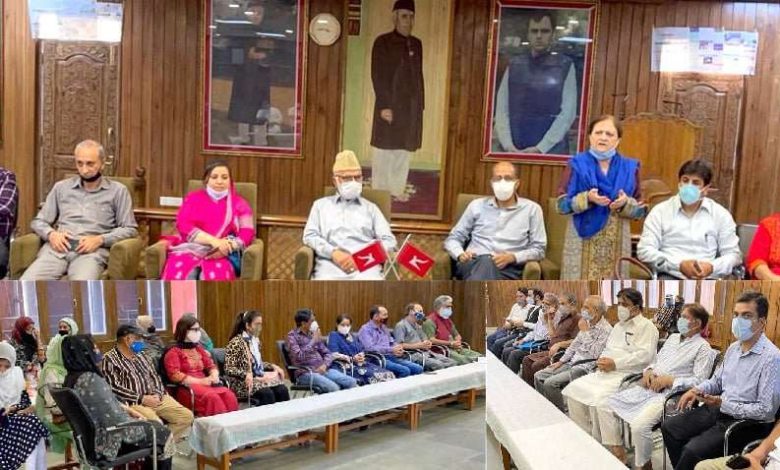 According to Ali Mohammad Sagar, only National Conference was capable of fighting divisive forces in the Union Territory
The Jammu and Kashmir National Conference General Secretary Ali Mohammad Sagar on Monday said that Kashmir has been pushed to economic and democratic disconnect from the rest of the country and that the discomfiture has equally been felt by Kashmiri Pandit Community.
The NC leader made these comments while welcoming Ashok Kumar Bharti, Vice Chairman Shopian Municipal Committee into the National Conference.
Ashok Bharti, who was earlier affiliated with the BJP, was welcomed into the party along with scores of his supporters including Corporator, Panchs, and Sarpanchs.
Among others who joined the party fold include Shushma Bali, Chander Kumar Bali, Rajinder Koul, and Manoj Koul.
On the occasion, party's Provincial President Nasir Aslam Wani, State Secretary Sakina Itoo, Women's Wing President Shameem Firdous, Zone presidents Dr. Bashir Veeri, Ali Mohammad Dar, District President Shopian Showkat Hussain, Adv Shabir Ahmed Kulay, Provincial President Women's wing Sabiya Qadri, President Minority Cell MK Yogi also felicitated the new entrants.
In his address, Ali Mohammad Sagar said that Kashmir is the only place that emerged as an island of peace and brotherhood at a time when the subcontinent was charged up with communal frenzy.
He said that it was due to the efforts of Sher-e-Kashmir that at a time when the sub-continent had become 'a hunt for vultures to prey on the bodies of those devoured' in the communal frenzy, Kashmiris didn't let the frenzy overwhelm them with narrow mindedness.
"It was NC that gave a political expression to the Kashmir values and transformed it into a formidable force to take on the challenges of the future," he said.
Kashmir pushed to economic and democratic disconnect, alleges NC leader Ali Mohammad Sagar 4
Ali Mohammad Sagar added that NC has always worked towards dissolving the feeling of discrimination. "No other region in the country has practiced secularism and socialism in its finest form as was done by the National Conference since its formative years."
While addressing the functionaries and workers, Nasir Aslam said that Kashmiri Pandits are part of the pluralistic culture of Kashmir. Calling for invigorating and furthering the cause of brotherhood and amity in the valley, he said it is imperative for all to unite to work in achieving the objective.