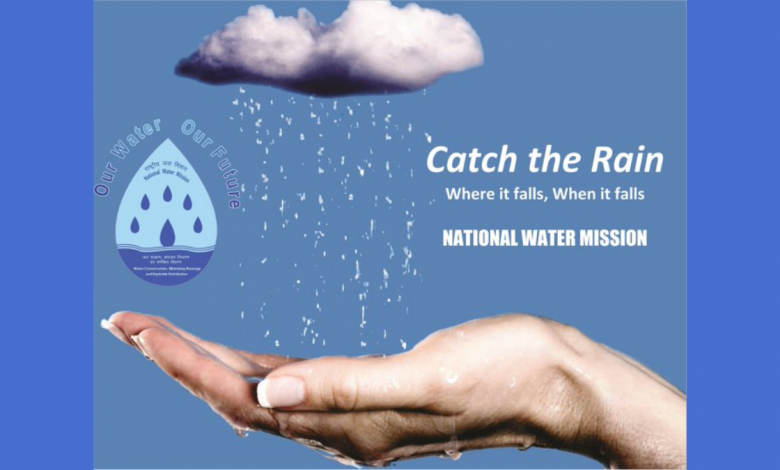 Catch The Rain" campaign was launched by the Hon'ble Prime Minister on 22 March 2021
After the successful implementation of Jal Shakti Abhiyan in 2019, the Ministry of Jal Shakti planned to take up the Jal Shakti Abhiyan-II (JSA-II), covering all blocks of all districts of the country but could not be taken up due to Covid-19 pandemic imposed restrictions. However, to keep its continuity, the Ministry of Jal Shakti launched a campaign "Catch the Rain" with the tag line "Catch the rain, where it falls, when it falls" to nudge the states and all stakeholders to create Rain Water Harvesting Structures (RWHS) suitable to the climatic conditions and sub-soil strata, with people's active participation,
This year, the Ministry of Jal Shakti has taken up the "Jal Shakti Abhiyan: Catch the Rain" (JSA: CTR) with the theme "Catch the Rain – Where it Falls When it Falls" to cover all the blocks of all districts (rural as well as urban areas) across the country during 22nd March 2021 to 30th November 2021 – the pre-monsoon and monsoon period. The "Jal Shakti Abhiyan: Catch The Rain" campaign was launched by the Hon'ble Prime Minister on 22 March 2021, World Water Day. This is taken up as a continuation of the Jal Shakti Abhiyan campaign of 2019 which covered 1592 blocks out of the 2836 blocks in 256 water-stressed districts in the country.
Creation of new and maintenance of old Rainwater harvesting structures; revival of traditional rainwater harvesting structures like stepwells etc; enumeration, geo-tagging, making inventory of water bodies, reuse and recharge of bore wells; watershed development, intensive afforestation preparation of scientific water conservation plans and setting up of Jal Shakti Kendras are part of the campaign.
Ministry of Jal Shakti has allocated a number of options. 2.00 lakh as incentive-based financial grant to each district including that of Tamil Nadu for GIS mapping and preparation of district water conservation scientific plan under JSA: CTR. Besides, funds are released to the State Governments under respective schemes of the concerned line Ministries.
Present status of the works undertaken under JSA: CTR during the period 22.3.2021 to 12.7.2021, as uploaded on JSA: CTR Portal (jsactr.mowr.gov.in), by the Central stakeholder Ministries/ Departments in respect of their Key Performance Indicators are given below: –
| | | |
| --- | --- | --- |
| S.No. | Parameter/activity | Number of works completed |
| 1. | Water conservation and rainwater harvesting | 4,05,293 |
| 2. | Renovation of traditional water bodies | 70,445 |
| 3. | Reuse and recharge structures | 1,78,998 |
| 4. | Watershed development | 4,32,549 |
| 5. | Intensive afforestation | 25,05,000 |
| 6. | Training/awareness programs by KVK | 5,465 |
| 7. | Enumeration of water bodies | 13,79,452 |
This information was given by the Minister of State for Jal Shakti and Tribal Affairs, Shri Bishweswar Tudu in a written reply in Lok Sabha today.