Digpu News
Henzelene Heally was felicitated as Unified Brainz global leader of the highest order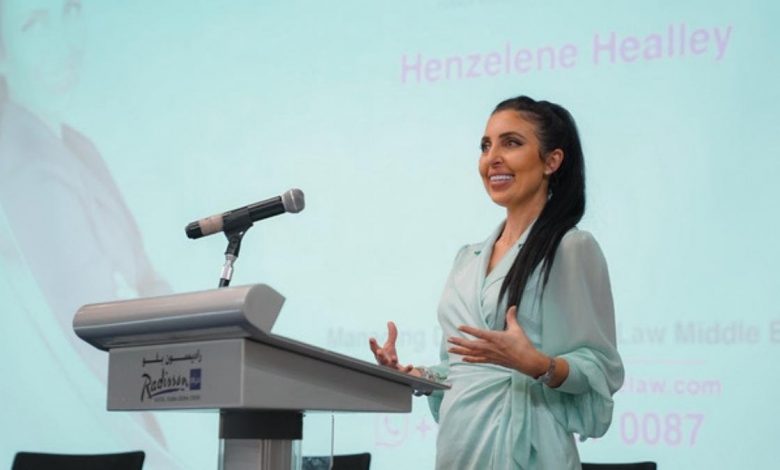 Unified Brainz celebrated the glorious careers of prominent leaders from around the globe, leading by example with resilience, diligence, and perseverance on the occasion of World Environment Day on the 5th of June 2022. The launch showcased the first edition of the unique dark mode Coffee Table Book, "Who's Who of The World," which was unveiled during its virtual event. This exquisite ceremony saw the presence of trailblazers from various industries who have scaled massive heights of success and have shared their passion journey.
An Award-winning Global Lawyer, Henzelen 'Henzie' Heally is based in Dubai with a clientele spread all around the world.
Accomplished and skilled, Henzie studied Business Management in Canada before going on to study Law in New Zealand. She qualified with an LLB with Honors and was admitted as a Barrister and Solicitor of the High Court of New Zealand in 2014. In the same year, she moved to Dubai after being offered a permanent role at an international law firm she interned for during her school vacations and founded her own legal consultancy in 2019 after praying for a job that she would love.
Today, she is a Managing Partner at the prestigious Mezzle Law (Middle East). "A lot of lawyers are passionate about law, but often leave the legal practise because of the stress or long hours," says Henzie, speaking about what attracted her to Mezzle.
Mezzle is a customer-centric and technology-driven law firm, minimizing non-billable hours through innovation, and changing the lives of lawyers with the 'Mezzle Lifestyle'. The Mezzle Lifestyle envisions a lawyer that has a healthy work-life balance. Mezzle has therefore become a firm that keeps sharing the love. Happy lawyers create happy clients and the cycle keeps repeating, becoming stronger every time.
"The Mezzle Lifestyle is unparalleled and has given me back the freedom to enjoy the things that I love," adds Henzie. The whole concept behind the model is that Mezzle is a remote-based fee share model that has invested heavily in its back-office systems, supporting its legal experts by providing them with access to unique and revolutionary technology that helps them streamline non-billable work and free up their time, either for more billable work, or to simply enjoy the finer things that life has to offer.
Henzelene Heally
Since Mezzle has automated a lot of its processes and procedures and created a one-of-a-kind Mezzle Cloud, lawyers are more efficient with less hours involved. This also means that lawyers can work remotely. Moms, for example, that have left the profession because they have had a child, can join Mezzle and continue to service their clients from home. People leaving the UAE can also continue to service their clients from wherever they are.
Infact, the pandemic saw a huge influx of joinees to the Mezzle Lifestyle. "Since our client base was predominantly Start-ups, governmental entities and global conglomerates, we only saw the positive side of COVID (business-wise). We saw people picking up side projects, people and companies focusing on growing their businesses, people and companies creating innovative new service and product offerings." shares Henzie.
Thanks to its ideal concept, in less than a year, Mezzle has offices in both the UAE and the UK and is looking to open two new offices by the end of 2022 to keep up with growing demands. It won Best Corporate & Commercial Law Firm 2022 during the 2022 Global Excellence Awards; was named one of the 5 Best Law Firms of 2022, and one of the Most Innovative Law Firms to Watch in 2022.
Globally admired as a formidable lawyer, Henzie was labeled one of the Top 10 Business Leaders to Watch in 2021 and twice in 2022. She has been featured in various magazine articles and received an award of honour from the Women's Empowerment Investment Forum, the Lex Falcon Award, and was named Lawyer of the Year, all in 2022.
And her biggest passion? "Life is short. I want to make it count. I don't want a mediocre life, but an extraordinary one. I want a life where I can say I did what I wanted to do, I may have made a name for myself, and I had an adventure. I also want to help others succeed. I want to share my success to change lives," she answers. To know more about Henzelene, check https://whoswho.world/ or to nominate email, [email protected]