Digpu News
Dr Vilas Lokhande of Remedium Lifecare Limited honoured with Global Icon Award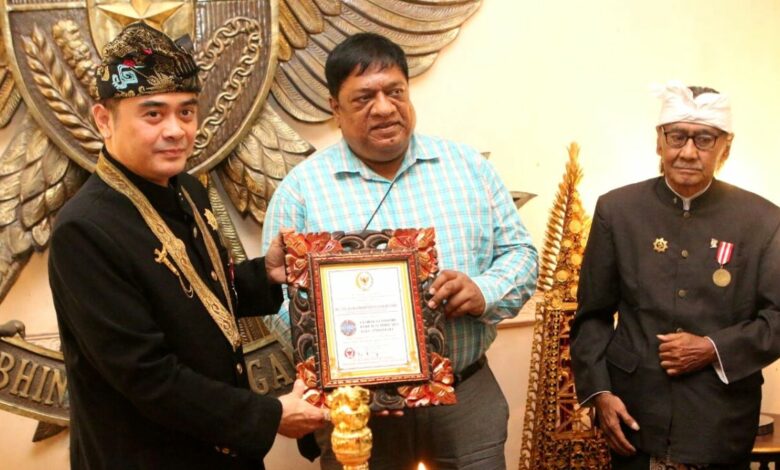 The Global Icon Award was conferred to Dr Vilas Lokhande at the World Economic Forum at Royal Palace, Bali, Indonesia 2023
Global Economic Forum G20 Initiative Summit 2023 organized by the Indonesian government held at the Royal Palace, Bali, Indonesia on 24th Jan 2023 witnessed the participation of top industry leaders from G20 Countries From 24-26th Jan 2023. The world's most influential political, commercial, cultural, educational, and other leaders came together at the Global Economic Forum to set global, regional, and industry agendas. As the G20 Bali summit came to an end on 16th November 2022, Indonesia handed over the G20 presidency to India for the next year & the first international Global Economic Forum with G20 Initiatives kick-started with Bali Indonesia. Dr Vilas Ramkrishna Lokhande, Director of Remedium Lifecare Limited was conferred with the prestigious "Global Icon Award For Lifetime Achievement Award to Healthcare in India and Africa at the World Economic Forum at Royal Palace, Bali, Indonesia 2023.
His Royal Highness Dr Shri Gusti Ngurah Arya WedaKarna Mahendradatta, Senator, Indonesia Presented the Highest Honour to Global Economic Forum G20 Initiative Leaders with Global Icon Award at Royal Palace, Bali, Indonesia in a power-packed hall. Along with Dr Vilas Ramkrishna Lokhande, more than 20 world leaders were recognized in their respective fields.
Dr Vilas Ramkrishna Lokhande is a dynamic, result-oriented leader with 30 + years of experience and proven track record of performance with successful leadership strategies, tactical decision making and forward-thinking approaches. Proven history of improving operations with respect to consistent product delivery, EHS, cGMP, SCM and API manufacturing technologies. Experienced Group Leader with a demonstrated history of working in the pharmaceuticals industry. Skilled in Analytical Chemistry, Technology Transfer, Chromatography, and Validation. Strong research professional with a Doctor of Philosophy – PhD focused on key research. Skilled in setting up quality systems, energy conservation, cost effectiveness and scale up of new products. Dr Vilas Ramkrishna Lokhande is presently the whole time director of Remedium Lifecare Limited.
Dr Vilas Lokhande is a Proven business leader with rich global experience in executive management and leadership roles in pharmaceutical and Healthcare companies across varied geographies. Extensive experience in business Management and Sales. Strong communication, negotiating, analytical and organizational skills gained from working in several environments and businesses. Excellent team player as well as ability to work on my own initiative with a proven ability to meet tight deadlines and high standards of performance even under pressure situations. Highly motivated, innovative and a very well-developed Marketing Strategy style is complimented by strong customer focus through building relationships at all levels within the company. Ability to operate effectively in both private and public sectors Championing and executing new initiatives through employee engagement and managing human capital. Expertise in business integration and change management with a focus on execution and risk mitigation. Managed pharmaceutical business domains with profit and loss responsibility.