PIB Press Releases
WHO and the Ministry of Ayush to host the first-ever Global Summit on Traditional Medicine
The highly anticipated event is set to take place on 17th-18th August at Gandhinagar, Gujarat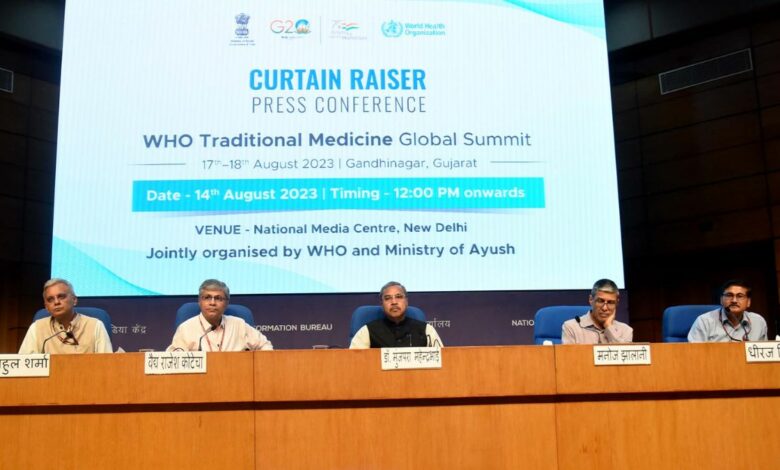 A first-of-its-kind global summit on Traditional Medicine, organised by the World Health Organization (WHO) and co-hosted by the Ministry of Ayush, is set to take place on August 17-18, 2023, at Gandhinagar, Gujarat. The summit will take into account the vast experience and expertise of the country and this highly anticipated event will serve as a platform for experts and practitioners to delve into the latest scientific advancements and evidence-based knowledge in the sector, with the ultimate goal of ensuring health and well-being for all.
The esteemed Director-General of WHO, Dr Tedros Adhanom Ghebreyesus, will inaugurate the event in the presence of Minister of Health Shri Mansukh Mandaviya and Minister of Ayush Shri Sarbananda Sonowal. G20 health Ministers, Regional Directors of WHO and eminent invitees from countries across WHO's six regions are expected to grace the event along with scientists, practitioners of traditional medicine, health workers and members of civil society organisations. Union Minister of State for Ayush, Dr Munjpara Mahendrabhai Kalubhai gave this information in a press conference today in New Delhi.
Speaking about the event in a press conference, Dr Munjpara stated that the summit's outcome will be a declaration, and this declaration will assist WHO in shaping the future of the WHO Global Centre for Traditional Medicine. He also stated, "It is very natural that after the foundation laying ceremony of the Global Centre for Traditional Medicine in Jamnagar last year, we are going to witness this first global event in India. It testifies to the multi-dimensional strides taken by various traditional medicine systems of our country in the recent past."
"By blending traditional practices with contemporary practices aided by visionary policies and digital initiatives, India has demonstrated a path for achieving universal health coverage (UHC) through traditional medicine systems." He added.
Director, Department of Health Systems Development (WHO South East Asia Regional Centre) Shri Manoj Jhalani stated that the summit is expected to develop a roadmap toward creating a more holistic and healthier world for future generations by recognizing the interconnectedness between human health, planetary harmony, and technological advancement.
The Global Summit will place India at the forefront of advancing Traditional Medicines: MoS Ayush
An array of distinguished speakers will be spearheading discussions on key focus areas, namely research, evidence and learning; policy, data and regulation; innovation and digital health; and biodiversity, equity and traditional (healthcare) knowledge.
Another added milestone will be the exhibition of Traditional systems of medicine from across the globe and the Ministry of Ayush. This exhibition serves as a comprehensive display of Traditional Medicine worldwide and will showcase the interconnectedness of Traditional Medicine with the natural environment in the form of 'Kalpavriksha', along with scientific and technological advancements spearheaded by various regional centres of WHO and the Ministry of Ayush.
In a detailed presentation, the Joint Secretary of the Ministry of Ayush, Shri Rahul Sharma, laid down the salient features of the event and the exhibition by WHO regional Centres and the Ayush exhibition zone, which has the theme, 'Ayush for Planetary Health & Wellbeing', This exhibition will display WHO regional centres' prowess apart from highlighting Ayush's efficacy and rich biodiversity of medicinal plants. Some very interesting experiential and interactive kiosks will also be there.
The ministry will also be organising yoga and meditation sessions at the Convention Centre. There also will be yoga and meditation sessions at hotel venues, as well as short Yoga breaks at Mahatma Mandir Convention Centre between sessions.
In 2022, WHO, with the support of the Government of India, established the Global Centre for Traditional Medicine. Prime Minister of India, Shri Narendra Modi, laid the foundation stone of WHO-GCTM last year in the presence of the Director-General, of WHO, Dr Tedros Adhanom Ghebreyesus. The centre is a collaborative project of the Ministry of Ayush of India and the World Health Organization (WHO) and is the first and only global outpost for traditional medicine across the globe. The WHO GCTM will provide leadership on all global health matters related to traditional medicine as well as extend support to member countries in shaping various policies related to traditional medicine research, practices and public health. In a significant move, this year's highly anticipated event in the form of the WHO Global Summit on Traditional Medicine is taking place.
Disclaimer: This is an official press release by Pib.