PIB Press Releases
Vice President emphasises the need to preserve our rich cultural heritage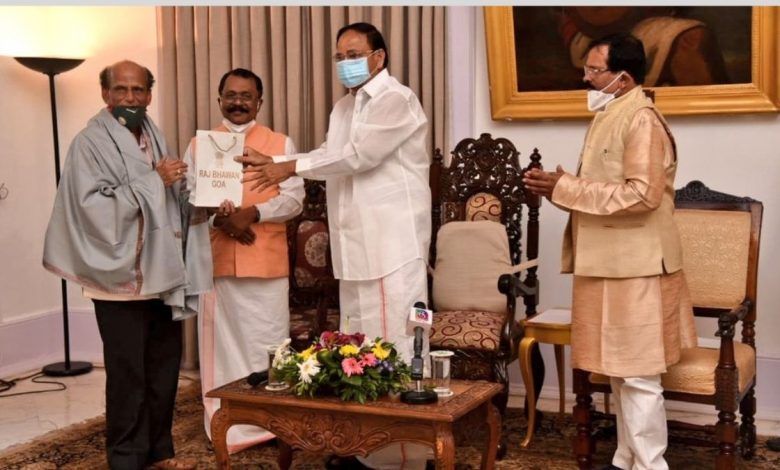 Our mother languages connect us with our heritage and defines our socio-cultural identity – Vice President
The Vice President, Shri M. Venkaiah Naidu emphasised the need to preserve and propagate our rich cultural heritage and linguistic diversity. He said that our mother languages connect us with our heritage and define our socio-cultural identity.
Vice President interacts with the eminent literary and cultural personalities from Goa
Interacting with a group of eminent Konkani and Marathi writers, folk artists, filmmakers and educationists at Raj Bhawan Goa today, the Vice President underlined the need to encourage creative expression of our thoughts and ideas in our own languages. He praised the rich literary tradition of Goa and said that he is happy to see the Konkani language prospering today. Taking note of technological advancements in the field of translation, Shri Naidu called for using the local language of a state in the administration.
Shri Naidu calls Goa a rare confluence of nature and culture
Lauding the Goans' passion for all forms of arts, he said that one can feel the festive spirit and vibrancy of this place. Referring to India's glorious tradition of music and dance, the Vice President said that they make our lives more fulfilling by rejuvenating and energising us.
Calling Goa a land of splendid natural beauty, Shri Naidu said that the state is a rare confluence of nature and culture. He praised the state for consciously protecting and preserving its pristine natural environment. Terming Goa as a tourist's paradise, Shri Naidu appealed to the people to explore and visit such beautiful places within the country s this would give a fillip to the tourism sector. He also cautioned the people that the pandemic is not over yet and asked them to keep following COVID appropriate behaviour.
Visit and explore tourist places within India, advises the Vice President
During the event, the Vice President also felicitated recent winners of the Sahitya Akademi Awards from the state of Goa. He said that the purpose behind such programs was to recognise and honour the contribution made by eminent personalities in their respective fields and to know the aspirations of the people in the country.
Responding to a writer's suggestion, Shri Naidu agreed that efforts are required at all levels to promote gender equality in every sphere of life.
Pandemic is not over yet, keep following COVID appropriate behaviour – Vice President cautions the people
The Governor of Goa, Shri P. S. Sreedharan Pillai, Chief Minister Dr Pramod Sawant, Union Minister, Shri Shripad Yesso Naik, eminent writers, artists, filmmakers and cultural figures from the state were present on the occasion.
Disclaimer : This is an official press release by PIB.