PIB Press Releases
"Urban planning reforms making our cities attractive destinations for investments" ~Shri Hardeep S. Puri
~Exhibition showcasing projects of States, UTs and urban planning stakeholders~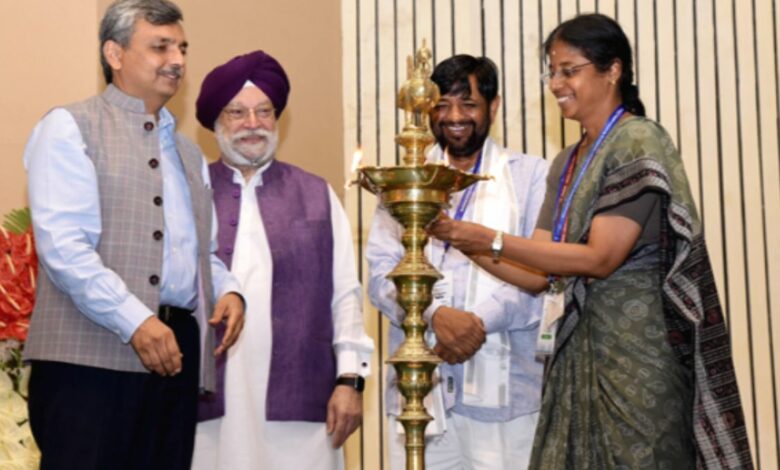 Shri Hardeep S. Puri, Minister for Housing & Urban Affairs, GoI, commended the Atal Mission for Rejuvenation and Urban Transformation (AMRUT) Mission for providing National Urban Planning Conclave 2023 as a dynamic platform for creating a sustainable urban form that can fundamentally support the urban development paradigm. Speaking about various missions under the aegis of Housing and Urban Affairs, the Minister said that together, they have made a quantum jump in the quality of life of our cities by providing universal access to water and sanitation, creating sustainable transportation infrastructure and addressing affordable housing requirements.
While delivering the keynote address at the National Urban Planning Conclave, Sh. Hardeep S. Puri, Minister for Housing and Urban Affairs stated that implementing Urban planning reforms is making our cities attractive destinations for investments. He also highlighted that with an allocation of Rs.15,000 crore to implement various reforms, the Ministry has incentivised and prioritised reforms in priority areas such as 1. modernisation of building bye-laws; 2. transit-oriented development; 3. adoption of Transferable Development Rights; 4. integration of blue and green infrastructure through nature-based solutions; 5. affordable housing through in-situ rehabilitation; and 6. increased capacity building and recruitment India's rapid urbanisation presents an economic opportunity.
He further stressed upon creating a holistic policy ecosystem for ensuring last-mile access to services, enhanced operational efficiencies, area-based planning, infusion of digital technology, ease of doing business and outcome-based performance frameworks.
The two-day conclave will see a total of 24 presentations which include key speakers viz, Chief Town Planners from State TCP Departments and Urban Development Authorities. Lead academicians in the field of urban planning will moderate 4 technical sessions comprising key speakers who would be speaking on a wide range of themes like Transit-oriented Development, Transferable Development Rights, Local Area Plans and Town Planning Schemes, Affordable Housing, Environmentally Sustainable Development (sponge cities), NCR Plan, 2041 and Master Plan of Delhi-2041.
During the inaugural ceremony, the Minister of State, Sh. Kaushal Kishore expressed his confidence in the readiness of various cities to implement the reforms on various crucial parameters through this platform through knowledge and experience sharing. Furthermore, Sh. Manoj Joshi stressed the need of focusing on TOD/TDR-based concepts, transportation and road network and other crucial frameworks for effective township planning.
An Exhibition was organized during the course of the Conclave wherein States, UTs and urban planning academic institutions showcased the projects undertaken by them in various cities. Some of the good practices like implementing Transit Oriented Development in Chennai, Implementation of Local Area Plan in Indore and Chennai, Implementation of Town Planning Scheme in Surat and Pune, and Environmentally Sustainable Master Plan Approach in Zero Valley were exhibited.
Besides States urban planning, academic institutions also exhibited some of the projects viz., formulation of Local Area Plan and Town Planning Scheme for Jaipur and Guwahati by CEPT University, Planning for Eco-sensitive zone, Mahabaleshwar by College of Engineering and Pune, Urban Redevelopment and Heritage Conservation by IIT Kharagpur and Building Resilient and Inclusive Communities by School of Planning and Architecture, Vijayawada, etc.
The two-day workshop deliberations will provide a platform for experts, policymakers, and visionaries to shape the future of India's urban planning and facilitate inclusive and sustainable urban development. It will also enable the State Governments and UTs to share and exchange their experiences in urban planning and as an outcome, they can draw up a road map for implementing urban planning reforms for the betterment of the urban dwellers.
The conference was attended by about 1000+ participants Principal Secretary of the State Urban Development Department, Chief Town Planners State TCP Departments, Urban Development Authorities and Urban Local Bodies and the leading head of leading academic institutions. Other stakeholders working in Urban Planning like GIZ and JICA, etc.
Disclaimer: This is an official press release by Pib.