PIB Press Releases
Under Mass mobilisation of Mission LiFE Zoological Survey of India, Hyderabad takes part in the program- Count Down to Yoga Day -urging everyone to adopt Yoga for a healthy lifestyle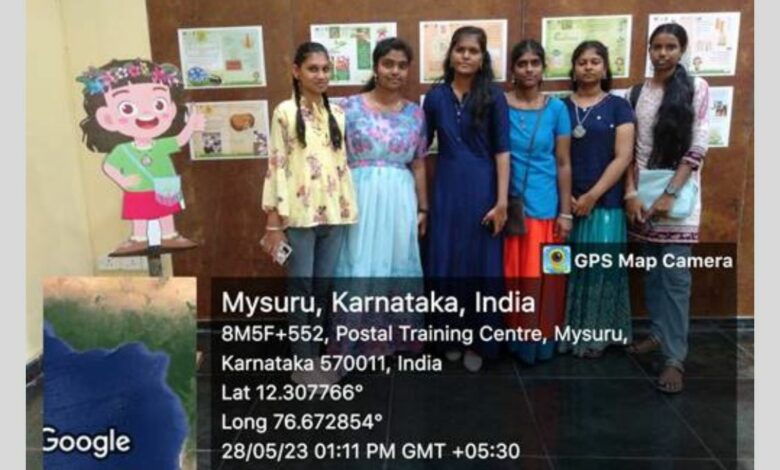 World Environment Day (June 5) is an occasion that brings together millions of people across the country for awareness and action for the environment. This year, the Ministry of Environment, Forest and Climate Change, Government of India envisages to celebrate World Environment Day 2023 with a thrust on the Mission LiFE. The concept of LiFE, i.e., Lifestyle for Environment was introduced by the Hon'ble Prime Minister, at the World Leaders' Summit in Glasgow at the 2021 UNFCCC COP26, when he gave a clarion call to rekindle a global pursuit to adopt sustainable lifestyle and practices. Mass mobilisation across the country on LiFE is being organized in the run-up to the celebrations.
National Museum of Natural History (NMNH)
RMNH, Mysore conducted "Awareness Talk on Plastic pollution and a single use of plastic" on 28.05.2023 as part of MISSION LiFE (LIFESTYLE FOR ENVIRONMENT) in which 194 Students and the General public and emphasized the need for an Eco-friendly Lifestyle.
Zoological Survey of India
Under the Mass mobilisation of Mission LiFE Zoological Survey of India, Hyderabad took part in a program, Count Down to Yoga Day at Hyderabad in which 700 participants took part.
Shri. Kishen Reddy, Honourable Union Minister for Tourism, Culture and DoNER was the Chief Guest in the program. The Mission LiFE Pledge was taken and the ZSI team also spoke to different groups of people to spread awareness about the importance of Yoga and urged everyone to adopt Yoga for a healthy lifestyle under Mission LiFE.
National Centre for Sustainable Coastal Management (NCSCM)
In an ongoing effort to promote the principles of Mission LiFE, NCSCM performed a beach clean-up event and awareness drive at Mahabalipuram, Chengalpattu district, located about 60 km from Chennai in the southeastern Indian state of Tamil Nadu. Mahabalipuram is an important location in India for ancient monuments, including monolithic and cave temples, and is well known for its UNESCO World Heritage Site. The Mahabalipuram Group of Monuments holds a unique place in Indian traditional architecture. These magnificent structures attest to the region's high level of craftsmanship in the sixth century CE.
According to the Archaeological Survey of India (ASI), the Mahabalipuram heritage site attracts over 10.76 lakh domestic visitors and over one lakh foreign visitors every year because of its scenic beauty, cultural, historical, and religious value. Tourist footfall, particularly on weekends, is a crucial socioeconomic activity in coastal communities, but when badly managed, it degrades marine-coastal ecosystem quality and increases litter pollution on beaches. Plastic pollution is one of the most serious environmental issues of our time, and beach tourism can help contribute to a solution. Marine litter negatively affects the environment, ecology, public health, climate, and economy. It is well known that the emergence of marine litter, especially plastic, has been a global problem for the past two decades and that its cost to society and the marine environment is enormous and irreversible.
The citizen science approach plays an important role in addressing the issue of marine litter since it has proven to be a successful method of monitoring plastic litter, bringing benefits to researchers and coastal managers, and raising societal awareness about plastic pollution. The Honourable Prime Minister led the country by example during the historic logging on Mamallapuram Beach. On this occasion, he urged the citizens to actively participate in coastal clean-up activities to remove litter from the country's coastal and beach areas.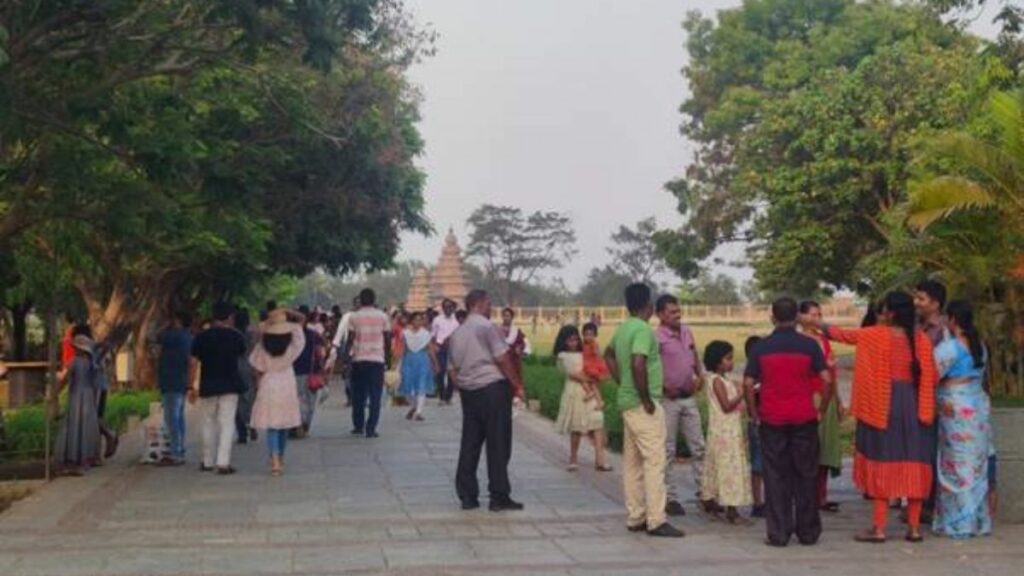 In the clean-up effort, tourists voluntarily participated in a beach clean-up with NCSCM scientists and collected around 40 kg of trash that included plastic bottles, food wrappers, plastic cutlery, footwear, bottle caps, plastic straws, plastic takeaway containers, and thermocol takeaway containers. During the event, more than 250 people, including beachgoers, beach vendors, shopkeepers, and tourists, were sensitized on the themes of Lifestyle for Environment (LiFE). Further, scientists engaged with tourists and emphasized the need for avoiding single-use plastics through the use of eco-friendly alternatives, responsible tourism, segregation of waste at source, conserving water, energy, and biodiversity, and eliminating single-use plastics by adopting sustainable lifestyles.
On this occasion, staff members of NCSCM distributed jute bags and caps to beach vendors and tourists who actively participated in the event. Besides, NCSCM staff taught the tourist in a simple manner about the sensitivity of the marine habitat, the impact of climate change, and the need to live in harmony with nature. The event provided tourists with an overview of coastal ecosystems, helping them understand the importance of protecting them by avoiding 'trampling' and 'littering' when visiting these fragile ecosystems.
The scientist raised awareness among beachgoers, tourists, shop owners, beach vendors, and beach operators on the various ecosystem services provided by the beaches, as well as emphasised the importance of decreasing litter generation in daily life for environmental quality. They underlined the importance of adhering to the litter reduction hierarchy (reduce, reuse, recycle, recovery, and disposal) in order to lessen their daily litter footprint. The litter management strategies discussed include reduction, beach environment management, and changing litter behaviour through environmental education. Participants in the event took part in the LiFE pledge to safeguard the environment. As part of the event, placards, posters, and LiFE mascots were displayed on the beach.
Disclaimer: This is an official press release by pib.