PIB Press Releases
TOPS clears Wrestlers Vinesh Phogat and Bajrang Punia training in Kyrgyzstan and Hungary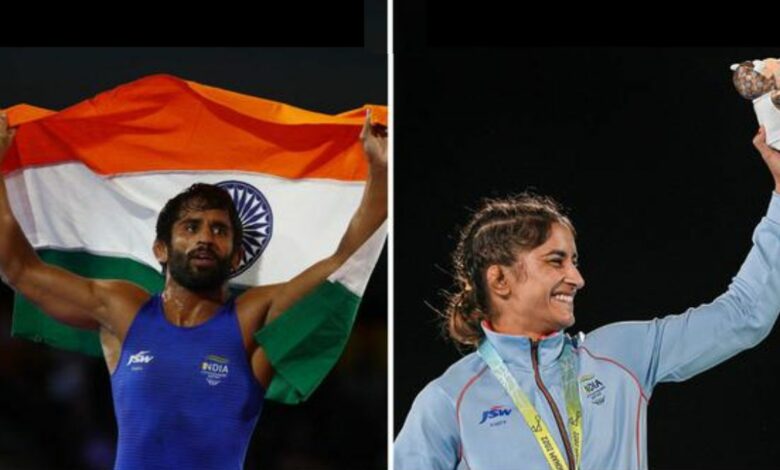 Indian wrestlers and Target Olympic Podium Scheme (TOPS) Athletes Vinesh Phogat and Bajrang Punia are set to head out to Kyrgystan and Hungary for international training camps.
The duo sent in their proposals to the Ministry of Youth Affairs and Sports (MYAS) TOPS team and the same was cleared within 24 hrs of their request.
While Olympic medalist Bajrang Punia will head out to Issyk-Kul, Kyrgyzstan for 36 days training camp, World Championships medalist Vinesh Phogat will first head out to Bishkek, Kyrgyzstan for a week of training then to Tata, Hungary for 18 days of training camp.
Vinesh will be accompanied by physiotherapist Ashwini Jeevan Patil, sparring partner Sangeeta Phogat and Coach Sudesh, Bajrang will be accompanied by Coach Sujeet Maan, Physiotherapist Anuj Gupta, sparring partner Jitender and Strength and Conditioning expert Kaazi Hasan.
The government will fund Vinesh, Bajrang, their sparring partners Sangeeta Phogat and Jitender
and coaches Sudesh and Sujeet Maan's air tickets, board and lodging costs, camp expenses, airport transfer costs, OPA and other miscellaneous costs.
Additionally, the cost for the other support staff accompanying the wrestlers will be borne by Olympic Gold Quest (OGQ).
Both Vinesh and Bajrang are set to leave in the first week of July.
Disclaimer: This is an official press release by Pib.