PIB Press Releases
The message of "Har Din Har Ghar Ayurveda" should be part of every Indian's life: Shri Sarbananda Sonowal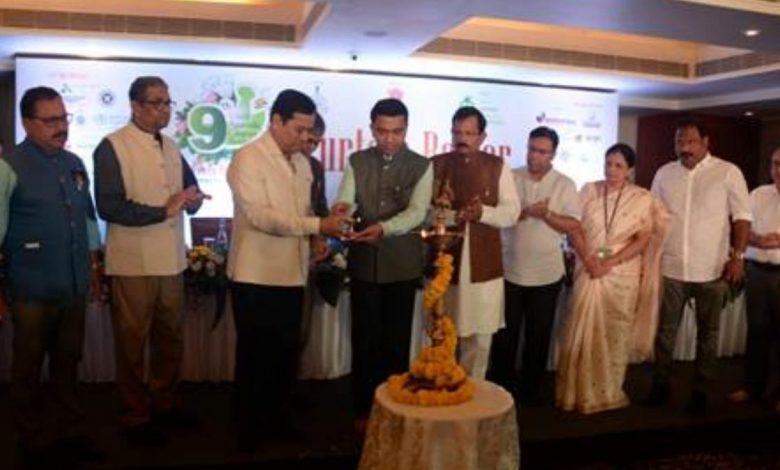 Union Ayush Minister Shri Sarbananda Sonowal participates in the Curtain raiser programme for 9thWorld Ayurveda Congress and Arogya Expo held at Panaji, Goa
Union Minister of Ayush Shri Sarbananda Sonowal participated in a curtain raiser programme for the upcoming ninth World Ayurveda Congress and Arogya Expo (8th-11th December 2022) to be held at Panaji, Goa.
The event was graced by Dr Pramod Sawant, Chief Minister of Goa; Shri Shripad Yesso Naik, MoS for Tourism & Ports, Shipping and Waterways. Shri Vishwajit P Rane, Minister of Health, Govt of Goa, Vaidya Rajesh Kotecha, Secretary, Ministry of Ayush, Vaidya Tanuja Nesari, Director, AIIA, MoA and others
Addressing the gathering, Shri Sarbananda Sonowal, Minister of Ayush, said, "The message of "Har Din Har Ghar Ayurveda" should be part of every Indian's life. He emphasised that, only if nature persevered, we humans can survive. We need to take this seriously; this should be the biggest duty of human society towards nature. Traditional medicine is science in itself. Let us understand the power, wealth and possibilities inherent in nature and move forward."
He further added that the Ministry of Ayush will provide full support to the state Govt of Goa in building infrastructure for medical tourism.
On this occasion, the Chief Minister of Goa Dr Pramod Sawant announced that Medical and wellness tourism will be ramped up in the state by involving all Ayurvedic doctors and practitioners. We are planning to set up two 50 bedded Ayush hospitals under the National Ayush Mission (NAM) scheme and an Ayush hospital will be inaugurated in December 2022 at Dhargal in Pernem taluk.
Padma Shri Vaidya Rajesh Kotecha, Secretary, and Minister of Ayush said," In the year 2014, the Ayush manufacturing industry was only worth $3 billion. It has grown by 6 times in the last seven years, from $3 billion to $18 billion. Under the leadership of the Hon'ble Ayush Minister, we have committed that by 2047, the Ayush sector should grow by 50 times and we are confident this can be achieved."
Vaidya Tanuja Nesari, Director, AIIA gave a presentation on Ayurveda Day 2022 plan and said, "The Har Din Har Ghar Ayurveda campaign has been adopted as our mission and we are confident of turning this campaign into a big success. We are working towards achieving maximum participation with '3Js'- Jan Sandesh, Jan Bhagidari and Jan Aandolan,"
The ninth World Ayurveda Congress and Arogya Expo, scheduled to be held from 8th – 11th December 2022, will bring together Ayurveda practitioners, pharmaceutical companies, researchers, and academicians from across the globe. Since its inception in 2002, the event has been receiving a highly welcoming response, and the Goa edition is expected to be one of the largest thus far.
Disclaimer : This is an official press release by PIB.