PIB Press Releases
The information and Broadcasting Minister visited NFAI, Pune and reviewed the progress of NFHM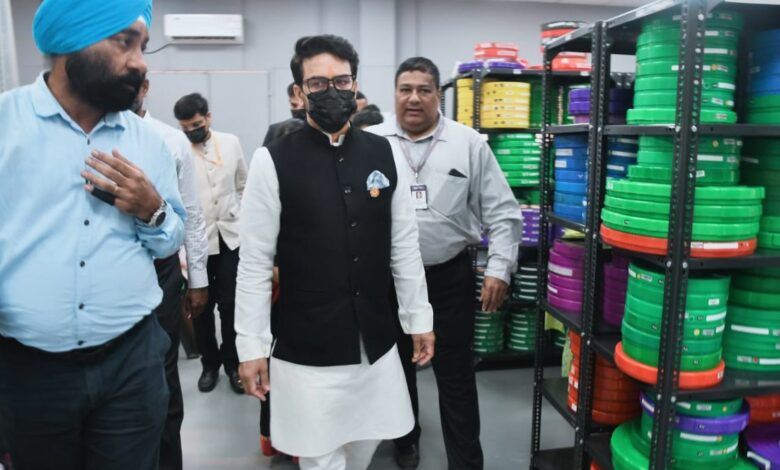 Film Heritage Mission is giving a new lifeline to the heritage of Indian Cinema – Anurag Singh Thakur
Union Minister for Information & Broadcasting and Youth Affairs & Sports, Shri Anurag Singh Thakur visited NFDC- National Film Archive of India (NFAI) on 11th March 2023 during his Pune visit and reviewed the progress made under National Film Heritage Mission. ‌Shri Anurag Singh Thakur stated that NFHM is giving a new lifeline to the heritage of Indian cinema, where many films which were not previously accessible at all, will be made available to audiences worldwide in the best quality available, while simultaneously ensuring the long term preservation of Indian Cinema for the next 100 years and more.
National Film Heritage Mission (NFHM) is moving ahead at full steam at NFDC-National Film Archive of India (NFAI), Pune. As part of NFHM, 3 major projects are ongoing at NFDC-NFAI: Digitization of Films, Conservation of Film Reels and Restoration of Films. All these projects are colossal in nature in film preservation and have never been attempted on this scale globally.
Till date, 1293 features and 1062 shorts & documentaries have been digitized in 4K and 2K resolution. Additional 2500 features and shorts & documentaries are in the pipeline to be digitized. Meanwhile, conservation works on 1433 celluloid reels have been completed. This has been done painstakingly with the utmost care, in collaboration with an International Agency, L'immagine Ritrovata, the world's foremost expert in film conservation.
Shri Anurag Singh Thakur took a tour of the newly set up film conservation lab at the premises of NFDC-NFAI where the conservation works on celluloid reels are taking place. Hundreds of more films will be conserved in the coming months, and in quite a few cases, these reels might be the only surviving copies of certain rare Indian films. NFDC-NFAI recently commenced the restoration project, as 21 films are undergoing digital restoration. In the next 3 years, numerous of features, short films and documentaries, will be digitally restored.
Disclaimer: This is an official press release by PIB.