PIB Press Releases
Shri Sarbananda Sonowal meets Mr Jan Christian Vestre Minister of Trade and Industry of Norway
Discussions focus on Green Ports, Green Shipping, Ship Building and Blue Economy
Union Minister for Ports, Shipping and Waterways Shri Sarbananda Sonowal had a meeting with H.E. Mr Jan Christian Vestre Minister of Trade and Industry of Norway in New Delhi on Thursday. The Ministers discussed issues of bilateral interest including Green Ports and Shipping, training of seafarers, use of alternative fuels like green ammonia and hydrogen for futuristic shipping and sustainable ship recycling. The implementation of Green Coastal Shipping Programme solutions in India was also deliberated upon. Both countries reiterated their commitment towards harnessing niche technologies to implement zero-emission solutions in the Ports and Shipping sector.
In recent years, both countries have been increasingly tapping their bilateral economic and technical complementarities. Indo-Norwegian bilateral ties are marked by regular exchanges of high-level visits between the two countries. The last Joint Working Group Maritime meeting between the two countries was held in November 2022. MoPSW also participated in the 5th edition of the India-Norway Task Force on Blue Economy in June 2022. India is also a part of the GreenVoyage2050 – a partnership project between the Government of Norway and IMO launched in May 2019 aiming to transform the shipping industry towards a lower carbon future.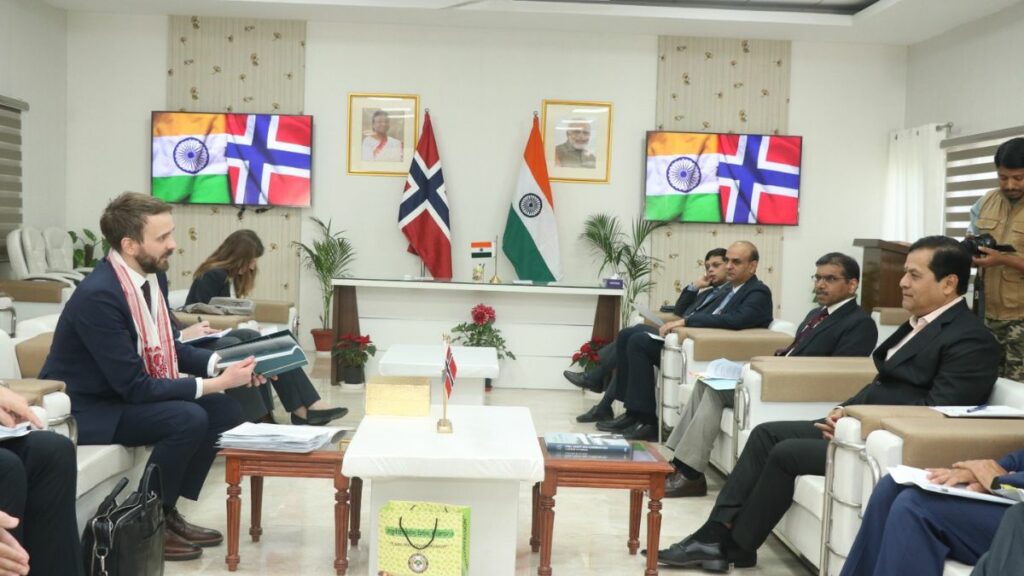 During the meeting, Shri Sarbananda Sonowal expressed that the visit of the Minister of Norway to India will give a fillip to the growing maritime cooperation in shipping and Ports between the two countries. He stated that "to fulfil the vision of Green ports and Green Shipping of our Prime Minister Shri Narendra Modiji, We are also looking forward to Norway sharing their expertise on Hydrogen fuel cell ferries, Autonomous Surface vessels, low-emission LNG-hybrid vessels, zero-emission solar battery Ro-RO ferry vessels, inland and coastal LPG/LNG carriers".
The delegation of Norway comprised senior officials of the Ministry of Trade and Industry, the Ambassador of Norway to India and various Norwegian companies. From the Indian side, the Chairperson NSB, Additional Secretary (PSW) and other senior officials from MoPSW accompanied the Union Minister.
Disclaimer: This is an official press release by PIB.