PIB Press Releases
Shri Sarbananda Sonowal lays the Foundation Stone of Cochin Fisheries Harbour worth 169.17 crores
MoPSW and the Fisheries Department are working together to make this project a reality. This project would boost the export of fish and fish products by Rs. 1500 crores per annum: Shri Sarbananda Sonowal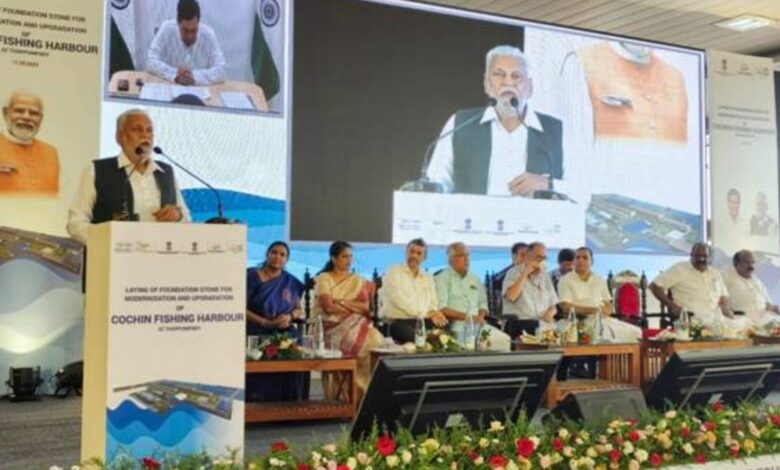 Union Minister of Ports, Shipping and Waterways Shri Sarbananda Sonowal and Union Minister for Fisheries, Animal Husbandry and Dairying Shri Parshottam Rupala laid the foundation stone of Modernisation and Upgradation Works of Cochin Fishing Harbour at Thoppumpady, Kerala.
This project is being developed at an estimated cost of 169.17 crores. The overall project is funded through Grants from Pradhan Mantri Matsya Sampada Yojana (PMMSY) Scheme under the Department of Fisheries (Rs.50 Crores) and the Sagarmala Project scheme of MoPSW (Rs.50 Crores) and investment of the PPP Operator is Rs.55.84 Crores.
The first stage of the project includes the construction of three air-conditioned Auction Halls, one non-air-conditioned hall, one fish dressing unit and other ancillary units. Under this project, internal roads will be constructed, loading and unloading platforms will be built, a waste management area will be developed and there will be canteen facilities, drivers' waiting area, dredging work, areas machinery and equipment etc. The construction of four temperature-controlled auction halls of 60mx18m with mechanical retrieval and conveyance will increase the capacity of the fishing harbour by 415 tonnes of fish per day.
This Sagaramala project includes infrastructural facilities with international standards at Cochin Fisheries Harbour
During the inauguration, Shri Sarbananada Sonowal said, 'Our Hon'ble Prime Minister Shri Narendra Modi believes in doubling production and boosting the fisheries sector. Under his leadership, both MoPSW and the Fisheries Department are working together to make this project a reality. Development of Cochin Fisheries harbour will support the fishermen and will boost the economy.'
'It is envisaged the export of fish and fish products will be Rs. 1500 crores per annum on completion of the project. In addition, there will be a substantial improvement in the hygienic conditions', Foundation Stone added.
The Thoppumpady Harbour witnesses 10 months of fishing activity with peak season from August to November. On average, there are about 40 to 60 boats landing in the harbour, which contributes to a catch of 250 tons per day. The major fish items landed at the harbour are shrimps, cuttlefish, carangids, ribbon fish, seer fish, tuna and marlins.
Sagarmala Boosting economic growth through the welfare of the fishing community
The flagship Sagarmala Program of MoPSW is leading the Maritime development of the country with 802 projects worth Rs. 5.5 lakh Crore targeted to be executed by 2035. Out of which, 202 projects worth Rs. 99,281 Crore have been completed. A total of 29 projects worth Rs. 45,000 Crore have been successfully implemented under the PPP model, thus, reducing the financial burden on the exchequer. Additional 32 PPP projects worth Rs. 51,000 Crore are currently being implemented. Further, there are more than 200 projects worth Rs. 2.12 lakh Crore under construction and expected to be completed in 2 years' time.
Under Sagarmala, MoPSW has partially funded 171 projects worth Rs. 10,900 Crore across coastal states and UTs. Out of 171 projects, 48 projects worth Rs. 2,900 Crore have been completed and 123 projects worth Rs. 8,000 Crore are under various stages of implementation and development. In FY 22-23, 37 projects worth Rs. 2500 Crore have been sanctioned by this Ministry under the Sagarmala Scheme. To harness the efficiency of the private sector in operations, 52 projects worth Rs. 40,200 Crore have been completed at Major Ports in Public Private Partnership (PPP) mode. Further, 84 projects worth Rs. 49,500 Crore are under various stages of implementation and development. In addition to the above, Sagarmala Development Company Limited has invested Rs. 530 Crore in 4 projects in Andhra Pradesh, Odisha, and West Bengal, which have been completed.
It is to be noted under the Sagarmala Programme of MoPSW now 9 fishing harbour projects worth Rs 620 crores have been completed: benefitting 30,000 fishermen. Apart from this, the modernization of 5 fishing harbours has been done at a cost of ~Rs. 550 crores.
Disclaimer: This is an official press release by pib.