PIB Press Releases
Shri Sarbananda Sonowal joins International Olympic Day celebrations at Dibrugarh
Shri Sonowal joins thousands at the Mass Jogging organised by the Assam Olympic Association (AOA) as part of the celebrations of Olympic Day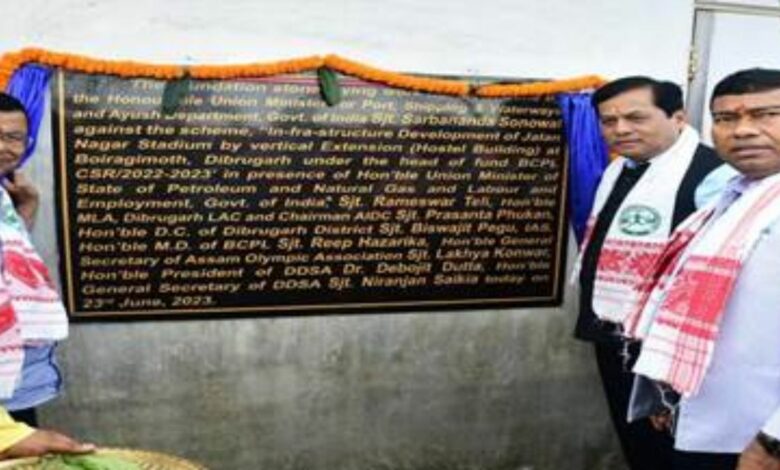 The Union Minister of Ports, Shipping & Waterways and Ayush, Shri Sarbananda Sonowal joined the celebrations of International Olympic Day in Dibrugarh yesteday. Shri Sarbanand Sonowal, the President of the Assam Olympic Association (AOA), also presided over crucial meetings of the apex sports body of Assam to discuss various issues including measures and means to further spur sports in Assam & sportspersons to compete at the top level from the state.
He has also laid down the foundation stone of Jalan Nagar Stadium by vertical extension at Boiragimoth in Dibrugarh in the presence of Union Minister of State Rameshwar Teli, MLA of Dibrugarh, Prashanta Phukan among other officials of Dibrugarh administration as well as Brahmaputra Cracker and Polymer Limited (BCPL) and AOA. The development is being funded via the Corporate Social Responsibility (CSR) fund of BCPL.
Speaking on the occasion, Shri Sarbananda Sonowal said that sports are an indispensable part of our identity, our culture, and our life. As our dynamic Prime Minister Shri Narendra Modi ji once said sports must become an inseparable part of our social life, where competitiveness is just a byproduct. As we joined the celebrations of Olympic Day here today, we must remember the values that make sports such a wonderful discipline.
He said that our celebrations must inspire values of unity, perseverance and excellence as sports have the power to make this world a better and happier place. Any sports will not only bring you physical well-being but will also enrich your mental health. As an Olympic body of Assam, it is our duty to remain steadfast towards further development of sports in the state and move ahead towards building a Swastha Bharat, as envisioned by Prime Minister Shri Narendra Modi ji, the Minister added.
Earlier, The Minister presided over the Annual General Meeting of the Assam Olympic Association followed by the Executive Meeting of AOA on various aspects related to the development of sports and measures to stimulate sporting activities in the state. He also stressed the need to create simulations and programmes which will allow athletes to practise and experience competitive sports, furthering the goal of incubation of sports talent in Assam. Shri Sarbananda Sonowal emphasised that AOA is committed to developing a conducive ecosystem and facilitating talents from the grassroots to reach the competitive sports level. The roadmap of AOA is being developed to bring this vision into reality.
The meetings of AOA were attended by Lakhya Konwar, General Secretary, AOA; Taranga Gogoi, Joint Secretary, AOA, Dr Debojit Dutta, President of Dibrugarh District Sports Association (DDSA); Niranjan Saikia, General Secretary, DDSA; among others.
Disclaimer: This is an official press release by Pib.