PIB Press Releases
Shri Sarbananda Sonowal inaugurates National Technology Centre for Ports, Waterways and Coast Discovery Campus in Chennai
Built with an investment of Rs 77 crore  NTCPWC at IITM acts as the R&D centre to create solutions towards enabling the marine sector in India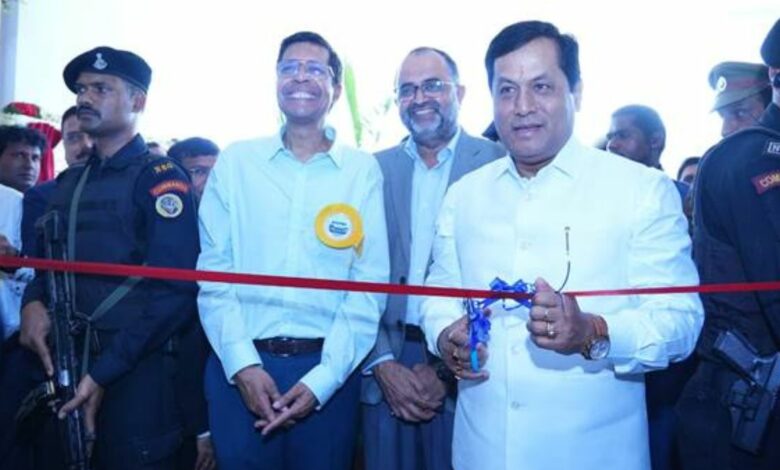 Union Minister for Ports, Shipping and Waterways Shri Sarbananda Sonowal inaugurated the Discovery Campus of the National Technology Centre for Ports, Waterways and Coasts at IITM, Chennai, Tamil Nadu today. This centre aims at enabling Research & development for the marine sector enabling solutions towards achieving the ultimate goal of building a robust marine industry in the country. This state-of-the-art centre will ensure advancement in the field of maritime technology, as well as modernisation & upgradation possibilities in the port & operations towards achieving the vision of Atmanirbhar Bharat by 2047.
National Technology Centre for Ports, Waterways and Coasts has world-class capabilities for undertaking the 2D & 3D investigations of research and consultancy nature for the Port, Coastal, and Waterways sector across all disciplines. Modelling of Ocean, determining the Coastal & Estuarine Flows, Sediment transport and morph dynamics, planning of Navigation and Maneuvering, estimation of Dredging & Siltation, consultancy in Port and Coastal Engineering – designing the Structures and Breakwaters, Autonomous Platforms & vehicles, Experimental & CFD modelling of flow & Hull interaction, Hydrodynamics of multiple hulls, Ocean renewable energy coupled with port facilities are some of the areas where NTCPWC has already contributed to the optimising capability of the marine sector of India.
The Chennai facility has 5 state-of-the-art labs, covering every aspect of design and development, simulation, analysis and production of marine and maritime solutions in line with the Aatmanirbhar Bharat vision. The laboratories created are among the best in comparison with other International Labs in the specific domain.
Speaking on the occasion, Shri Sarbananda Sonowal said, "With the inauguration of this state-of-the-art centre dedicated towards research and development of technological solutions to enable the growth of the marine sector, we move closer to achieving the vision of our Prime Minister Shri Narendra Modi ji to make India an atmanirbhar country. The role of the marine sector is supreme in nation-building. As we continue to embark on our journey to improve our performance, such centres will play a pivotal role in this regard.
The Centre is built under the ambitious Sagarmala scheme of the Ministry of Ports, Shipping & Waterways (MoPSW)
We believe that our rich & talented pool of engineers & scientists will provide cutting-edge modern solutions able to deal with the dynamic challenges of the marine sector. By developing a multi-modal system of logistics movement, the vision of Prime Minister Modi ji to empower our logistics sector to become efficient yet cost-effective through PM National Gate Shakti has received a tremendous shot in the arm with the launch of this centre. Our Sagarmala programme has been designed to bring in transformation in the existing system to become modern, world-class ports and power the engine of growth of India."
The Union Minister also assured that this facility would be expanded to include more World Class Lab Facilities and Innovation Hubs to support Maritime Start-Ups.
To advance the Sagarmala Programme's objectives, NTCPWC will deal with applied research while analyzing and fostering port and maritime industry activities. Major Ports including Deendayal Port, Jawaharlal Nehru Port, Paradeep Port, Chennai Port, Kamarajar Port, VOC Port, New Mangalore Port, and Visakhapatnam Port have contributed generously toward the creation of the institute. Significant contributions have also been provided by the Inland Waterways Authority of India. The SMP Kolkata, Mormugao Port and Cochin Port have also partnered in this activity by providing major case study centres.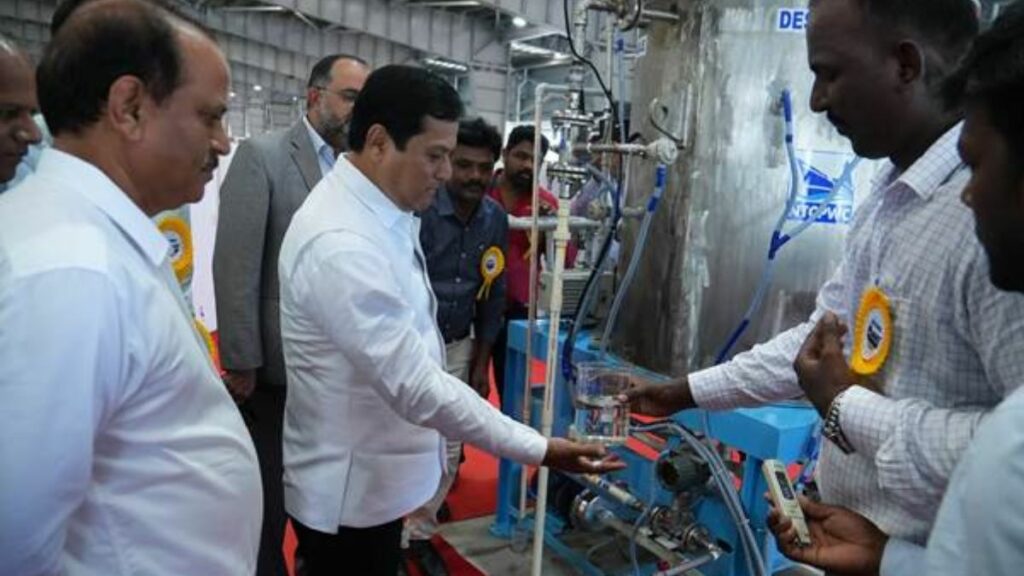 This technology centre will also reduce the cost of research drastically and result in cost and time savings for work in the port and maritime sector. This centre shall provide effective solutions to an extensive range of problems being faced in the industry through scientific support and also provide valuable education, applied research and technology transfer in maritime transportation at the local, regional, national and International levels.
In order to enhance port-led development and develop coastlines to support India's economy, Sagarmala Program is a strategic and customer-oriented project to modernize India's ports sector. Initiatives under Sagarmala in the last eight years to support critical economic activities in the hinterland and to address the growing trade volume needs while reducing logistics costs by improved efficiencies have helped in lowering overall operational costs of ports, reducing turnaround time for vessels, increasing efficiency and throughput, providing the ability to handle larger ships and developing strategic importance of Indian ports in the South Asian region.
For FY 22-23, 37 projects worth Rs 2,500 Crore have been sanctioned under the Sagarmala Program
Under Sagarmala Scheme, the Ministry of Ports, Shipping and Waterways has partially funded 171 projects worth Rs. 10,900 Crore across coastal states and UTs. Out of 171 projects, 48 projects worth Rs. 2,900 Crore have been completed and 123 projects worth Rs. 8,000 Crore are under various stages of implementation and development. In FY 22-23, 37 projects worth Rs. 2500 Crore have been sanctioned by this Ministry under the Sagarmala Scheme. To harness the efficiency of the private sector in operations, 52 projects worth Rs. 40,200 Crore have been completed at Major Ports in Public Private Partnership (PPP) mode. Further, 84 projects worth Rs. 49,500 Crore are under various stages of implementation and development. In addition to the above, Sagarmala Development Company Limited has invested Rs. 530 Crore in 4 projects in Andhra Pradesh, Odisha and West Bengal, which have been completed.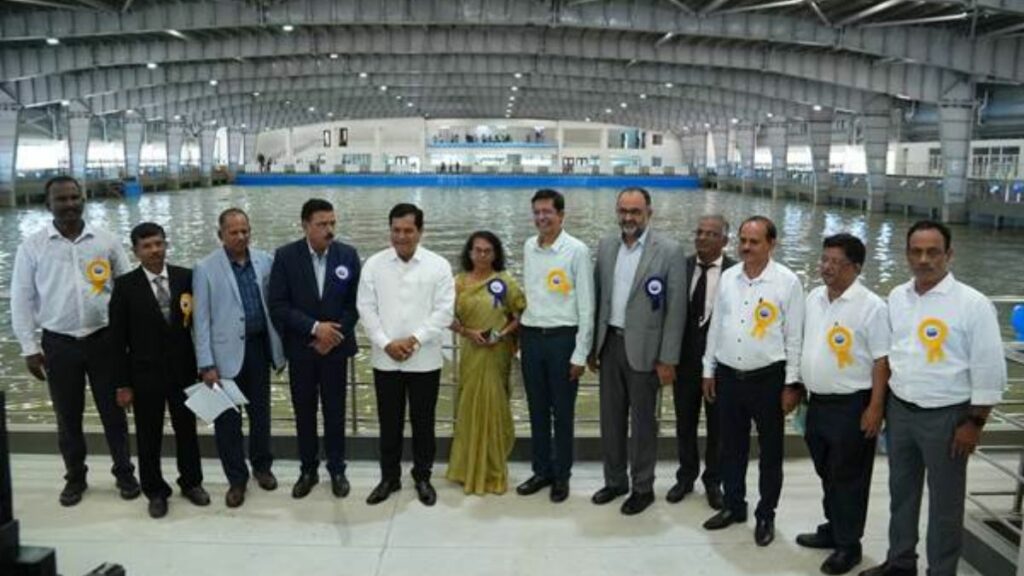 An impetus has been given by the Government under the Sagarmala Program to undertake projects which will result in the shift of cargo from land-based transportation to coastal and inland waterways mode which is sustainable and environmentally friendly. The overall amount of coastal freight handled at ports has increased by ~16% in FY 2022-23 when compared to the previous fiscal year because of these measures.
It is the result of these efforts at ports that total cargo handled at ports has registered a growth of ~8.6 % in FY 2022-23 when compared to the previous fiscal year. This has contributed in India achieving the $440 billion of merchandise export projected for FY 2022-23.
During the inauguration, Ms Malini V Shankar Vice Chancellor, Indian Maritime University, Shri Sunil Paliwal Chairperson, Chennai Port Authority, Dr. Venkata Ramana Akkaraju Chairperson, New Mangalore Port Authority, Shri Prof. V. Kamakoti, Director, IITM, Prof. K Murali, Dean (Faculty) Department of Ocean Engineering; Prof S. Nallayarasu HoD, Department of Ocean Engineering and other dignitaries were also present.
Disclaimer: This is an official press release by pib.