PIB Press Releases
Shri Piyush Goyal asks businesses to adopt a sustainable and green approach to business practices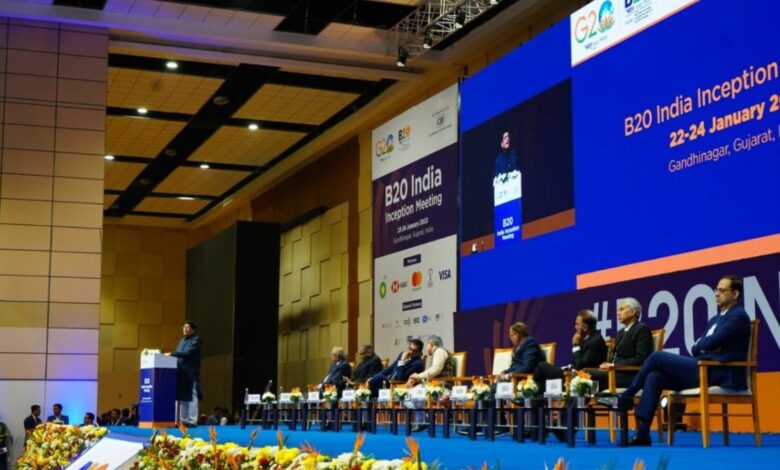 Through the theme of G20- 'one earth one family one future'- India wishes to inspire the world to care for each other and to have greater degrees of dialogue and concern for the planet and the future of our children: Shri Piyush Goyal
Union Minister of Commerce and Industry, Consumer Affairs, Food and Public Distribution and Textiles, Shri Piyush Goyal asked businesses to adopt a sustainable and green approach to business practices. He asked them to use the forum of B20 along with G20 to look at how we can collectively work towards a sustainable and equitable future agenda. He was addressing the Inception Meeting of Business 20 (B20), the official G20 dialogue forum with the global business community in Gandhinagar today.
Shri Goyal paid his tributes to Netaji Subhash Chandra Bose on his birth Anniversary today and said that he was one of the leading lights of our freedom struggle. The Minister said that Netaji envisioned a nation where every single citizen of the country had a share in its prosperity.
The Minister applauded Prime Minister Shri Narendra Modi's vision of 'Vasudhaiva Kutumbakam', of peace and dialogue, orderly and inclusive growth and a humane approach and said that India wanted to be a responsible global citizen, be it in the sphere of climate change or digital public infrastructure. Shri Goyal said that through the theme of G20 in India- 'one earth one family one future' – we wished to inspire the world to care for each other, to have a greater degree of dialogue and greater concern for the planet and the future of our children.
Quoting Mahatma Gandhi, he said that we had inherited this world as trustees and it is our duty to leave behind a better world for the next generation. We have to respect intergenerational equity- we do not have the right to use up all the resources of this planet, he added.
We must respect intergenerational equity- we do not have the right to use up all the resources of this planet: Shri Piyush Goyal
The Minister highlighted that India had always stood for sustainable development. He mentioned that it was one of the top 5 countries in the world in terms of adopting and implementing environmental goals. India regularly files UNFCCC reports and has already exceeded its goal for 2030, of having a 40 per cent share of renewable energy in its installed capacity in 2021. India takes each sustainable development goal very seriously, he said.
Speaking of India's amazing journey of growth, Shri Goyal said that India had grown almost 12 times in the last three decades in spite of several black swan events. He added that transformational steps had been taken by the government to take inclusive growth to every section of society without discrimination and to the remotest corners of the nation.
The Minister noted that the Prime Minister had relentlessly focussed on the 4 'I's of investment in infrastructure, integrity, inclusive development and international outlook to lend wings to the Indian economy. He spoke of some of the transformational initiatives of the government. He said that the Digital India Mission had ensured that the levels of connectivity we have in telecom today and what is being planned over the next 2 years would catapult us to amongst the top 5 or 6 countries in terms of technology. It will help us achieve inclusive economic growth smartly.
India hopes to power the world economy through collaborations and cooperation: Shri Piyush Goyal
He stressed that the government had succeeded in securing the basic needs of life such as food, shelter, clothing, education, healthcare etc. to people, enabling, empowering and inspiring them to aspire for better things in life. He noted that even during the height of the pandemic, no death due to starvation had taken place in the country, thanks to several government initiatives including the mission to provide more than adequate foodgrains to almost 800 million across the country. He underscored that India had the world's largest and most successful free healthcare program, covering 500 million people. He said that 35 million families at the bottom of the pyramid, the most deserving, yet the most deprived, have been given homes with all the basic amenities. He added that the government had also succeeded in raising farmers' income.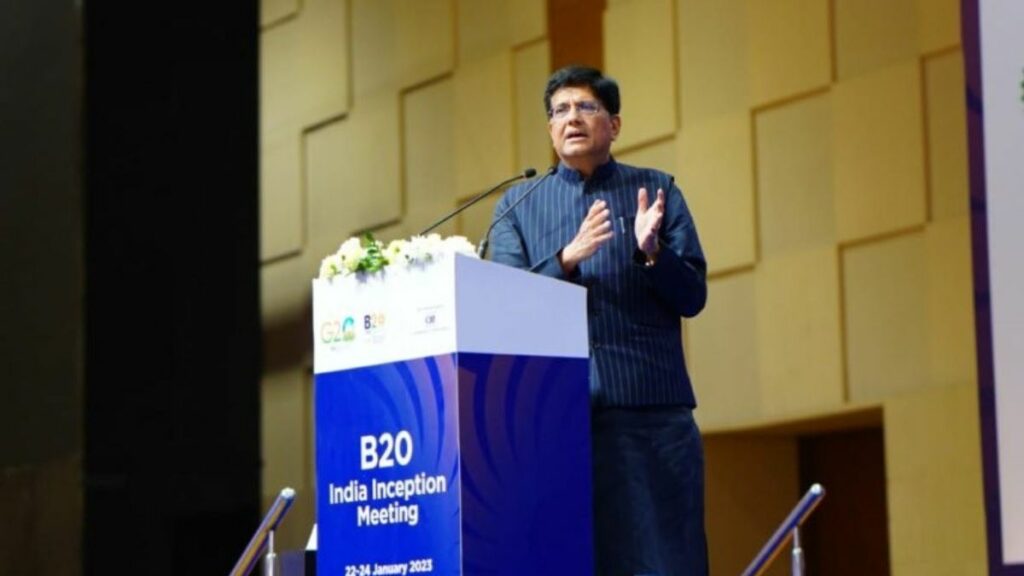 Shri Goyal noted that the while the world was worried about how India would cope with the pandemic, it had converted that fear into hope and emerged as a bright spot in the global economy. No other market in the world as large as the India opportunity today, he said and added that India hoped to power the world economy through collaborations and cooperation amidst competition and asked both Indian and foreign companies to serve the world using India as the base.
The Minister said that businesses that come to India have always succeeded because of our competitiveness. He opined that India offered the rule of law, inspiring and decisive leadership, transparent government policies, no opaque models and no hidden subsidies. He cited the example of a British Company that was manufactured in the UK, supplying to a few countries, and achieving a modest turnover.
Businesses that have decided to set up manufacturing in India grow and expand due to our competitiveness and ability to innovate and design new products: Shri Piyush Goyal
A few years ago, this company set up manufacturing in India and due to the competitiveness of Indian manufacturing and our ability to launch newer products through design and innovation, the company now supplies products to over 110 countries around the world from India at affordable and competitive prices, he said. He also spoke of another tech giant which already has 5-7 per cent of manufacturing happening in India and plans to scale it upto 25 per cent.
He expressed hope that by August, we would have a robust framework for B20 and we succeed in taking a message of responsibility, care and concern, a message of togetherness and oneness, a message that we will all work together for a better future for our children, from India to the world.
India assumed the Presidency of the G20 on 1 December 2022. G20 is a premier forum for international economic cooperation. Established in 2010, B20 is among the most prominent Engagement Groups in G20, with companies and business organizations as participants. B20 leads the process of galvanizing global business leaders for their views on issues of global economic and trade governance and speaks in a single voice for the entire G20 business community.
Minister pays tributes to Netaji Subhash Chandra Bose on his birth Anniversary today
B20 will operate through 7 Task Forces and 2 Action Councils entrusted to develop consensus-based policy recommendations for the G20.
Shri Ashwini Vaishnaw, Minister of Railways, Communications and Electronics & Information Technology; Shri Amitabh Kant, G20 India Sherpa and Shri N Chandrasekaran, Chairman Tata Sons, who is the Chair of B20 India, Shri Anurag Jain, Secretary, DPIIT, Ministry of Commerce and Industry and other dignitaries were present at the gathering. More than 200 overseas delegates including CEOs and business executives, from G20 member countries and invitee countries apart from more than 400 delegates from within the country took part in the B20 India Inception Meeting.
B20 deliberations would see discussions on broad areas of climate action, innovation, digital global cooperation, resilient global value chains, fostering financial inclusion, empowering societies etc. The B20 Inception Meeting will culminate on 24 January 2023.
Disclaimer: This is an official press release by PIB.