PIB Press Releases
Shri Jagdeep Dhankhar sworn in as the 14th Vice President of India and Chairman of Rajya Sabha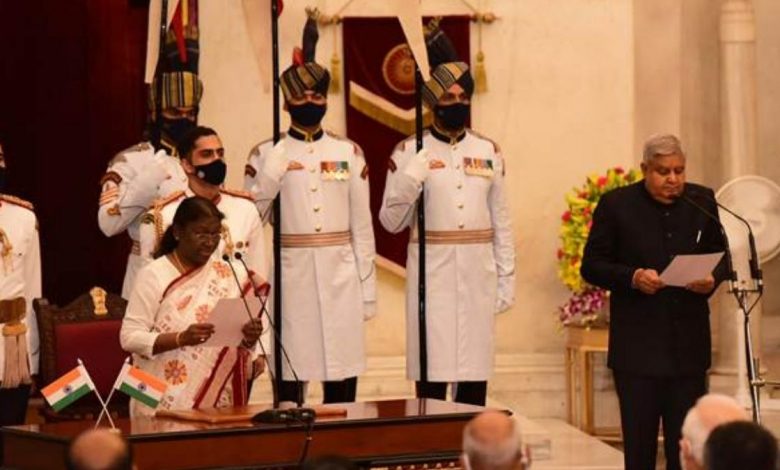 Shri Jagdeep Dhankhar today took over as the fourteenth Vice President of India and Chairman of Rajya Sabha. A renowned lawyer and former West Bengal Governor, Shri Dhankhar, was administered the oath of office by the President, Smt. Droupadi Murmu at a swearing-in ceremony held at Rashtrapati Bhavan today.
Prior to oath-taking, Shri Dhankhar visited Rajghat in the morning today and paid tributes to Mahatma Gandhi Ji. "Felt blessed, inspired and motivated to be ever in service of Bharat in serene sublimity of Raj Ghat while paying respects to Pujya Bapu," he tweeted.
Following is the brief profile of Shri Jagdeep Dhankhar –
Educational and Professional Background
Shri Dhankhar did his initial schooling at the Government Primary School at Kithana village. Thereafter, he studied at the Government Middle School, Ghardhana and the Sainik School, Chittorgarh. For his college education, Shri Dhankhar joined Maharaja's College, Jaipur and graduated with B.Sc. (Honors) in Physics. After that, he pursued a degree in Law from the University of Rajasthan.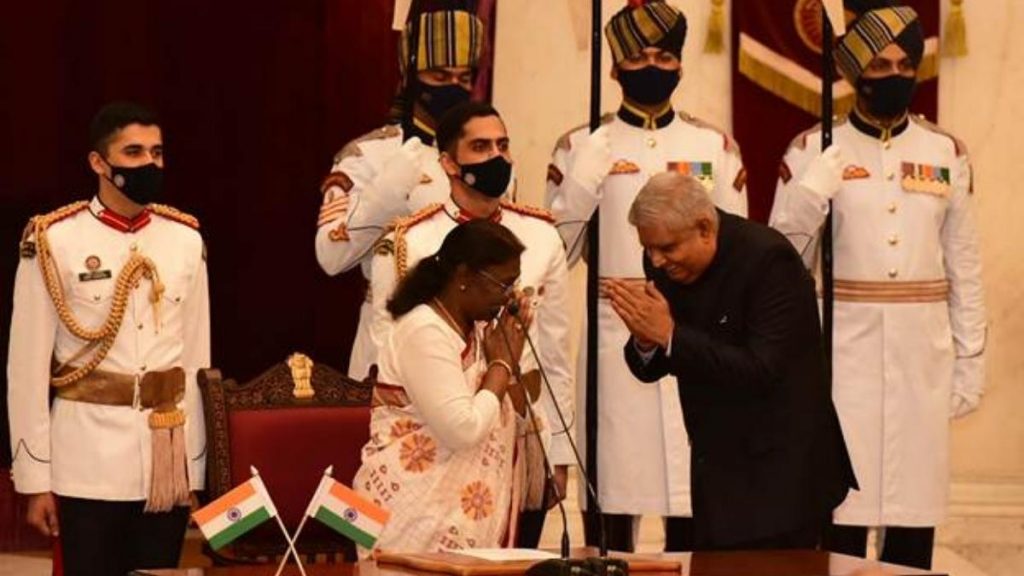 Shri Jagdeep Dhankhar began his professional career as a lawyer, and despite being the first generational professional, he rose to be among the top legal experts in the country. In 1990, he was designated as Senior Advocate by the High Court of Judicature for Rajasthan. Ever since Shri Jagdeep Dhankhar has been practising primarily in the Supreme Court and his focus areas of litigation have been in the field of Steel, Coal, Mining and International Commercial Arbitration, amongst others.
He has appeared in various High Courts in the country and was the senior-most designated Senior Advocate of the State till assuming the Office of the Governor of West Bengal on 30 July 2019. During his legal career, Shri Dhankhar was the youngest person to be elected as the President of the Rajasthan High Court Bar Association, Jaipur in 1987. A year later, he also became a Member of the Rajasthan Bar Council in 1988.
Parliamentary and Public Life
Shri Jagdeep Dhankhar was elected to the Parliament of India in 1989 from Jhunjhunu Parliamentary Constituency. Subsequently, he also served as a Minister of State for Parliamentary Affairs in 1990. In 1993, he was elected to the Rajasthan assembly from the Kishangarh constituency in Ajmer district. As a legislator, Shri Dhankhar served as a member of important Committees in the Lok Sabha and the Rajasthan Legislative Assembly. As Union Minister, he was also a member of a delegation as Deputy Leader of a Parliamentary Group to the European Parliament.
In July 2019, Shri Dhankhar was appointed as the Governor of West Bengal.
Personal Details
Name : Shri Jagdeep Dhankar
Father's Name: Late Shri Gokal Chand
Mother's Name: Late Srimati Kesari Devi
Date of Birth: 18 May 1951
Place of birth: Village Kithana, Jhunjhunu District, Rajasthan
Marital Status: Married (Year, 1979)
Spouse's name: Dr Sudesh Dhankhar
Children: One daughter (Smt. Kamna)
An avid reader of books, Shri Dhankhar is a sports aficionado too and he has been the President of the Rajasthan Olympic Association and Rajasthan Tennis Association. Listening to music and travelling are his other hobbies. He has travelled extensively to many countries, including the US, Canada, UK, Italy, Switzerland, Germany, Australia, New Zealand, China, Hong Kong, Singapore, etc.
Disclaimer : This is an official press release by PIB.