PIB Press Releases
Union Minister For Jal Shakti, Shri Gajendra Singh Shekhawat Releases Swachh Jal Se Suraksha Campaign Report Under Jal Jeevan Mission
'Supply of Safe Water' one of the key considerations under Jal Jeevan Mission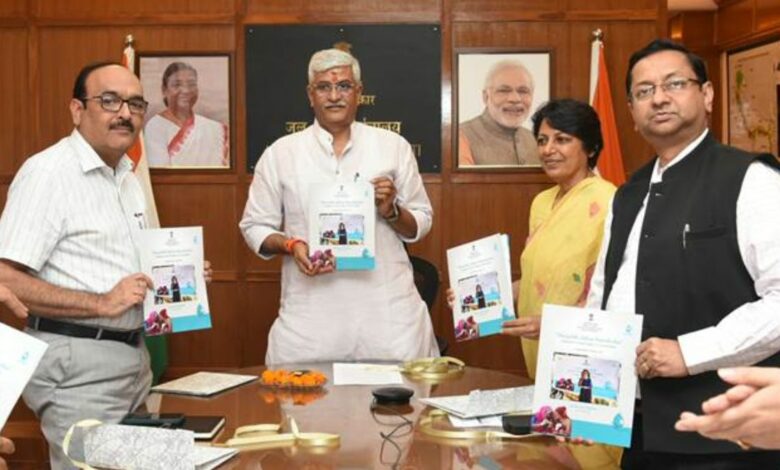 The Union Minister For Jal Shakti, Shri Gajendra Singh Shekhawat yesterday released the report on progress under the Jal Jeevan Mission: Swachh Jal se Suraksha (SJSS) Campaign which was organised from 2nd October 2022 to 31st March 2023 to impress upon the States/ UTs to make concerted efforts towards taking up water quality monitoring and surveillance activities as 'Supply of Safe Water' has been one of the key considerations under JJM.
Under the campaign, several activities had been taken up including Testing of PWS sources in all villages for chemical parameters and bacteriological parameters (post-monsoon); Water quality testing at the household level in villages; Water quality testing in Schools and Anganwadi Centres; Remedial action taken for contaminated samples; and Training of women for water quality testing using FTK/ H2S vials at village level.
As a result of concerted efforts made by States/ UTs for water quality monitoring and surveillance during the campaign period and progress reported on the WQMIS portal, the activity-wise overall progress is as under:
Water quality testing has been reported in 5.39 lakh (89.69 %) villages for chemical and in 4.47 lakh (74.46 %) villages for bacteriological contamination (post-monsoon).
Drinking water samples were tested in 6.58 lakh (67.63 %) schools and 7.16 lakh (67.43 %) Anganwadi centres.
21.80 lakh women have been trained from 4.59 lakh (76.41 %) villages for water quality testing using Field Testing Kits (FTKs).
Remedial action has been taken for 90.34% of the contaminated samples reported.
The performance of states/UTs was also measured during the Campaign. The states of Tamil Nadu, Andhra Pradesh, Karnataka and Madhya Pradesh emerged as the best-performing states during the Campaign.
Jal Jeevan Mission (JJM) was announced by Prime Minister, Shri Narendra Modi on 15 August 2019 to make provision for potable tap water supply in adequate quantity, of prescribed quality on a regular & long-term basis to every rural household. Access to assured and safe drinking water is a basic life need. The Objective of the campaign was to ensure drinking water quality and create awareness among representatives of the Panchayati Raj institutions and rural communities about the quality of drinking water in their respective villages, water quality issues, waterborne diseases & health impacts and avoiding the use of water from quality-affected sources.
The desired outcome of the campaign was wide participation at Village, district and State levels for water quality testing, building confidence and creating awareness among people about the quality of water being supplied through the piped water supply. States/ UTs PHE/ RWS Department, being the 'Nodal Department' implemented the Swachh Jal se Suraksha campaign in respective States/ UTs by actively involving all the stakeholders viz. Gram Panchayat and/ or it's sub-committees/ local community to take up water quality monitoring and surveillance and awareness activities.
Disclaimer: This is an official press release by pib.