PIB Press Releases
Shri Bhupender Yadav  launches Chemotherapy Services in 30 ESIC Hospitals across the country
The launch is a step in direction of realising Pime Minister Shri Narendra Modiji's vision of all-round welfare of our Shram Yogis in India's Amrit Kaal: Shri Yadav
Union Minister for Labour & Employment and Environment, Forest and Climate Change Shri Bhupender Yadav launched Chemotherapy Services in 30 ESIC Hospitals across the country during the 191st meeting of the ESI Corporation at ESIC Headquarters in New Delhi today.
Shri Yadav said the launch is a step in the direction of realising Prime Minister Shri Narendra Modiji's vision of all-round welfare of our Shram Yogis in India's Amrit Kaal. With the start of in-house Chemotherapy Services, insured workers and their dependents will be able to get better cancer treatment at ease.
The Union Minister also Inaugurated a Control Room with Dashboards of ESIC. The dashboards will ensure better monitoring of resources and beds at ESIC hospitals, the current status of ongoing construction projects, etc.
Shri Yadav said ESI Corporation has decided that to ensure the availability of skilled medical professionals in ESIC Hospitals, ESIC will take further its work in the field of medical education. He said the new ESIC Medical Colleges and Hospitals will be established after assessing the requirements. So far, 8 medical colleges, 2 dental colleges, 2 nursing colleges and one para-medical college have been established and are being run by ESIC, he added.
Various agenda items pertaining to improvement in Medical Care Services, Administration, and Financial Matters were deliberated upon and decided in the meeting along with a review of ongoing construction projects.
ESIC to set up 15 new ESI Hospitals, 78 ESI Dispensaries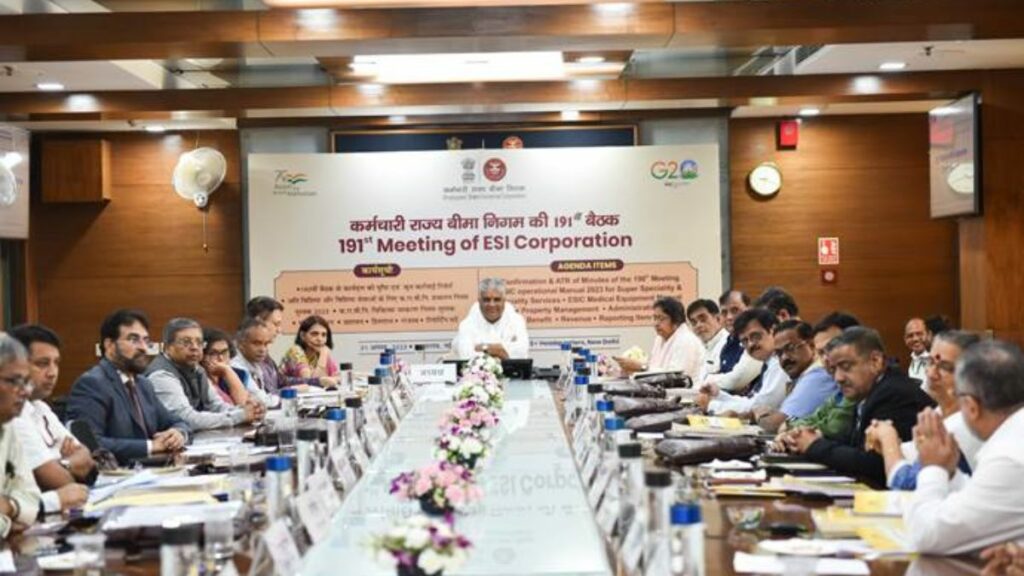 In principle approval to set up 15 new ESI Hospitals, 78 ESI Dispensaries, increase in bed strength at ESIC Hospital, Beltola, Assam, ESIC Medical College & Hospital, K. K. Nagar, Chennai, Tamil Nadu and ESIC Medical College & Hospital, Faridabad, Haryana was given in the meeting.
Shri Yadav released the Citizen Charter, Manual of Audit & Accounts of ESIC, Referral Policy and Equipment Policy during the programme.
Shri Yadav also felicitated 5 iGoT learners of ESIC who topped on the iGOT (Karmyogi Bharaat) learning platform from the ESIC Offices of Rajasthan, Kerala and Bengaluru. The platform aims at promoting capacity development among civil services.
Ms Dola Sen, Member of Parliament, Shri Ram Kirpal Yadav, Member of Parliament, Ms Arti Ahuja, Secretary (L&E), Dr Rajendra Kumar, Director General along with Principal Secretaries/Secretaries of the state governments, representatives of employers, employees and other ESI Corporation members attended the meeting.
Disclaimer: This is an official press release by Pib.