PIB Press Releases
Shri Bhupender Yadav highlights government initiatives to eliminate discrimination in labour markets promoting social justice
Union Minister for Labour and Employment and Environment, Forest and Climate Change Shri Bhupender Yadav participated in a Panel Discussion at the World of Work Summit of ILO on Promoting Social Justice in Geneva on 14th June. During the discussions, Shri Yadav highlighted the steps the government has taken under the leadership of the Prime Minister to eliminate discrimination in labour markets.
Shri Bhupender Yadav said for greater inclusion of women in our workforce India has increased paid maternity leave from 12 weeks to 26 weeks, made provision for mandatory crèche facilities in establishments having 50 or more employees, and permitted women workers in the night shifts with adequate safety measures.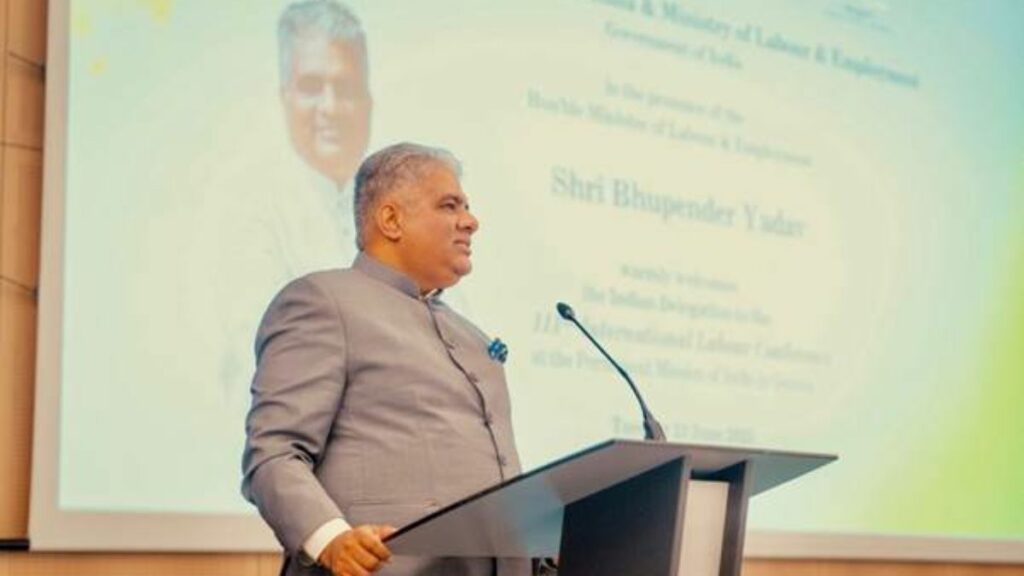 Shri Bhupender Yadav said the country is also making efforts to extend the benefits of social security to unorganised workers. He said the e-Shram portal is a step towards extending social security to all. The government is also skilling, upskilling and reskilling workers for the same, he added.
Shri Yadav held a tripartite interaction with employers and employee associations in Geneva on the sidelines of the 111th International Labour Conference. The Miniter heard their concerns and apprised them about how the government is making efforts for both workers' welfare and ease of doing business.
Shri Yadav also attended a BRICS dinner in Geneva on the sidelines of the 111th International Labour Conference. He stated that the best practices and experiences shared by BRICS countries will play an important role in promoting decent work and social protection for workers.
Shri Bhupender Yadav said that India supports the proposal put forward by South Africa to establish a joint platform for BRICS Productivity Ecosystems in the context of the Strategy for BRICS Economic Partnership 2025.
Disclaimer: This is an official press release by Pib.