PIB Press Releases
Union Minister Shri Anurag Thakur meets the team behind Elephant Whisperers
A new breed of Indian filmmakers out to capture the world with their stories: Shri Thakur
Union Minister for Information and Broadcasting Shri Anurag Thakur met the Oscar-winning team behind Elephant Whisperers at his residence yesterday. The Minister met with Ms Kartiki Gonsalves, Director and Cinematographer, Ms Guneet Moonga, Producer and Ms Monica from Netflix.
During the interaction, Shri Thakur said that the power of India's storytelling is unmatched!. Expressing his pleasure at one such story winning the Oscar, he said that "Elephant Whisperers is a 'trunk' full of heartwarming, socially relevant and cinematographically enthralling masterpiece! I am delighted to meet Guneet and Kartiki and learn about their amazing journey while making this spellbinding documentary."
He further said that "the documentary beautifully depicts our social responsibility, impact and efforts towards conservation along with the delicate balance humans share with nature – in the most heartwarming way is truly worth applause."
The Minister delved into India's storytelling traditions and stated that India was a land of storytellers, a million tales are born each day and some are retold for generations.
The Minister emphasized the quality of domestic content and its increasing audience worldwide and remarked that "our regional content has gone global; it is dubbed and enjoyed in every part of the world. India is bustling with stories & a new breed of filmmakers is hustling to capture them!"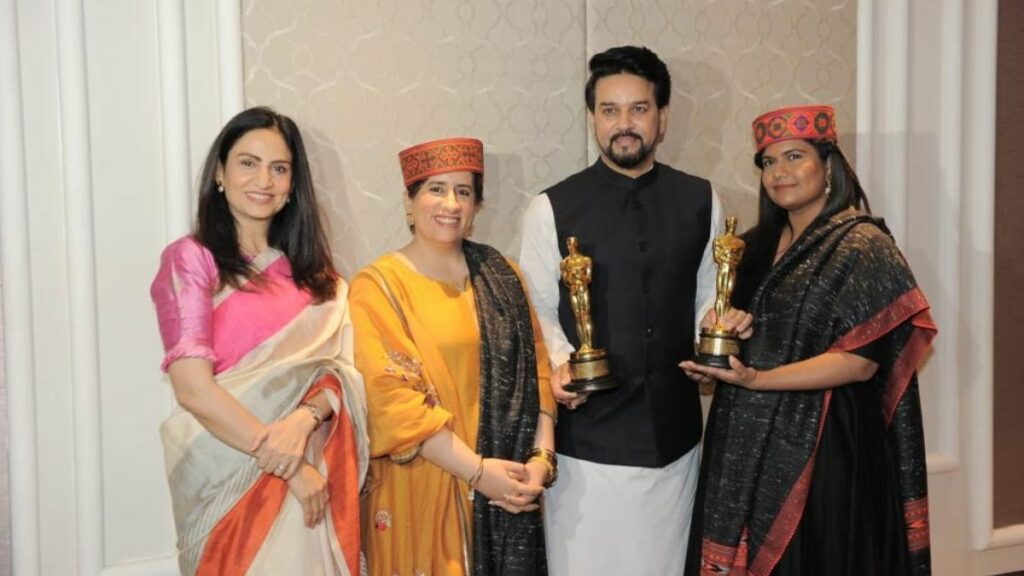 He remarked on the achievements of Indian filmmakers and said that "success and recognition given to our filmmakers encourage them, even more, to narrate these beautiful stories in our society and make them available for everyone through cinema."
Through his interaction, the Minister delivered a message to the wider film fraternity and promised that the government is committed to supporting filmmakers through co-production funding, premieres and screenings at international festivals and providing them with a platform at Indian film festivals through masterclasses etc.
Shri Thakur also talked about the inspirational lives of the wildlife conservators in the documentary and said that "I definitely hope to meet Bomman & Bellie when I visit Tamil Nadu. Their life and conservation efforts are remarkable and inspiring."
The movie Elephant Whisperers has recently won the Best Documentary Short Film award at the 95th Academy Awards. The film explores the life of an elderly couple Bomman and Belli caring for an orphaned baby elephant. Set in Mudumalai National Park, the movie highlights the loving bond between humans and pachyderms and is the first Indian movie to bag an Academy Award in this category.
The team had called on Prime Minister Shri Narendra Modi earlier yesterday. Tweeting about his interaction the Prime Minister said "The cinematic brilliance and success of 'The Elephant Whisperers' has drawn global attention as well as acclaim. yesterday, I had the opportunity to meet the brilliant team associated with it. They have made India very proud."
Disclaimer: This is an official press release by pib.