PIB Press Releases
President Smt Droupadi Murmu Presides over Annual General Meeting of the Indian Red Cross Society
Indian Red Cross has to reach the next level by engaging in relief programs beyond Indian boundaries: Dr Mansukh Mandaviya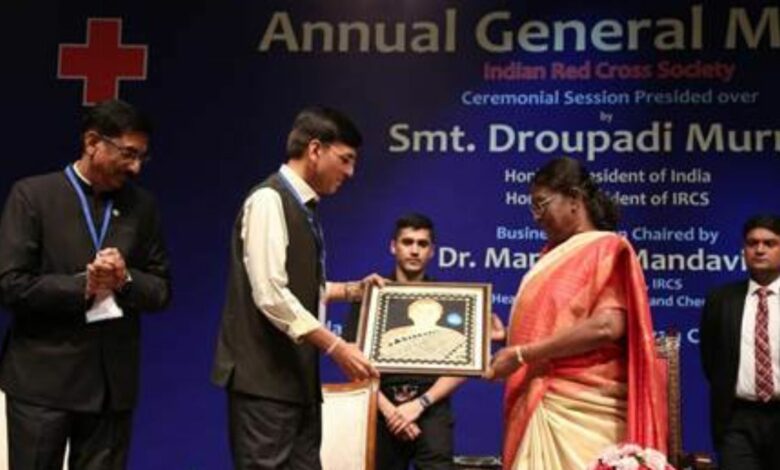 Hon'ble President of India and President of Indian Red Cross Society, Smt Droupadi Murmu today presided over the ceremonial session of the Annual General Meeting of the Indian Red Cross Society (IRCS) at Rashtrapati Bhawan Cultural Centre, here today. Governors and Lt. Governors from 9 states and UT's participated in the AGM physically while some others joined virtually. Hon'ble Chairman of IRCS, Dr Mansukh Mandaviya was also present.
This AGM took place physically after six years due to the COVID-19 Pandemic. Over 300 delegates from all over the country participated in the meeting.
Addressing the gathering, Dr Mandaviya stated that the Red Cross is born to serve the needy and vulnerable. He added that the "Indian Red Cross has to reach the next level by engaging in relief programs beyond Indian boundaries."
The Union Health Minister informed that in order to bring more efficiency and transparency, state IRCS branches will be required to give a monthly report in the form of PPT to their Hon'ble Governors so that Red Cross work is disseminated and more and more people get attached to the organization. He also said that Red Cross should work transparently so that it becomes the first choice to get funding under CSR from the corporate world.
During the function, Hon'ble President conferred Red Cross Gold Medals upon Dr. LN Ambati Natraj from Telangana and Dr. Goparaju Samaram from Andhra Pradesh. Indian Red Cross Society, Odisha State branch was awarded for raising maximum funds and Indian Red Cross Society Jammu & Kashmir was awarded for raising maximum funds in relation to its population for the year 2021-22 amongst the UT Branches. Gujarat State branch and Dadra & Nagar Haveli and Daman & Diu, UT branch received Blood Donation Shields for highest voluntary blood collection. Gujarat State branch won the Gold Medal for collecting over 2 lakhs 77 thousand units of blood during the year.
Disclaimer: This is an official press release by Pib.