PIB Press Releases
"PM SVANidhi fostering entrepreneurship and stability among Street Vendors" ~Shri Hardeep S. Puri
~MoHUA celebrates 3 successful years of PM SVANidhi Scheme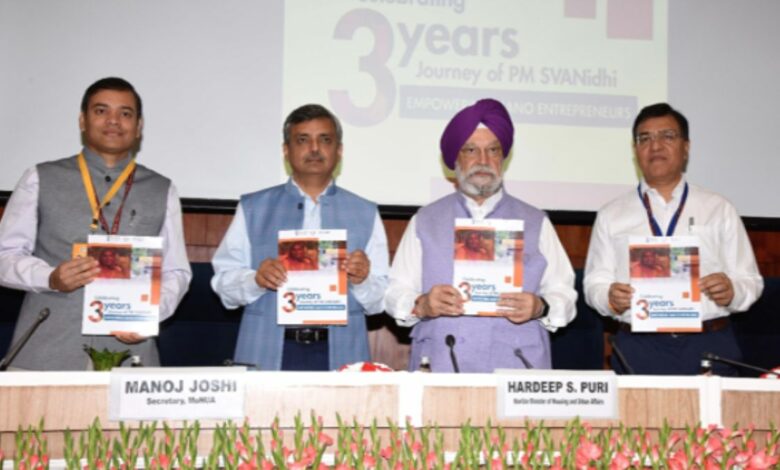 Shri Hardeep S. Puri, Minister for Housing and Urban Affairs and Petroleum and Natural Gas complimented the Prime Minster Street Vendor's AtmaNirbhar Nidhi (PM SVANidhi) Scheme on its successful completion of 3 momentous years. The Minister stated that PM SVANidhi Yojana is witnessing one of the fastest roll-outs of government schemes. He further stated that PM SVANidhi has led an unparalleled wave of financial inclusion and digital literacy in India's cities and towns that has provided dignity and stability to Street Vendors.
PM SVANidhi Scheme launched on 01 June 2020, aiming to restore Swarozgar, Svavlamban, and Swabhimaan (Self Employment, Self-Sustenance, and Self-Confidence) within street vendors has become one of the fastest growing micro-credit schemes of the Government of India and has provided its citizen's access to credit and linkages to social security schemes.
The Ministry of Housing and Urban Affairs (MoHUA) organised an event at Vigyan Bhawan to celebrate 3 years journey of PM Street Vendor's AtmaNirbhar Nidhi (PM SVANidhi) Yojana, here today. The scheme has empowered COVID-19-affected street vendors to resume their livelihood. Not just that, it has achieved various milestones in financial inclusion and mainstreaming of street vendors. were highlighted. This scheme launched amidst the pandemic, has made significant contributions to the lives of street vendors across the country.
During the event, a booklet highlighting the noteworthy achievements and initiatives implemented under the PM SVANidhi scheme was released. The booklet provides insights into the various initiatives and reforms undertaken by the scheme to transform the lives of street vendors and their families throughout the country. The event was attended by Shri Manoj Joshi, Secretary, MoHUA; Sh. Rajeev Jain, Addl. DG (Media); Sh. Rahul Kapoor, Jt. Secretary & Mission Director; and senior officials from Central Government, State Governments, Banks, Digital Payment Aggregators, key partners and the PM SVANidhi beneficiary Street Vendors.
In addition, the Minister launched a PM SVANidhi mobile app for street vendors, to ease the loan application process and provide various information to Street Vendors regarding the Scheme. Moreover, a facility for 'Udyam' registration and obtaining a 'Udyam Assist' certificate for Street Vendors on the PM SVANidhi portal was also launched with the help of the Ministry of Small and Medium Enterprises, MSME, to provide easy access to vendors for obtaining Udyam Registration Certificate for promotion of their business.
Further, States and lending Institutions which have shown good performance under the Scheme were also felicitated for their valuable contribution towards empowering the street vendors. Amongst the banks, the State Bank of India, Bank of Baroda, and Union Bank of India were felicitated for offering a large number of loans to street vendors. Amongst RRBs, Andhra Pradesh Grameen Vikas Bank, and State Cooperative banks Stree Nidhi Credit Cooperative Federation Ltd. were felicitated.
Shri Hardeep S. Puri, Minister, MoHUA also interacted with beneficiary Street Vendors of the PM SVANidhi scheme and was apprised of the changes which the scheme has brought in their lives. He expressed his gratitude to all the stakeholders, including Central Ministries and State Governments, Urban Local Bodies, Lending Institutions, and partners for their enormous support and contribution to the success of the scheme.
PM SVANidhi scheme has achieved significant milestones over the past three years. The scheme facilitates working capital loans in three tranches to the Street Vendors. It has been providing microcredits to more than 36 lakh Street Vendors across India. As on June 30, 2023, 48.5 lakh loan applications have been sanctioned, with over 46.4 lakh loans disbursed to street vendors, amounting to a total of Rs. 5,795 crore. Digital onboarding and training have been a key component of the scheme and the Ministry is taking various efforts to train all PM SVANidhi beneficiaries in making digital transactions and thus providing them with social acceptance and dignity.
Disclaimer: This is an official press release by pib.