PIB Press Releases
NHPC and APGENCO join hands for implementation of Pumped Storage Hydropower Projects and other Renewable Energy Projects in Andhra Pradesh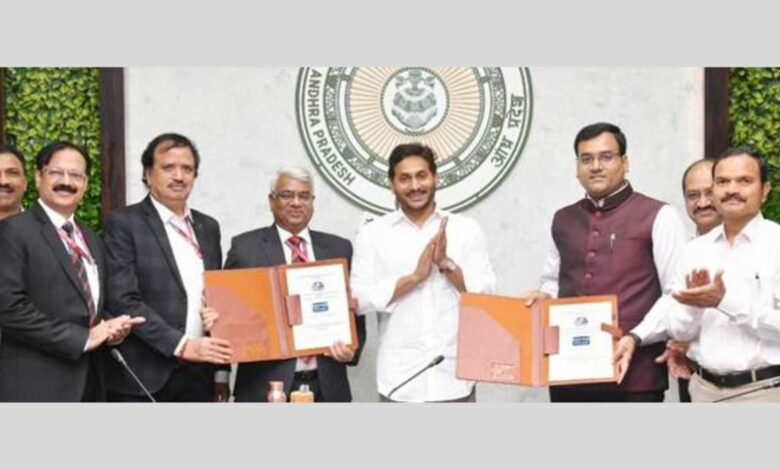 Taking one more step towards clean and green energy, NHPC Limited, India's premier hydropower company, has signed a Memorandum of Understanding with Andhra Pradesh Power Generation Corporation (APGENCO) Limited (an undertaking of the Government of Andhra Pradesh) for the implementation of Pumped Hydro Storage Projects and Renewable Energy Projects in the state of Andhra Pradesh.
In the first phase, the MoU envisages the implementation of two identified Pumped Hydro Storage Projects of a total capacity of 1,950 MW. These projects are Kamlapadu (950 MW) and Yaganti (1,000 MW). The implementation of these projects is expected to create significant employment opportunities and boost the local economy in the region. The projects will be implemented under Joint Venture mode.
The MoU was signed in Tadepalli, Guntur, Andhra Pradesh on 23rd August 2023, in the presence of Chief Minister of Andhra Pradesh Shri Y. S. Jagan Mohan Reddy. The agreement was signed by the Director (Finance), NHPC, Shri R.P. Goyal and Managing Director, APGENCO, Shri K. V. N. Chakradhar Babu, in the presence of other officers of both organizations.
The MoU seeks to harness Pump Storage Projects as Energy Storage Solutions to achieve the national objective of clean and green energy, i.e., of achieving 500 GW of installed electricity capacity from non-fossil fuel (Renewable Energy + Nuclear) sources by the year 2030 and of realizing Net Zero by 2070.
Pumped Storage System utilises surplus grid power available from thermal power stations or other sources to pump up water from the lower to the upper reservoir and reproduces power during peak demand when there is a scarcity of power.
NHPC Limited is India's premier Hydropower Company. NHPC's total installed capacity is 7,097.2 MW of renewable power (including Wind and solar), through its 25 power stations including 1,520 MW through subsidiaries.
You may like to read this too: Speeding up Hydro Power: Central Electricity Authority Fast-tracks Approval Mechanism for Pumped Storage Projects
Disclaimer: This is an official press release by Pib.