PIB Press Releases
NCGG completes training of 27th batch of civil servants from Maldives
So far 858 officers from Maldives imparted training including 29 officers of ACC, Maldives
The 2-week Capacity Building Programme (CBP) for civil servants of Maldives organised by the National Centre for Good Governance (NCGG) in partnership with the Ministry of External Affairs (MEA) concluded on 25th August 2023 yesterday in New Delhi. NCGG has signed a MoU with the Government of Maldives to enhance the skills and capabilities of 1,000 civil servants in the field of public administration and governance by 2024. As part of the agreement, NCGG has already imparted training to 858 officers from Maldives which includes 29 officers of ACC, Maldives.
NCGG's efforts are aligned with Prime Minister Narendra Modi's philosophy of "Vasudhaiv Kutumbkam" and "Neighbourhood First" policies and keeping citizens at the forefront while designing developmental strategies and implementing public policies. It is in this context that these programmes reinforce the principles of citizen-centric governance promote the exchange of knowledge, information and innovations and promote the adoption of best practices and digital governance. It is also an effort in the direction of strengthening bilateral ties and fostering regional cooperation with neighbouring countries.
The valedictory session was presided over by H.E. Mohamed Najeel, Deputy High Commissioner, Republic of Maldives. He requested the participating officers to make full use of the exposure that they had during the programme and take advantage of the opportunity and urged them to share knowledge and work in groups as effective team building is essential to foster good ideas that can be utilized to improve the quality of life of citizens. He stressed the importance of harnessing the programme's maximum potential and learning from best practices, which can be modified to suit their own contextual settings. He said that these programmes will further the historical and traditional relations between the two nations. He also stressed that these will also assist in realizing the global goals.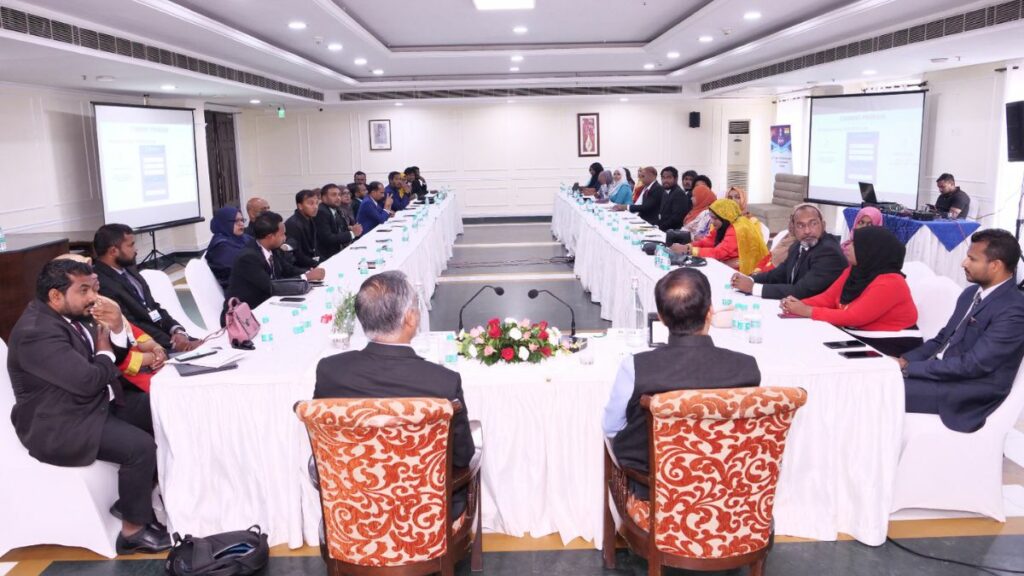 He thanked the Government of India for the support provided for the capacity building of its officers and appreciated the effective and proactive participation of officers from Maldives. He was extremely happy to see the elaborate and wonderful presentations of the participating officers on "digital education and health in Maldives and "Vision 2030 Maldives " as part of the learning outcomes of the programme. He urged them to stay connected and work together for the betterment of their country.
"Mutual Collaboration and sharing of knowledge will be an enabler in achieving global goals & ensuring improvement in the life of people", H.E. Mohamed Najeel, Dy. High Commissioner, Republic of Maldives
Giving the overview of the programme, Dr. B. S. Bisht, course coordinator said that in the 27th capacity building programme, NCGG shared various initiatives taken in the country. such as changing paradigm of governance, India Maldives relations, an overview of All India Services, Public Policy and Implementation, Public-Private Partnerships, Digital Governance and Public Service Delivery, Approach to achieve SDG, Leadership and Communication Skills, Performance Management, Total Quality Management, Disaster Management, Agro –based practices in Coastal Regions, e-Governance and Digital India, Gender and Development, Government e-Marketplace, Centralized Public Grievance Redressal and Monitoring System, Low-Cost Desalination for safe Drinking water among others.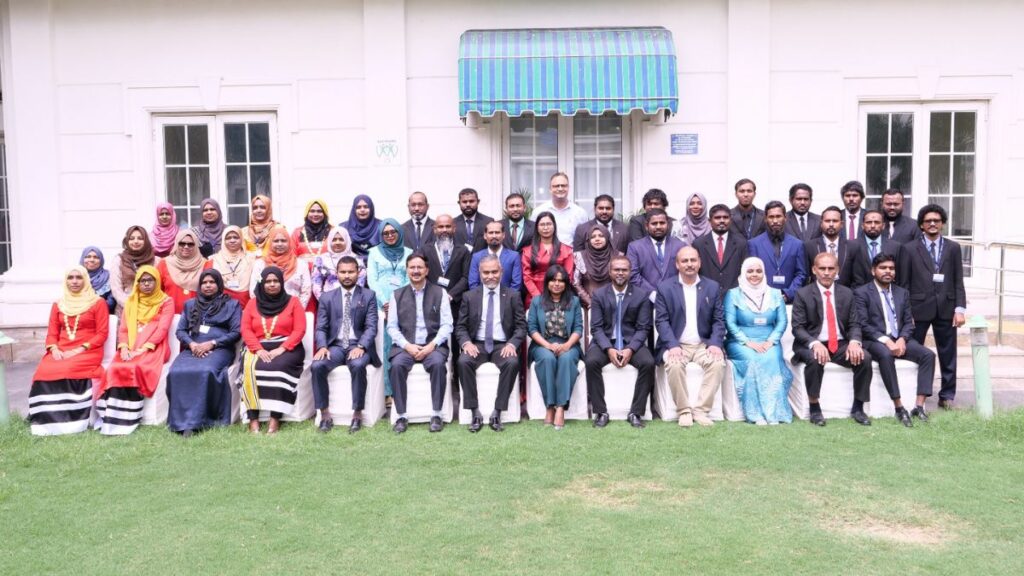 The participants were also exposed to visits aimed at observing a diverse range of developmental projects and institutions. These visits offer them invaluable insights and first-hand experiences of prominent initiatives and organizations, including but not limited to the Smart City Dehradun, Pradhanmantri Sanghralaya, and AIIMS among others.
The overall supervision and coordination of the 27th capacity building programme was carried out by Dr B. S. Bisht, course coordinator for the Maldives, along with Dr Sanjeev Sharma, co-course coordinator, and the capacity building team of the NCGG.
Disclaimer: This is an official press release by Pib.