PIB Press Releases
National Internet Exchange of India turns 20 in its continuous journey towards digital transformation of India
Digital transformation – Need for India and Globe, says MeitY Secretary Shri Alkesh Kumar Sharma
National Internet Exchange of India (NIXI) celebrated its 20th Foundation Day yesterday, reaffirming its unwavering dedication towards building India's internet infrastructure. This momentous occasion marked two decades of NIXI's exceptional contributions to creating a robust and inclusive digital ecosystem in the country via its business divisions towards Internet Exchange, IN Registry, IRINN and NIXI-CSC Data Services Ltd. The event was celebrated at Kamani Auditorium here and attended by functionaries from the Ministry of Electronics and IT (MeitY), other government departments, valued partners and the vibrant NIXI community.
The event saw the inaugural National Internet Exchange of India Foundation Day Lecture by MeitY Secretary & Chairman NIXI Shri Shri Alkesh Kumar Sharma on the topic 'Digital Transformation: Need for India and the Globe.' Speaking on the occasion, he said, "Starting from 2003, NIXI has been instrumental in building India into a repository of India's internet ecosystem prowess. Evolving from the initial mandate of building Internet exchange points to keep India's data in India, NIXI has since evolved in building the digital identity of the nation by spreading the adoption of the .in domain and spreading the IPv4 & IPv6 address usage.
The Data Centre vertical helps in rounding up the ecosystem by housing data in a safe, secure, unhindered and cyber-resilient structure. In line with Prime Minister Shri Narendra Modi's vision, Digital India is being ably supported by the National Internet Exchange of India (NIXI)." Shri Alkesh Kumar Sharma further expressed NIXI's commitment to driving innovation, fostering inclusivity across the national spectrum and leveraging technology for a digitally enabled and empowered India.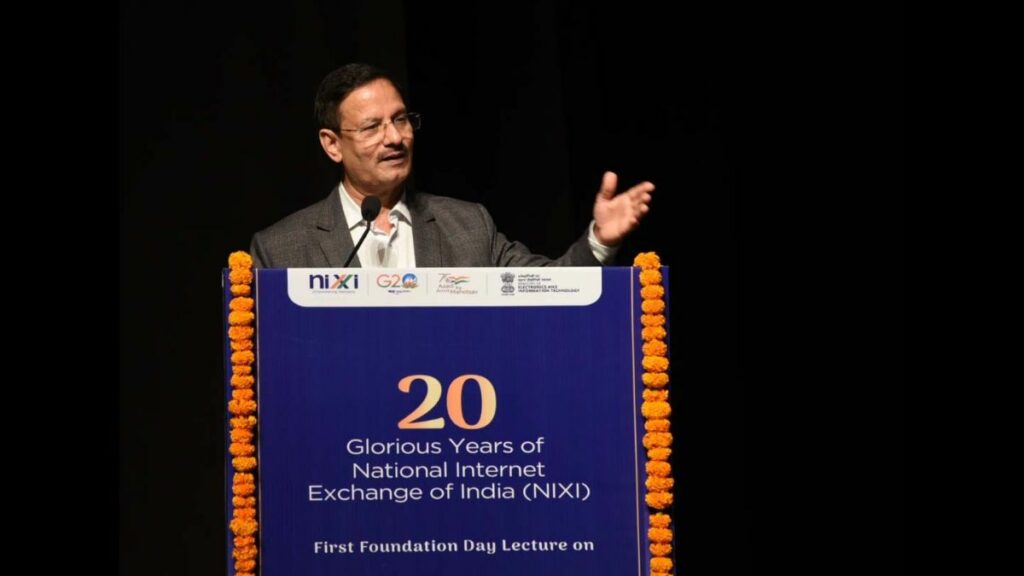 On the occasion, Shri Bhuvnesh Kumar, Additional Secretary, Meity, felicitated the longest-serving employees of the National Internet Exchange of India who have completed 10 years of service for their outstanding contribution. The NIXI also expressed its gratitude by honouring its former Chief Executive Officers (CEOs) on this occasion for their leadership, vision & contribution to the growth of the organisation
Sharing his views, NIXI CEO Shri Anil Kumar Jain said, "It gives me immense pride and privilege to serve the nation in building an organisation that builds India for the future. The wide population spectrum of India yesterday demands and deserves internet enablement and NIXI will strive to meet those expectations in line with NIXI's mission of Empowering Netizens."
Set up on June 19, 2003, NIXI is a not-for-profit (Section 8) company under the aegis of MeitY and is tasked to increase internet penetration and adoption in India by facilitating the various infrastructure aspects to enable the internet ecosystem to be managed and used by the masses. The four services which come under the NIXI are setting IXPs, towards building Internet Exchange Points, .IN Registry towards building the .in domain digital identity, IRINN towards IPv4 and IPv6 addresses adoption and Data Centre services under NIXI-CSC towards data storage services.
Disclaimer: This is an official press release by pib.