PIB Press Releases
Morarji Desai National Institute of Yoga Expands Services with Inauguration of Additional Yoga Therapy Rooms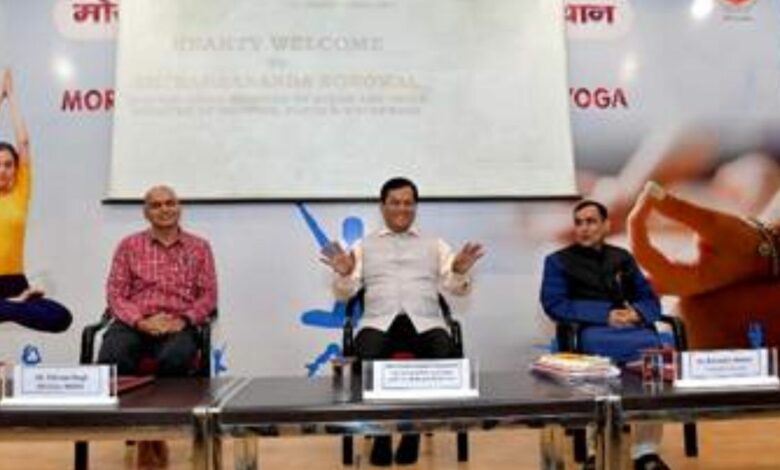 In a significant endorsement of the integration of Yoga therapy into the healthcare system, Union Minister for Ayush and Ports, Shipping, & Waterways Shri Sarbananda Sonowal inaugurated additional Yoga Therapy Rooms today at Morarji Desai National Institute of Yoga's (MDNIY) premises located in New Delhi. The event highlighted the institute's dedication to the promotion and propagation of Yoga and holistic well-being.
Addressing the event, Shri Sonowal highlighted the imperative inclusion of yoga therapy in daily lifestyles as a means to enhance self-awareness, self-realisation and overall holistic health. He emphasized that this ancient wisdom developed by India over a thousand years ago should be shared with every corner of the world, with India taking a leading role in addressing global health challenges.
"The work being done by the Morarji Desai National Institute of Yoga is really commendable. The sheer number of people visiting this institution is a testament to its credibility, training, therapy, research, and excellence. I envision a future where 'Heal in India' becomes the norm, and India extends its resources and expertise to benefit people worldwide," he added.
The event also witnessed a moment of historical significance when the minister received the handwritten letters of Former Prime Minister of India Shri Morarji Bhai Desai from Padma Shri Awardee Dr. Ravindra Kumar. He is the former Vice Chancellor of Chowdhary Charan Singh University, Meerut, who was associated with Morarji Desai for a long time.
The establishment of additional Yoga therapy rooms at the Morarji Desai National Institute of Yoga represents a step towards making comprehensive healthcare services readily accessible to individuals seeking the benefits of Yoga therapy. The institute has long been a torchbearer in the field of yoga-based therapeutic education, training and research, and the addition of the therapy rooms is expected to add another dimension to Yoga therapy.
Sh. Vikram Singh, Director of the Morarji Desai National Institute of Yoga narrated the institute's ongoing work and various initiatives that MDNIY has been undertaking recently in the realm of Yoga and well-being. He expressed his gratitude towards the Hon'ble Minister for his unwavering support for Yoga and his encompassing attitude towards students of MDNIY. Director MDNIY expressed gratitude towards Dr. Ravindra Kumar, for sharing his treasure of letters of Morarji Bhai Desai, Hon'ble Former Prime Minister of India to MDNIY. 
In the end, the Minister interacted with students of MDNIY and replied to their queries.
Disclaimer: This is an official press release by Pib.