PIB Press Releases
Ministry of Ayush felicitates Padma Awardees of 2023 who have contributed to the field of Ayush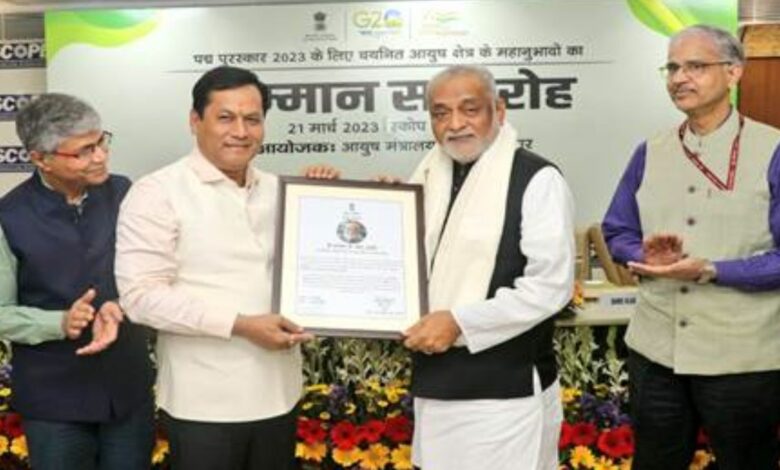 The awards are a symbol of excellence, and it is a matter of immense pride to honour individuals who have significantly contributed to our society – Shri Sarbananda Sonowal
Ministry of Ayush organized a felicitation ceremony on Tuesday evening to honour Padma Awardees of 2023, who have contributed in the field of Ayush. Union Minister of Ayush Shri Sarbananda Sonowal honoured Shri Kamlesh Patel (Padma Bhushan), President, Shri Ram Chandra Mission, Hyderabad. Dr Manoranjan Sahu (Padma Shri), eminent Ayurveda practitioner and surgeon, and Dr Gopalsamy Veluchamy (Padma Shri), veteran Siddha practitioner for their contribution to popularizing Ayush systems.
All three Padma Awardees were honoured with a citation plaque by Minster of Ayush Shri Sarbananda Sonowal. Vaidya Rajesh Kotecha, secretary, Ministry of Ayush, Shri P. K. Pathak, Special Secretary, Ministry of Ayush, Shri Rahul Sharma, Joint Secretary, Ministry of Ayush, Vaidya Manoj Nesari, Adviser (Ay), Ministry of Ayush and other officials and dignitaries were present on this occasion.
Shri Sarbananda Sonowal congratulated Padma awardees and said, that the achievements of Padma Awardees are an inspiration to us all, and unwavering commitment to excellence serves as a shining example to the entire nation. He said that these awards are a symbol of excellence, and it is a matter of immense pride for the nation to honour individuals who have contributed to our society through their relentless hard work and dedication.
Mr Kamlesh Patel has been awarded, Padma Bhushan. He is a renowned social worker and for over four decades, he has been dedicatedly working towards providing education, healthcare, and livelihood opportunities to the marginalized communities in India. Through his heartfulness movement, he has enabled free access to meditation in over 160 countries and has developed value-based development programs for students and faculty in over 5,000 schools, universities, and educational institutions.
Dr. Manoranjan Sahu has been bestowed with Padma Shri for medicine and he is an expert in Ayurvedic surgery with almost 40 years of experience. Former Dean, of Ayurveda Faculty, IMS, Varanasi and former Director, AIIA, New Delhi and is known for his contributions to the field of Shalya Tantra (Ayurveda). He has been selflessly treating poor and weaker sections of society at an affordable cost.
Dr Gopalsamy Veluchamy honoured with Padma Shri has served as the Chairman of the Scientific Advisory Board of the Central Council for Research in Siddha, the apex body for Siddha research of the Ministry of Ayush from 2018 to 2021. He is currently the honorary chairman of the Siddha Pharmacopoeia Committee in Chennai. Dr Veluchamy was among the first to suggest 'kabasurakudineer' as a potential drug for COVID-19 management.
Vaidya Rajesh Kotecha, secretary, of the Ministry of Ayush also congratulated Padma Awardees and wished for their good health and future.
President Droupadi Murmu will confer Padma Awards for 2023 at a Civil Investiture Ceremony at Rashtrapati Bhavan yesterday.
Disclaimer: This is an official press release by pib.