PIB Press Releases
Jan Arogya Melas and Heritage Walks organised on the fifth day of the ongoing Jan Aushadhi Diwas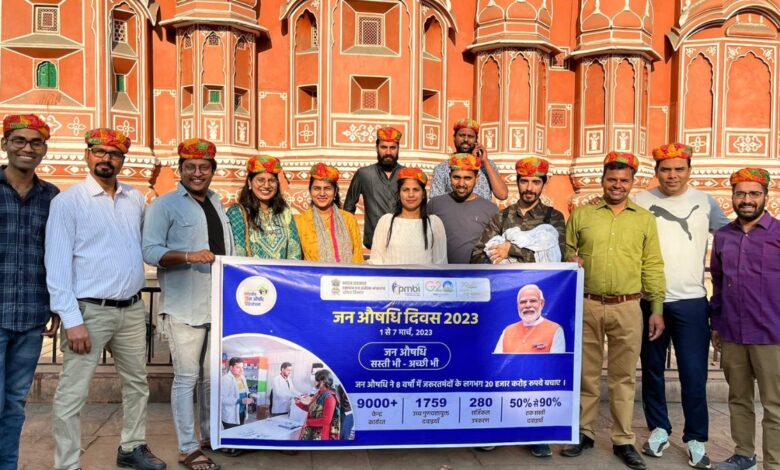 More than 10,000 citizens directly benefited from the Jan Aushadhi Arogya Melas
'Jan Aushadhi -Jan Arogya Melas' (Health Camps) and Heritage Walks (Health Walk Virasat ke Saath) were organised all over the country on the fifth day of the ongoing Jan Aushadhi Diwas, 2023 yesterday.
Health camps were conducted at 34 different locations at the mega level. Similar small-level health camps were also organised at 1000 Jan Aushadhi Kendras, across the country. During these camps medical advice, path lab facilities and dietary consultations were made available to the people free of cost. More than 10,000 citizens directly benefited from the Arogya Melas organized under Pradhan Mantri Bhartiya Jan Aushadhi Pariyojana. In these camps, Jan Aushadhi medicines were also distributed free of cost along with free consultations by doctors.
Similarly, Heritage Walks (Health Walk Virasat ke Saath) were also organised on a pan-India level at 10 major historical locations of the country to disseminate knowledge about Jan Aushadhi to the general people. The theme of the Heritage Walks was "Jan Aushadhi Viraasat ke Saath, Health Heritage Walk". More than 500 people attended these Heritage Walks at 10 locations including Delhi, Jaipur and Mysuru.
Joint Secretary, Department of Pharmaceuticals, Shri Rajneesh Tingal led the Heritage Walk at Sunder Nursery, New Delhi along with other senior government officials. The purpose of this walk was to engage the general public with Jan Aushadhi Pariyojana.
Department of Pharmaceuticals has planned various events in different cities starting from 1st of March 2023 to 7th March 2023 which will focus on awareness about the Jan Aushadhi Scheme. Seminars, programs for children, women and NGO's, Heritage walks, Health camps and many other activities are being organized at different locations across the country covering all State/UTs and engaging PMBJKs owners, Beneficiaries, State/UT officials, Public Representatives, Doctors, Health Workers, Nurses, Pharmacists and Jan Aushadhi Mitras.
This scheme ensures the easy reach of affordable medicine to the people in every nook and corner of the country. The Government has set a target to increase the number of Pradhan Mantri Bhartiya Janaushadhi Kendras (PMBJKs) to 10,000 by the end of December 2023. The product basket of PMBJP comprises 1759 drugs and 280 surgical instruments. Further, new medicines and nutraceutical products like protein powder, malt-based food supplements, protein bars, immunity bars, sanitiser, masks, glucometer, oximeter, etc. have been also launched.
Disclaimer: This is an official press release by PIB.