PIB Press Releases
Jal Jeevan Mission Achieves Milestone Of 12 Crore Tap Water Connections
India Continues To Make Rapid Strides Towards Achieving 'Har Ghar Jal' Dream Envisioned By Prime Minister Shri Narendra Modi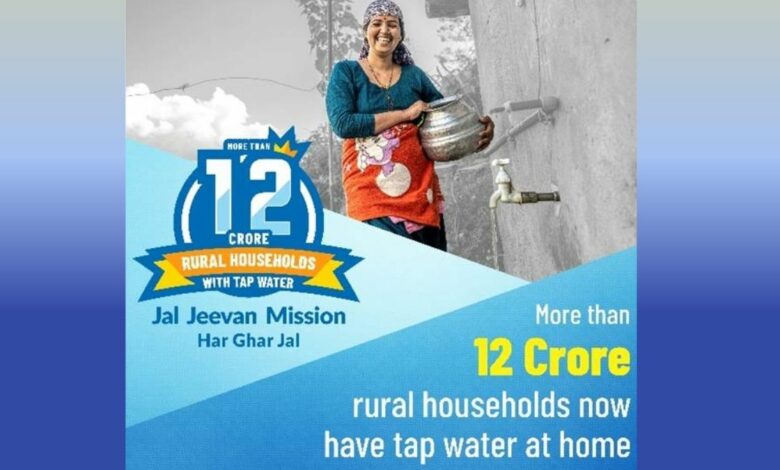 Under Azadi ka Amrit Kaal, Jal Jeevan Mission (JJM) celebrates a new milestone of ensuring safe and clean drinking water through taps to more than 12 Crore rural households of the country. At the time of the announcement of the launch of JJM by Prime Minister, Shri Narendra Modi from the ramparts of the Red Fort on 15th August 2019, only 3.23 Crore (16.64%) households in villages had access to piped water connection.
As of date, 5 States (Goa, Telangana, Haryana, Gujarat and Punjab) and 3 UTs (Puducherry, D&D and D&NH and A&N Islands), have reported 100% coverage. Himachal Pradesh at 98.35%, followed by Bihar at 96.05%, is also poised to achieve saturation in the near future. Goa, Haryana, Punjab, A&N Islands, Puducherry, D&NH and D&D are 'Har Ghar Jal certified States/ UTs i.e., in these states/ UTs, the villagers have confirmed through Gram Sabhas that 'all households and public institutions in the village are getting adequate, safe and regular supply of water.
The relentless efforts of the Union and State governments have also resulted in ensuring the provision of tap water supply in 9.06 lakh (88.55%) schools and 9.39 lakh (84%) Anganwadi centres in the country. In the 112 aspirational districts of our country, at the time of the launch of the Mission, only 21.64 lakh (7.84%) households had access to tap water which has now increased to 1.67 Crore (60.51%).
Tap Water Provided In 9.06 Lakh Schools And 9.39 Lakh Anganwadi Centres Across The Nation
Three Aspirational districts from Telangana (Komaram Bheem Asifabad, Jayashankar Bhupalpalli and Bhadrabri Kothagudem), two districts in Gujarat (Dahod & Narmada) and Punjab (Moga & Ferozepur) and 1 district each in Haryana (Mewat) and Himachal Pradesh (Chamba) have reported 100% tap water coverage. The government of India is relentlessly working in partnership with states/UTs to further expedite the pace of implementation.
JJM is resulting in significant socio-economic benefits to the rural population. Regular tap water supply relieves people, especially women and young girls, from carrying heavy bucket loads of water to meet their daily household needs thereby reducing age-old drudgery. The time so saved can be used for income generation activities, learning new skills and supporting children's education.
In order to achieve long-term sustainability of the schemes, community participation from the very beginning has been at the heart of planning, implementation, operations and maintenance (O&M) of rural piped water supply schemes. More than 5.24 lakh Village Water & Sanitation Committees (VWSC)/ Pani Samitis have been constituted in the country and 5.12 lakh Village Action Plans (VAPs) have been prepared including the plans for drinking water source augmentation, greywater treatment and its reuse, and regular O&M of in-village water supply systems.
22,016 Habitations With Arsenic/ Fluoride Contamination Now Have Safe Drinking Water Under Jal Jeevan Mission
At the time of the launch of the Jal Jeevan Mission, 22,016 habitations (Arsenic – 14,020, Fluoride- 7,996), having a 1.79 Crore population (Arsenic-1.19 crore, Fluoride-0.59 crore), were affected by Arsenic/ Fluoride contamination in drinking water sources. As reported by States/ UTs, now safe drinking water is available in all the Arsenic/ Fluoride-affected habitations.
Working on the motto of Sabka Saath, Sabka Vikas, Sabka Vishwas aur Sabka Prayas, Jal Jeevan Mission is marching towards achieving SDG 6, i.e., safe and affordable water to all, through the provision of safe water through taps to all households, schools, Anganwadi and other public institutions, in rural areas.
Disclaimer: This is an official press release by pib.