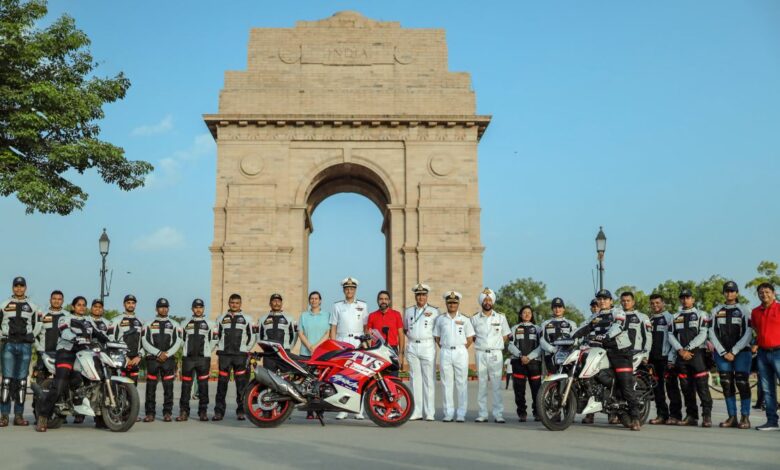 Indian Navy is conducting "Julley Ladakh" (Hello Ladakh), an outreach programme to Ladakh to increase awareness about the service in the pristine state and to engage with youth and civil society there. Towards this, a 5000km Motorcycle Expedition was flagged off by VAdm Sanjay Jasjit Singh, Vice Chief of Naval Staff, from the National War Memorial on 15 Jun 23. The Navy had previously made a similar effort in the North East that was hugely successful. The Indian Navy had also undertaken the Sam No Varunah car expedition to engage with citizens in all the coastal states.
The main objectives of the current initiative in the Northern Territory include: –
(a) Celebrate Azadi ka Amrit Mahotsav (75 years of Indian Independence).
(b) Conduct Awareness drives at Schools/ Colleges in the Ladakh region about the career opportunities Indian Navy offers including the Agnipath Scheme.
(c) Motivate Youth to join the Indian Navy.
(d) Showcase Nari Shakti, an initiative of Prime Minister Shri Narendra Modi, by including Women Officers and spouses.
(e) Interact with naval veterans and Veer Naris in the region.
Outreach activities planned include a Motor Cycle Expedition, passing through a large part of Ladakh, a band concert at the City Centre with the famous Navy Band, a Medical Camp and a Football Match between the Navy and the Ladakh Football Club.
In his address at the flag-off ceremony, VAdm SJ Singh, Vice Chief of the Naval Staff, stated that the Navy has always promoted adventure activities as these not only serve to inspire personnel to aim higher and achieve better but also strengthen team-building and camaraderie that crucial for their performance at sea.
He congratulated the Sea Riders for undertaking an expedition aimed at enhancing maritime consciousness and awareness about the Navy in an important part of the country that is distant from the seas but close to our hearts and wished them a safe and memorable ride on TVS motorcycles. He also thanked TVS Motors Ltd for partnering with the Navy for an important cause and hoped that this would be the first of many such expeditions undertaken under this collaboration.
The Motorcycle Expedition is being conducted in partnership with M/s TVS Motors, the reputed manufacturer of two and three-wheelers, with a legacy rooted over 100 years, and aims to cover large parts of the Ladakh region on TVS Apache RTR and RR 310. The first phase of the expedition was flagged off from New Delhi today15 Jun and will reach Leh on 28 Jun passing through the states of Delhi, Haryana, Punjab and Jammu & Kashmir.
Mr Vimal Sumbly, Head Business – Premium, TVS Motor Company said, "We are extremely proud and humbled to be associating with the Indian Navy as part of their Azadi ka Amrit Mahotsav celebrations. TVS Motor has always strived to push the boundaries of innovation and adventure, and this collaboration with the esteemed Indian Navy aligns perfectly with our vision.
This collaboration symbolises our commitment to excellence, as we partner with the esteemed Indian Navy to embark on this thrilling journey that showcases the prowess of the TVS Apache motorcycles in diverse and challenging terrains. This expedition is a testament to our shared values of courage, resilience, and a relentless pursuit of excellence. We look forward to this extraordinary adventure and wish the officers good luck on their journey."
A total of 35 Indian Navy personnel, including Officers, sailors, and family members are participating in this Motorcycle Expedition covering about 5000 km, traversing through remote areas and tough terrains of Ladakh. They will interact with the students of schools and colleges en route, and also pay homage to the Bravehearts at the Kargil War Memorial and those of the 1962 battle of Rezang La.
Disclaimer: This is an official press release by Pib.